24 Aug 2018 Simon Briggs
100 Android Users Tricked by Ethereum Scam App
An Ethereum scam app has tricked more than 100 people in their wish to purchase one ETH on Android's Google Play Store, adding $40,000 to the app's developers account
---
Lucas Stefanko – a Slovakian malware researcher, stumbled upon the app and immediately informed the crypto community. The alleged Ethereum is sold for €335 which is €100 more than the current market price of ETH. The users received Ethereum's logo image.
The initial tweet from Mr. Stefanko informing everyone for the scam started active discussions and left many concerned.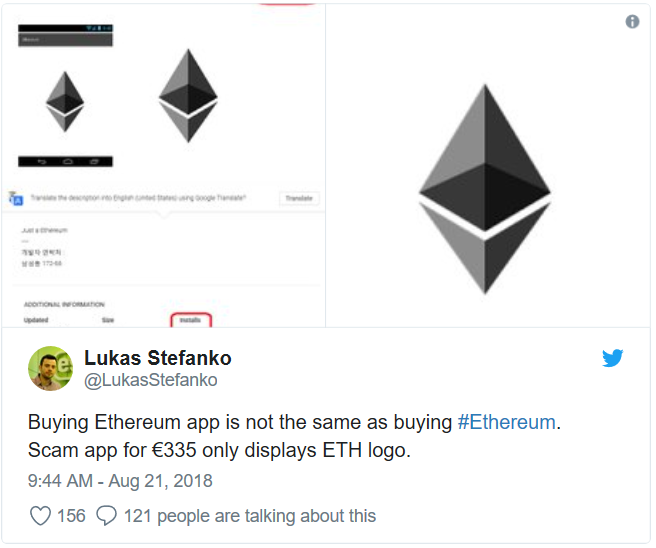 Source: Twitter
The company behind the development of Ethereum app is named Google Commerce Ltd. This is strategically misleading users into thinking the Ether comes directly from Google. The description of the app is in Korean and was posted on a Samsung phone.
The fraud was found a year later, following the update in August 2017, and has finally been removed from Google's Play Store. It had 22 deceitful reviews and a rating of four out of five stars.
This Ethereum news comes after Facebook's announcement earlier this year on banning ads related to cryptocurrency on the platform. In April, Google has made the decision to prohibit all cryptocurrency mining apps and browser extensions on its store and has left only remote mining applications. The developers were given 30 days to remove their content.
This is done to ensure a favorable environment for both users and developers, since a number of malicious apps have been capitalizing on the interest of investors following the cryptocurrency boom.
Ethereum
Scam News
eth
Ethereum news
cryptocurrency news
scam
crypto news