16 Nov 2021 Arjun Agarwal
$300 Billion Crypto Market Cap Wipe-Off After Infrastructure Bill Passing
Almost All Of The Cryptos Are Recording Massive Price Drops, Despite Bullish Indications
---
The crypto market fell a victim to yet another volatility episode, which erased nearly $300 billion off the crypto market capitalization in just a day. All of the top-ten crypto projects, except Tether (USDT), recorded double-digit price decreases, with Polkadot (DOT) leading the pack with 20.45% in weekly price losses.
The total crypto market cap also suffered and fell from $3 trillion to $2.6 trillion as of press time. This is the second time the crypto sector is experiencing such a flash crash in November alone, despite the community believing November would be a bullish month for the market.
Bitcoin, the world's leading crypto, wiped off most of its gains from November and fell to a current price of $60,809.72 per BTC. The drop came from a local high of $64,890.58 just 24 hours earlier and managed to push Bitcoin's price to a weekly low of $59,016.34.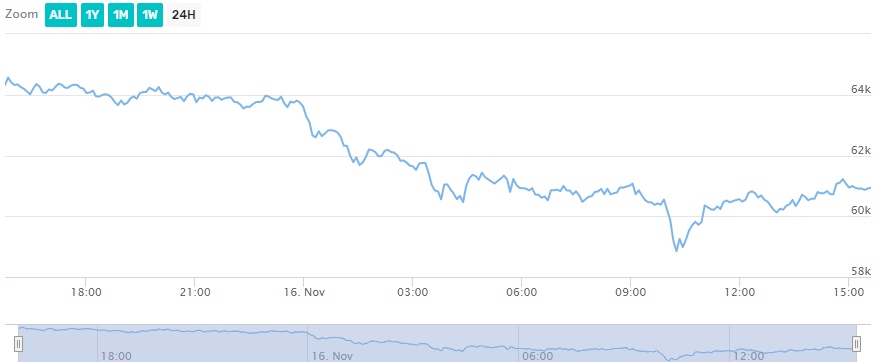 Source: CryptoBrowser
Ethereum (ETH), dubbed as the altcoin leader, followed Bitcoin's trend. The second-largest crypto to date fell to a daily low of $4,144.33, only to bounce back to a current price point of $4,314.59 per ETH. However, Ethereum is still in the green, when looking at monthly gains, thanks to its mammoth growth over the past 30 days, which resulted in several new all-time highs, the last of which - $4,859.50.
The massive sell-off has also provoked nearly $500 million worth of leveraged positions to get liquidated.
The main cause of the frantic sell-off may be the passing of the controversial infrastructure bill by the US Senate, which implies further taxation of cryptocurrencies.
Meanwhile, Senator Pat Toomey gave clarification about the bill, noting that the Senate "came together to provide greater clarity on the rules for who are the actual brokers of cryptocurrency".
"We're not proposing anything sweeping or anything radical. Our solution makes clear that a broker means only those persons who conduct transactions where consumers buy, sell, and trade digital assets," Toomey added. The bill should now be aimed only at intermediaries, such as crypto exchanges like Coinbase and Kraken.
According to Toomey, the compromise both parties had to do may not be the best for the entire industry, but it is much more up-to-date when compared to the original texts of the original bill.
"The silver lining behind all of this debate and discussion is that we found out who in the Senate is interested in this subject who maybe previously didn't know anything about it. We finally were able to illustrate to members of the Senate that there are a lot of people that are interested in digital assets, working in some aspect of digital assets, and now have contact with their U.S. Senators." Senator Cynthia Lummis highlighted.
Bitcoin
Ethereum
Tether
btc
eth
Ethereum news
Bitcoin price
bitcoin news
cryptocurrency news
crypto news
Crypto Price
Ethereum Price
Market Capitalization