17 Aug 2020 Samantha McLauren
$449M Worth Of Bitcoin Are Now Held On The Ethereum Blockchain
The Total Value Of BTC Locked In Ethereum Is Nearly 15 Times The Combined Value Of Liquid And Lightning Networks
---
The total amount of Bitcoin (BTC) held on the Ethereum blockchain via synthetic protocols has been going through a massive increase since May, reaching 38,021 BTC, which is around $449 million (as of August 16). In order to store Bitcoin on Ethereum's ERC-20 network, intermediary protocols like Sbtc, Renbtc, L-BTC, and Wbtc are being used. The protocols, also called synthetic Bitcoins, represent tokens that are created on a certain blockchain platform and are backed 1:1 with BTC via custodians or smart contracts.
Ethereum's network has arguably become a sidechain of Bitcoin, as Bitcoin's Lightning and Liquid networks have fallen short to the Ethereum-based protocols such as Wrapped BTC. Back at the end of May, WBTC held 4,000 BTC, while the Lightning Network only had 925 BTC in reserve.
The exponential growth of BTC held in Ethereum protocols continued and currently the total amount of BTC locked in Ethereum contracts is 1,448% larger than the Liquid and Lightning network branches combined. For example, Liquid's network holds $29.4 million worth of L-BTC tokens, while the Lightning Network only holds around $12 million as of press time. Combined, the two networks make a little over $41 million worth of BTC locked into their blockchains. However, the Lightning Network is designed more as an off-chain alternative to the original Bitcoin blockchain, rather than a synthetic Bitcoin solution.
The news about both Liquid and Lightining network`s protocols being outperformed by ETH-based protocols were very well accepted by the Ethereum community. Loong Wang, the CTO of synthetic Bitcoin provider Ren Protocol, tweeted that "Bitcoin is now an undeniable part of decentralized finance, with $420 million of BTC on Ethereum, in one form or another."
"In the last 24 hours, over $24M has been moved through Ren Protocol to be used to farm yield. Anyone not generating APY right now with their BTC is asleep.", Wang added.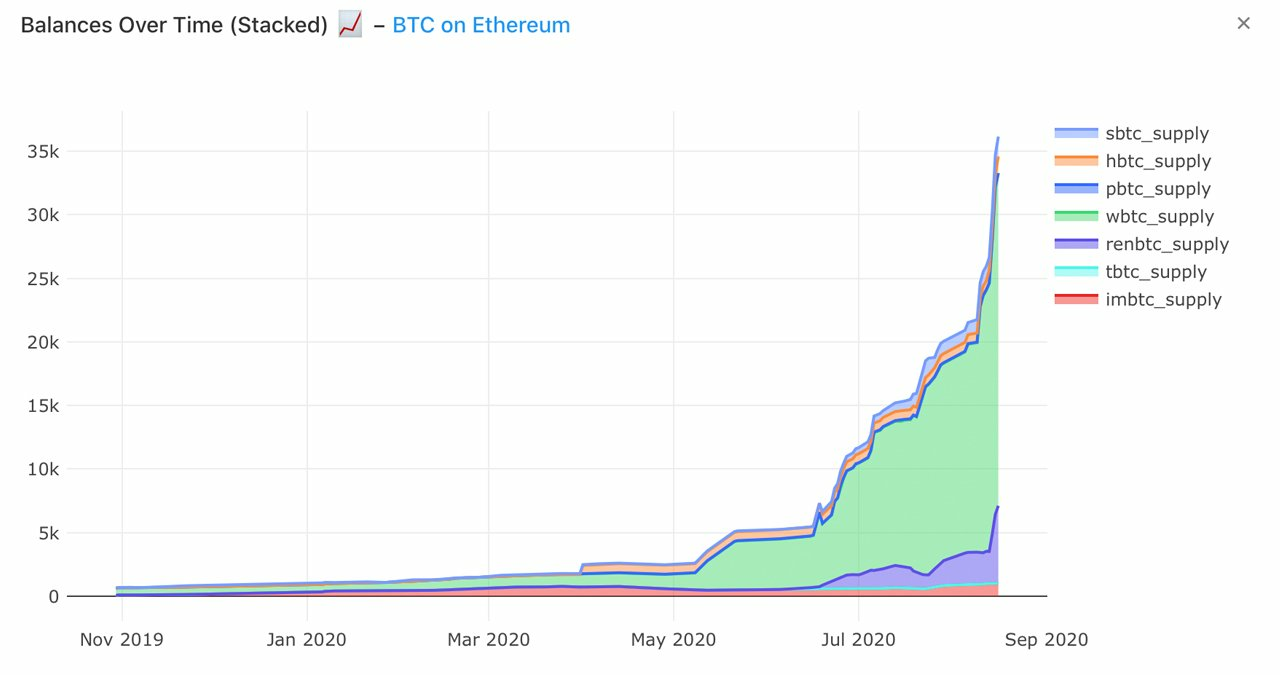 Source: Dune Analytics
Data from Dune analytics shows that the exponential growth started in May 2020, with a rather calm start of 2020. From a total of $449 million worth of BTC held in Ethereum, the lead goes to Wrapped BTC (Wbtc) with 26,161 BTC ($310 million). The group includes Renbtc with 7,721 BTC ($91.8 million), Hbtc with 1,310 Bitcoin ($15.5 million), Imbtc with 988 BTC, worth $11.8 million, аnd Pbtc with "only" $571,348 worth of Bitcoin.
The leader in synthetic Bitcoin Wbtc seemed excited about the rapid expansion. The company posted on twitter that "More BTC was wrapped this week than BTC was mined". The statement used data from analyst Zack Voell, showing 5,738 BTC were mined by Bitcoin miners past week, while 6,785 BTC underwent a "wrapping" procedure, utilizing the Wbtc protocol.
Bitcoin
Ethereum
Blockchain
Cryptocurrency
Crypto Market
btc
eth
crypto market monitoring
Ethereum news
bitcoins
bitcoin news
bitcoin news today
ether
Blockchain News
Blockchain technology