10 Jul 2020 Arjun Agarwal
$46 Million Worth Of USDT Blacklisted By Tether
The Blacklisting Comes Just Several Days After CENTRE "Banned" 100,000 USDC Tokens
---
Tether, the owner of the biggest stablecoin project to date, USDT, blacklisted 39 wallet addresses, containing $46 million worth of USDT. 24 out of all 39 addresses account for 5,5 million USDT tokens.
The news comes just days after CENTRE announced it blacklisted Ethereum wallet addresses, containing as much as $100,000 worth of USDC.
Phillipe Castonguay, an Ethereum researcher at Horizon Games, created a dashboard with blocked Ethereum addresses via Dune Analytics. The dashboard tracks the number of blacklisted addresses by Tether and CENTRE.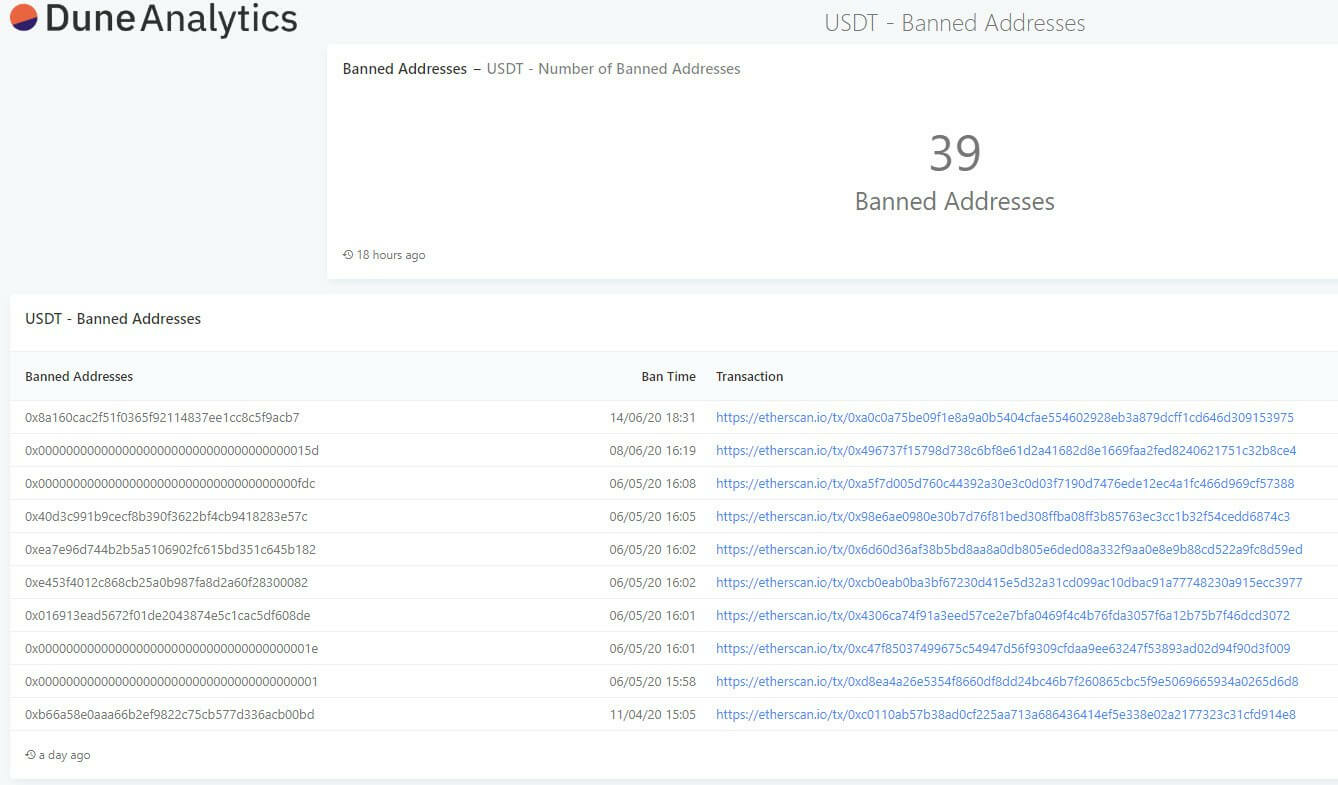 Source: Dune Analytics
It was confirmed by CENTRE that actions concerning the blacklisting are coming as a result of law enforcements.
"CENTRE cannot disclose any information about the specific law enforcement requests. However CENTRE confirms it blacklisted an address in response to a request from law enforcement authorities. CENTRE is abiding by the court ruling decision, which have appropriate jurisdiction over the organization"
The blacklisting process means wallet address holders cannot trade or exchange their Tether, and CENTRE, respectively. This comes as a result of locked digital assets, which action prevents on-chain transactions.
In response to the blacklisting procedures, the general counsel at Bitfinex, Stuart Hoegner, claimed that the stablecoin leading cryptocurrency is "assisting law enforcements in their investigations". In addition, Hoegner adds that blacklisting allows Tether to freeze assets and recover them in case of hacker attacks.
Interestingly, one of the latest Tether lock-ups of 939,000 USDT came just 22 hours after the funds were transferred from one of the biggest exchanges to date – Binance. Eric Wall, CIO of Arcane Assets, discovered the locked address and reported his observations on Twitter. However, Wall stated that most of the wallet address freezes are just "precautionary" actions.
"The majority of the blacklisting is just precaution, or due to error messages. Three addresses were even unfrozen after reconsideration." Wall added.
Ethereum
Cryptocurrency Regulations
Cryptocurrency
Crypto Market
Tether
stable coin
crypto
wallet
crypto market monitoring
cryptocurrencies
cryptocoins
cryptocurrency news
Stablecoin
Stablecoins
USDT
USDC