11 Jun 2020 Morgan Hayze
80% Of All Ethereum In Circulation Is Financially Rewarding
Crypto Report Reveals That Ethereum Has Fully Recovered From Its COVID-19 Price Slump
---
The leader in the altcoin sector, Ethereum, managed to record yet another important milestone amid the much-awaited Ethereum 2.0 protocol update. The #2 largest cryptocurrency to date recorded profitability for 80% of ETH in supply just a month after Bitcoin's third halving.
Data from crypto analytics company Glassnode shows that Ethereum profitability percentage based on total supply spikes for the third time in 2020. Looking at the bigger picture, such profitability spikes have been observed just once during the 2018-2019 crypto winter. The last time prior 2020 when Ethereum in total supply jumped above this mark, the price of the altcoin leader was over $700.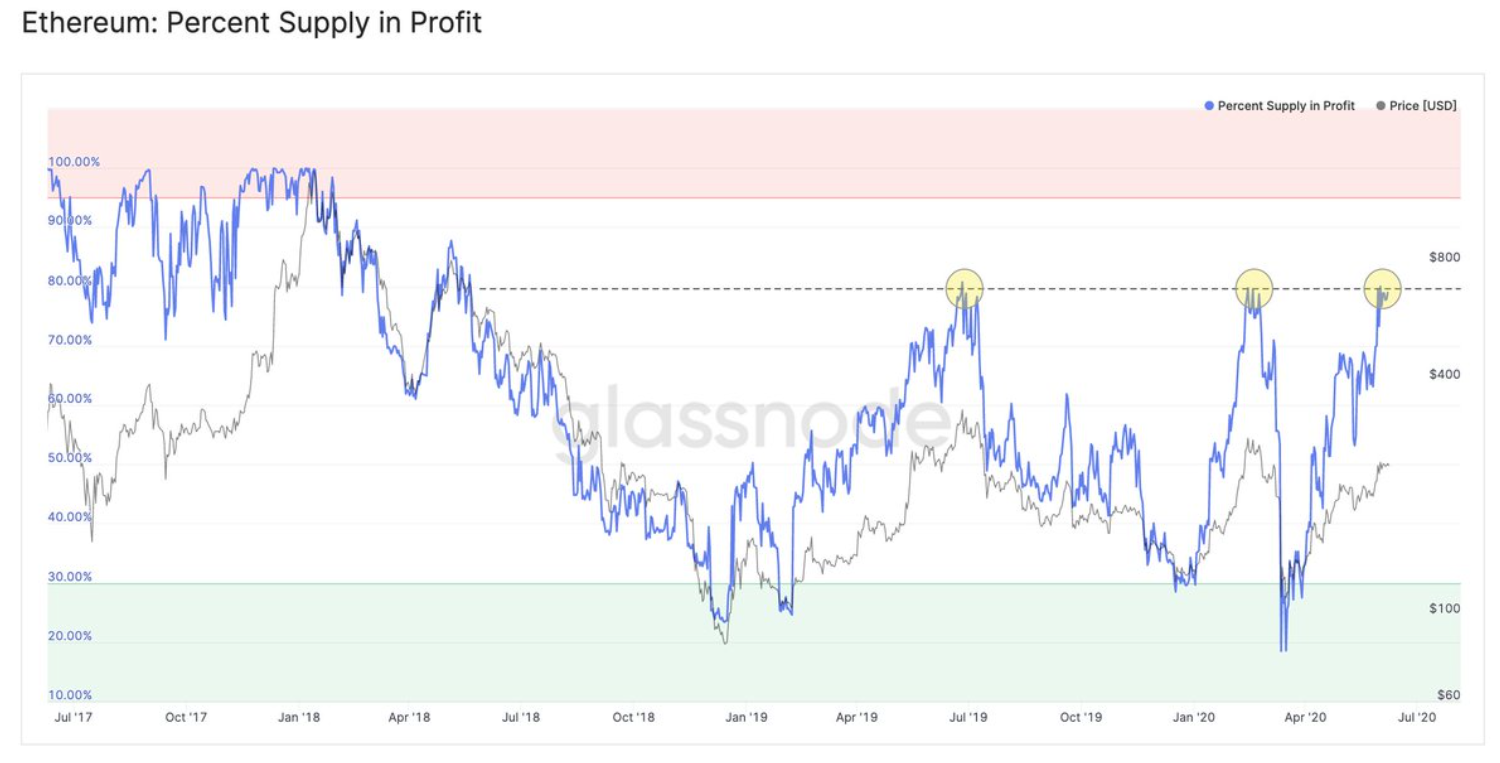 Source: Glassnode
It turns out that based on an observation pattern, the participation of users and developers is equally even during periods when there are ETH price movements. This solidifies the user engagement over the network and contributes to the Ethereum ecosystem.
Other metrics that Glassnode used in Ethereum's analysis is the transaction volumes. It turns out that Ethereum doubled its transactions since the start of 2020. On January 1, Ethereum recorded 466,526 transactions, while on May 29 the second-largest cryptocurrency spiked to an average of 850,000 transactions.
The increased transaction count can also be seen in Ethereum's network utilization rate, which is recording constant peaks above 95% over the past month.
Meanwhile, the Ethereum community prepares for the Ethereum 2.0 algorithm update, which would eliminate mining and replace it with community-driven staking of Ethereum tokens for transaction validation. Crypto and blockchain enthusiast Osho Jha even stated that once Ethereum 2.0 is fully implemented by all users, the store-of-value trait of Ethereum would see a better appreciation, thus – a price increase.
Further, Ethereum co-founder Joseph Lubin's announced that his company Consensys is looking for establishing compliance services for both ERC-20 and ERC-721 tokens, built on Ethereum's framework. The company aims at releasing compliance tracking services for nearly 280,000 tokens.
Also, the Glassnode report emphasizes the importance of DeFi, which means Ethereum may see a further boost in its adoption and popularity, as the altcoin leader may become the biggest money-moving force in the digital asset industry.
Ethereum
Cryptocurrency
Crypto Market
eth
ERC20
Ethereum news
trading
cryptocurrencies
token
etherium
cryptocurrency news
ether
Ethereum Price