11 Aug 2023 Marsha Tusk
A Future Bitcoin ETF Approval May Push US-Based Trading Volumes Share To 99,5%, According To An Analyst
According To A Bloomberg Analyst, The Approval Of Spot Bitcoin ETFs In The US Will Probably Increase The Country's Portion Of Crypto ETF Trading Volumes
---
If spot Bitcoin ETFs are allowed, the United States may account for 99.5% of the global trading activity for exchange-traded funds tied to cryptocurrencies.
According to a tweet posted on August 10 by X (Twitter), senior ETF analyst at Bloomberg Eric Balchunas, North America currently accounts for 97.7% of total crypto ETF trading volume.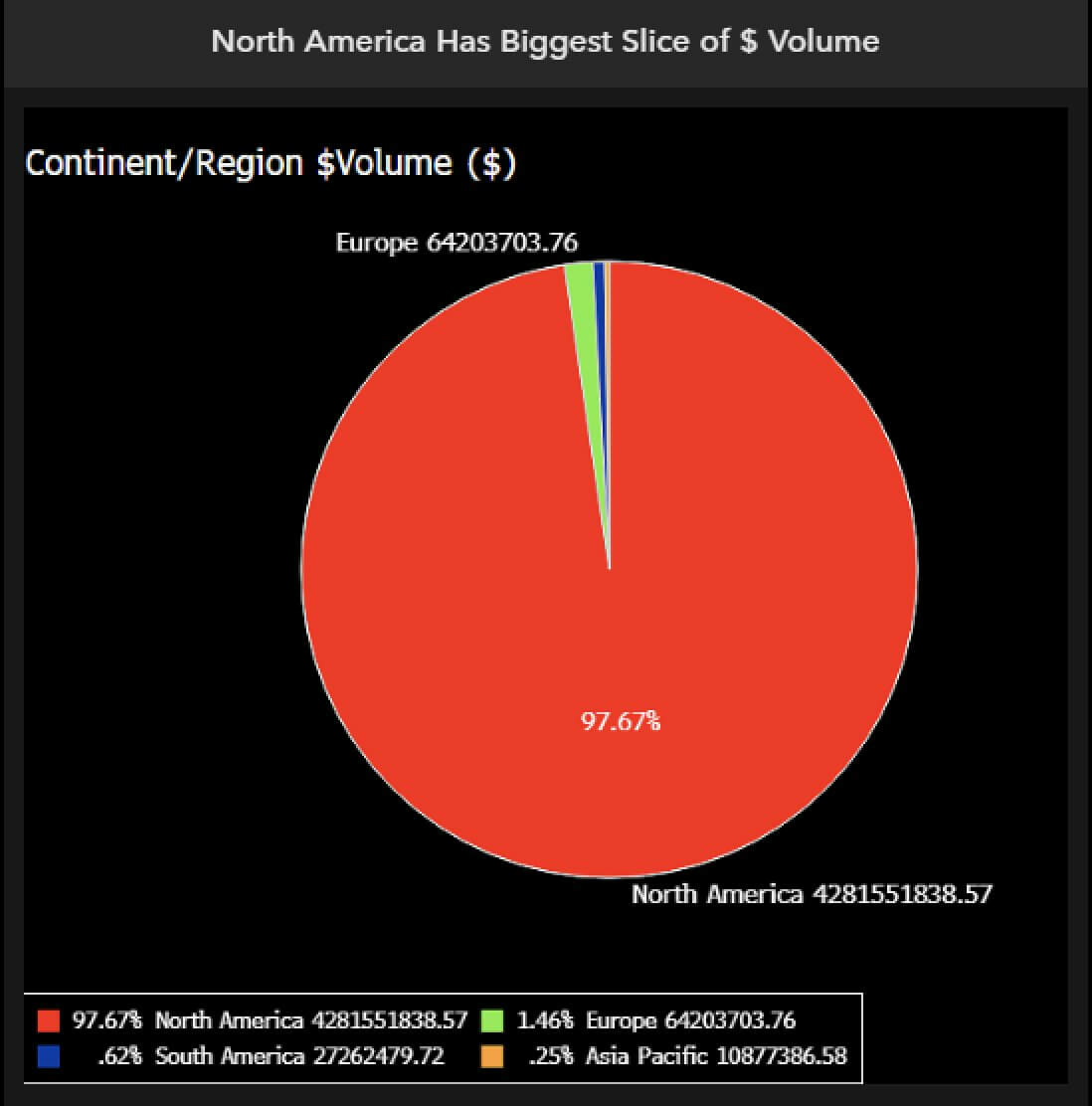 Source: Eric Balchunas on X (Twitter)
"If/when spot ETFs come out in the U.S., this will likely go to like 99.5%," he said.
The Securities and Exchange Commission (SEC) is yet to approve a Bitcoin ETF, although the watchdog is currently considering several spot Bitcoin ETF applications. The regulator is due to make a decision on the combined ARKB fund of Ark Invest and 21Share by August 13; however, a delay has been widely anticipated.
On August 7, Ark CEO Cathie Wood said that the regulator might be holding off on approving several funds at once during an interview with Bloomberg.
Bitwise already amended its prospectus on August 10 to rename its former BITC fund from a Bitcoin futures ETF to the "Bitwise Bitcoin and Ether Equal Weight Strategy ETF." The action is a copycat of the Valkyrie actions on August 5 when it added Ethereum Futures to its BTC Futures ETF (BTF).
Top-performing ETFs related to cryptocurrencies
Balchunas also pointed out that all 15 of the best-performing exchange-traded funds have exposure to Bitcoin and blockchain.
"Every single one of the Top 15 best-performing equity ETFs this year is crypto-related."
With a return of 227% since the start of 2023, the Valkyrie Bitcoin Miners ETF has been the best performer. Marathon Digital, Riot, and Cipher Mining are just a few examples of the publicly traded firms that the actively managed fund WGMI invests in.
This year, several of the largest mining companies have seen their stock prices outpace Bitcoin, which may help to explain why products like WGMI have performed so well.
The VanEck digital transformation ETF, which has a return of 182% so far this year, came in second. The DAPP fund also keeps track of a number of technological and crypto mining companies. These include Hive, Galaxy Digital, Canaan, MicroStrategy, and Coinbase.
Among the best-performing crypto-related ETF products are the Global X Blockchain ETF (BKCH), which has a 168% year-to-date return, the Bitwise Crypto Industry Innovators ETF (BITQ), which has also returned 168%, and the Alerian Galaxy Crypto Economy ETF (SATO) from Invesco, which has a slightly smaller return of 162% year to date in 2023.
Bitcoin
SEC
trading
cryptocurrency news
crypto news
SEC
Security and Exchange Commission