19 May 2021 Simon Briggs
A Huge Market Crash For The Crypto Sector, As China Bans Crypto For Financial Institutions
China Stated That Banks And Payment Providers Should No Longer Provide Crypto-Related Services, Due To "Speculative Trading"
---
The crypto market experienced yet another 10%-25% crash, as Chinese authorities decided to pull the plug on crypto-related services for financial institutions and payment companies. The move made institutions like banks and online payments channels remove any service involving cryptocurrencies, such as registration, trading, clearing, and settlement.
The National Internet Finance Association of China, the China Banking Association, and the Payment and Clearing Association of China, published a joint statement on May 18, highlighting the risks of cryptocurrency trading, saying virtual currencies "are not supported by real value", their prices are easily manipulated, and trading contracts are not protected by Chinese law.
"Recently, cryptocurrency prices have skyrocketed and plummeted, and speculative trading of cryptocurrency has rebounded, seriously infringing on the safety of people's property and disrupting the normal economic and financial order," the Chinese authorities noted.
This is not the first time China puts a ban on cryptos, without infringing customer rights to hold cryptocurrencies. The first time China cracked down on cryptos was in 2017, with the Chinese state banning local crypto exchanges, again due to "speculative market" claims. The crackdown coincided with the ICO boom of 2017 and the following altcoin winter of 2018.
In June 2019, the People's Bank of China went even further, stating it would block access to all foreign and domestic crypto exchanges and ICO websites.
The turmoil quickly affected crypto prices, as China is among the top nations that use cryptocurrencies daily.
Bitcoin, for example, dropped 14.28% daily to a current price point of $38,634.48. The fourteen percent price drop added to the drops made in the past seven days, with Bitcoin's price falling from a weekly high of $51,438.12 to a weekly low of $38,717.16.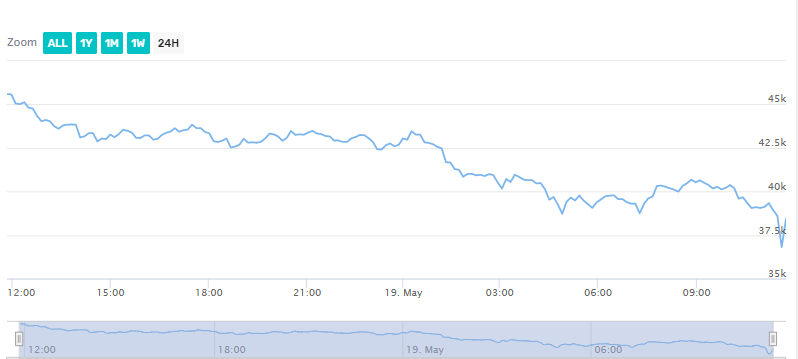 Source: CryptoBrowser.io
The altcoin leader, Ethereum, crossed below $3,000 per token, and its currently trading at $2,702.46, which marks a 23% price crash. Ethereum's weekly drop is coming at roughly 38% as of press time.
The rest of the crypto sector followed suit, with SHIBA INU, Monero, Nexo, and Internet Computer recording over 20% price drops.
Bitcoin
Ethereum
Bitcoin price
china
bitcoin news
cryptocurrency news
crypto news
Crypto Price
Banks
Financial institution
Payments