11 Jan 2019 Simon Briggs
A Massive 11-percent Plunge in the Crypto Market, $16 Billion Disappear in a Day
All of the top-50 cryptocurrencies marked ten to fifteen percent losses in just 24 hours.
---
The crypto community took another hit yesterday, as all of the top-50 cryptocurrencies marked ten to fifteen percent losses in just 24 hours.
As always, the main culprit for the massive price slump was Bitcoin, which fell under the $4,000 support zone to the previous support of $3,800. The bears didn't stop there, pushing Bitcoin to hit its last haven of $3,600. Any negative movement past that point will most probably mean Bitcoin will fall near its mid-December low of $3,200. As prices plummet down, trading volumes go up, which may be Bitcoin's life raft. But with the strong resistance at $4,000 from last week, Bitcoin will have difficulties making up the losses.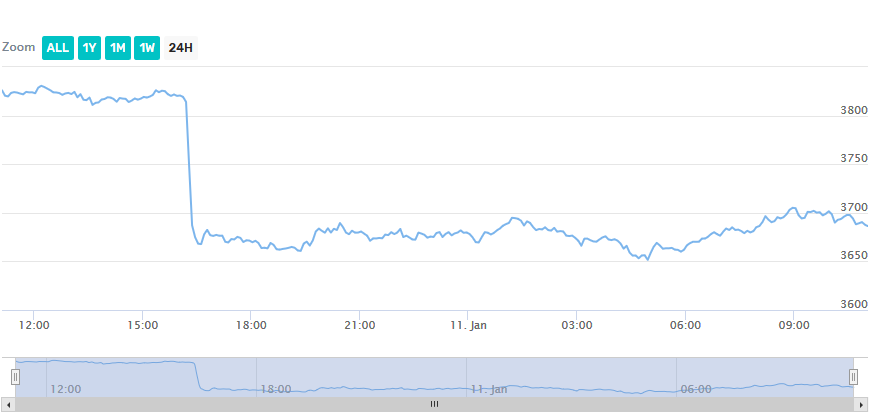 BTC Price (source: https://cryptobrowser.io/coins/bitcoin-btc/)
Ethereum (ETH) also made a dive in the red, with price fall beneath $130. Trading volumes also took a hit, giving Ripple (XRP) the chance to surpass Ethereum and make the number two spot in the rankings, based on market capitalization.
Ripple also took a 12-percent hit, but it's lower price tag per unit, and offline storage of tokens have made the currency a pretty stable option when it comes to market plunges. Ripple's price plummeted from $0,3762 to a low of $0,3298 amid peaking trading volumes, giving the token a $350 million advantage over Ethereum based on market capitalization.
Other top-20 cryptocurrencies also suffered from the market crash. EOS and Bitcoin Cash got stung with 17% losses, and TRON's recent gains were erased, throwing it back to the number nine spot, based on market capitalization.
Tether was one of the lucky coins, although suffering from a decrease in trading volumes moments before the price dump. The USDT token managed to become a warehouse in case of crypto volatility, raising its total market cap to $1,95 billion, which puts Litecoin's #7 position at stakes.
The biggest winner amid the crisis was Verge. XVG token saw a 7,5% price increase.
But the overall market capitalization in the crypto sector fell with $16 billion. As of press time, the total market cap of all cryptocurrencies is $122 billion. If the total market cap plunges beneath the $120 billion mark, cryptocurrencies will most probably see new lows.
Bitcoin
Ethereum
Litecoin
Bitcoin Cash
Tether
EOS
xvg
Bitcoin price
Verge price
Ethereum Price
TRON Price
Ripple Price