01 Sep 2023 Morgan Hayze
A Tough September For Bitcoin, But October May Turn Out Bullish
Historical Data Suggest That September Isn't Bitcoin's Month, But SEC's ETF Ruling Postponement May Give A Much Welcomed Boost To The World's Largest Crypto In October
---
While September isn't typically a good month for Bitcoin, analysts urged investors to look to mid-October, warning that the market may be in for a wild ride. While September has historically been a challenging month for Bitcoin, two ETF analysts have advised investors to focus on mid-October as the next set of "major days to watch."
By the end of September during the past 13 years, Bitcoin's monthly returns have closed in the red nine times, according to historical data.
Will Clemente, a well-known cryptocurrency analyst, warned his 689,000 X followers that September has had the "least number of positive-returning months" and has been experiencing a six-year negative trend.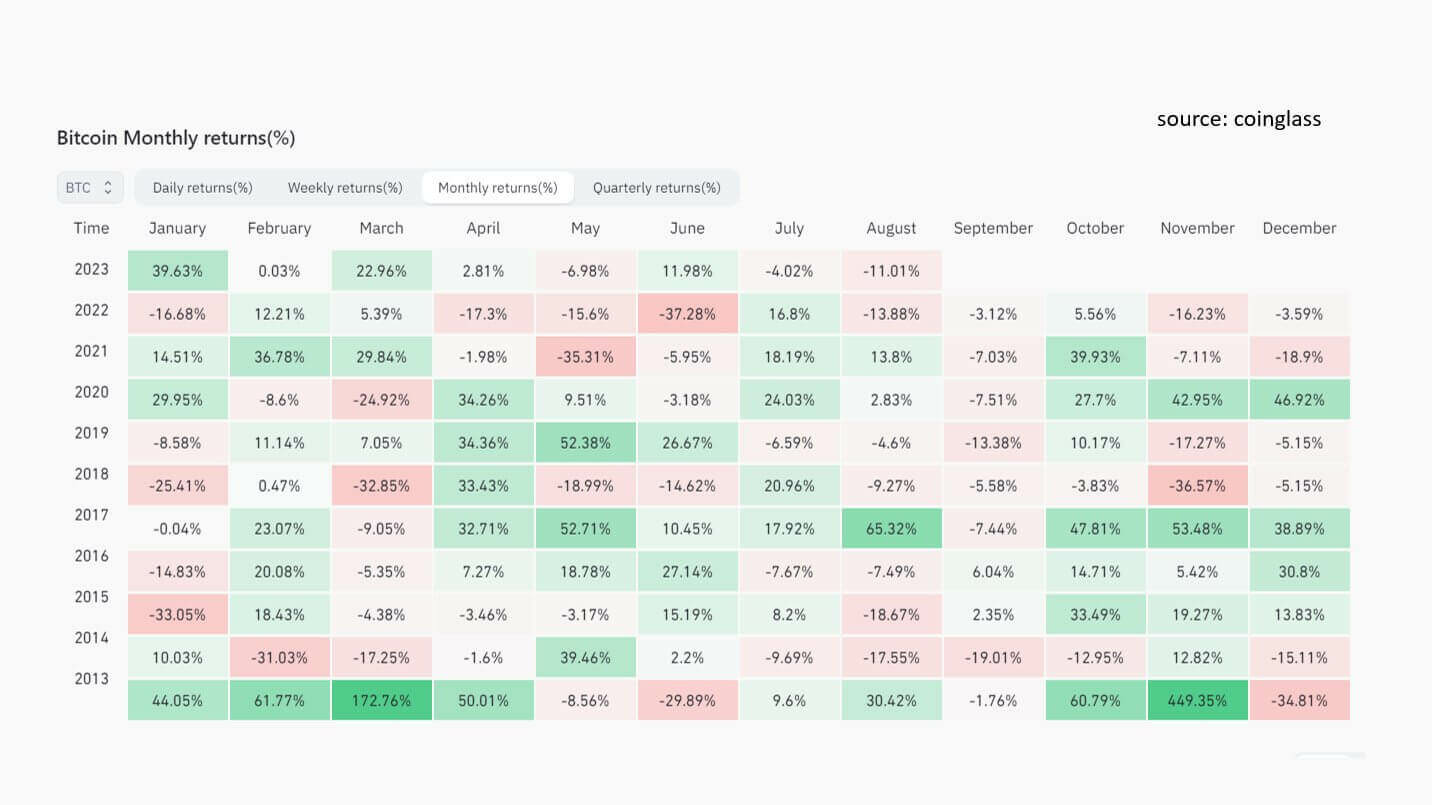 Source: Coinglass
A number of additional factors indicate that September will be difficult to navigate. For example, the monitoring tool Material Indicators warned that the largest cryptocurrency was likely to retrace all of the gains it had made following Grayscale's victory over the SEC.
The second deadline for the SEC to make a decision regarding seven pending spot Bitcoin ETFs, specifically those from BlackRock, Bitwise, Valkyrie, WisdomTree, VanEck, iShares, and Invesco, is set for mid-October, according to Bloomberg ETF analyst James Seyffart.
On August 30, Seyffart and colleague Bloomberg ETF analyst Eric Balchunas estimated that 75% of the time, a spot Bitcoin ETF would be approved. The SEC's final deadline would be in mid-October, at least until 2023.
Seyffart said that it was widely anticipated that the most recent batch of spot Bitcoin ETF filings would be delayed, and he would have been surprised if they had been accepted in the first round of deadlines this past week.
After quickly rising in response to the Grayscale news, the price of bitcoin has now dropped 4.5% over the past day and is currently trading for $26,066, according to information from CoinGecko.

SEC postpones Bitcoin ETF approvals for October
Meanwhile, application approval for BTC exchange-traded funds from WisdomTree, Invesco Galaxy, Valkyrie, VanEck, Bitwise Asset Management, and Fidelity has been postponed by the SEC.
The commission has extended the timeframe during which it may consider spot Bitcoin (BTC) ETF proposals from WisdomTree, VanEck, Invesco Galaxy, Bitwise, and Valkyrie, as well as the Wise Origin Bitcoin Trust proposed by Fidelity, according to SEC filings dated Aug. 31. After the proposed rule changes make their way in the Federal Register, the SEC has a total of 45 days to evaluate them, which gives the regulator a deadline until October to either accept, reject, or postpone a given decision.
The crypto community was eager for SEC's decision after the regulator lost a massive lawsuit brought by asset manager Grayscale. Many anticipated that the SEC could finally approve a spot Bitcoin ETF in the United States. The chances of at least one spot crypto ETF being approved have dramatically increased, according to many experts, following an appellate court's decision on Aug. 29 that the SEC would need to review Grayscale's petition to convert its Bitcoin Trust into an ETF.
The SEC rejected WisdomTree's request for a Bitcoin ETF after a 2021 filing. However, WisdomTree resubmitted its ETF filing once BlackRock also filed for a spot Bitcoin ETF. Some businesses re-filed in July after hearing that the SEC would be more receptive to accepting ETF applications with a surveillance-sharing arrangement, adding Coinbase as a partner.
Currently, a total of six for cryptocurrency ETF applications are pending with the SEC, including BlackRock, ARK Invest, Valkyrie, Fidelity, VanEck, Bitwise, and Invesco. Given that the SEC's deadline was September 1, many had anticipated that it would make a decision or postpone permission for Bitwise's BTC investment vehicle first. Since Labor Day is a national holiday in the United States and falls on September 4 2023, the commission might want to submit the papers before the weekend.
Bitcoin
SEC
btc
Bitcoin price
bitcoin news
cryptocurrency news
crypto news
SEC
Security and Exchange Commission