08 Feb 2021 Marsha Tusk
AAVE Market Cap Surpasses Uniswap After A Massive Weekly Rally
The 12% Daily Rally Made AAVE Record A New Price All-Time High And Over $5.5 Billion In Total Value Locked (TVL)
---
The Ethereum-based peer-to-peer DeFi lending platform AAVE managed to outperform its rival Uniswap to become the second-largest DeFi project in terms of market cap with a weekly rally that pushed AAVE's token to new all-time highs.
According to data from CoinMarketCap, AAVE's current market capitalization sits at $6,363,639,134, while Uniswap sits at $5,849,419,823. AAVE's market capitalization spike is due to AAVE experiencing a 75% price gain over the past week, with prices per token reaching an all-time high of $534.41 on February 5.
TVL values move correspondingly to the market capitalization, with AAVE recording $5.58 billion in total value locked, which comes close to the DeFi leader Maker (MKR) TVL of $5.85 billion. Uniswap sits at the fifth spot with a TVL value of $3.61 billion. Data from crypto analytics company Messari also shows that AAVE's price has gained over 437% year-to-date, which makes the token the fastest-growing DeFi token in 2021.
Source: DeFi Pulse
However, data from Messari also shows that the entire DeFi crypto market registered a 300% year-to-date growth in 2021 based on market capitalization of the sector. Some of the top-performing DeFi projects include UniSwap (UNI), Maker (MKR), SushiSwap (SUSHI), and Compound (COMP).
Meanwhile, the crypto industry leaders Bitcoin and Ethereum are rallying over the past week, which may be fueling the DeFi growth. Bitcoin, for example, is inching towards the $40,000 milestone, while Ethereum experienced a nearly 25% weekly price growth. Ethereum's price gains may also be a key factor in DeFi's explosion since most of the projects run on top of Ethereum's main blockchain network.
The DeFi rally also affected the prices on other projects like oracle service provider Chainlink. The price per LINK token exploded, marking a 15% weekly increase to an all-time high of $26.90 on February 5. Currently, LINK trades at $25.57, with a market capitalization of $10,46 billion.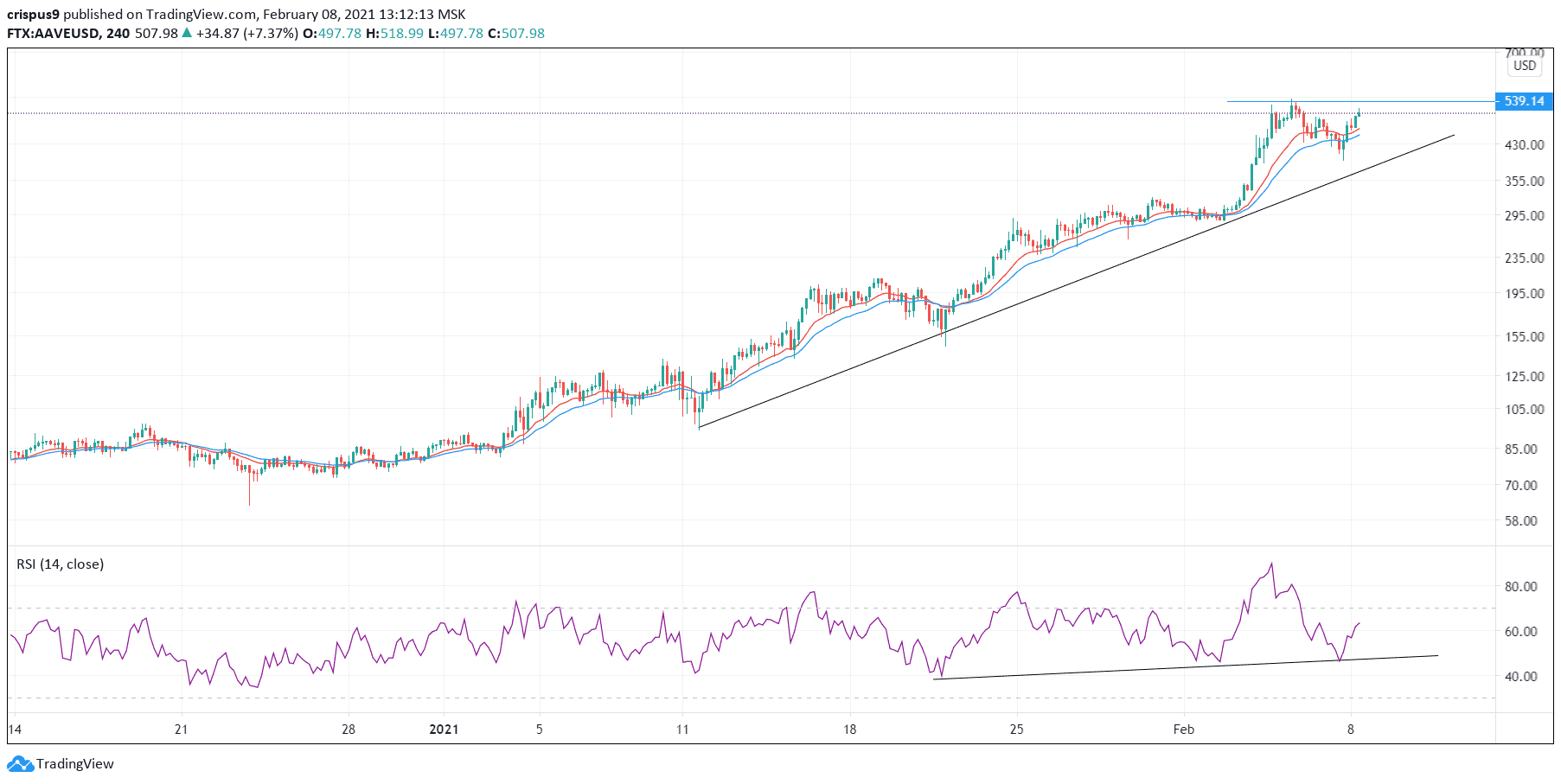 Source: Trading View
Some crypto experts are bullish on AAVE's price performance, as the next price milestone for the token is set at $600. Looking at the technical picture, AAVE tries to retest the $540 price point, while the token is still above the 25-day moving average and the ascending black trendline. Other technical indicators as the Relative Strength Index (RSI) are also above the ascending trendline.
Cryptocurrency
Crypto Market
crypto market monitoring
cryptocurrency news
decentralization
decentralized
Defi
Aave