14 Jun 2021 Josphat Kariuki
Almost 25% Of All Ethereum Is Currently In Smart Contracts
Meanwhile, ETH Prices Moved Up Nearly Eight Percent On The Day
---
Ethereum, the second-largest cryptocurrency to date, has almost a quarter of its supply locked in smart contracts, which is an indicator of ETH becoming a true decentralized financial layer.
ETHhub founder Anthony Sassano noted that the amount of ETH locked into smart contracts is almost identical to that during the DAO event in mid-2016.
"The amount of ETH in smart contracts is now at a similar level to what it was during The DAO event (around 23% of all ETH)", Sassano added.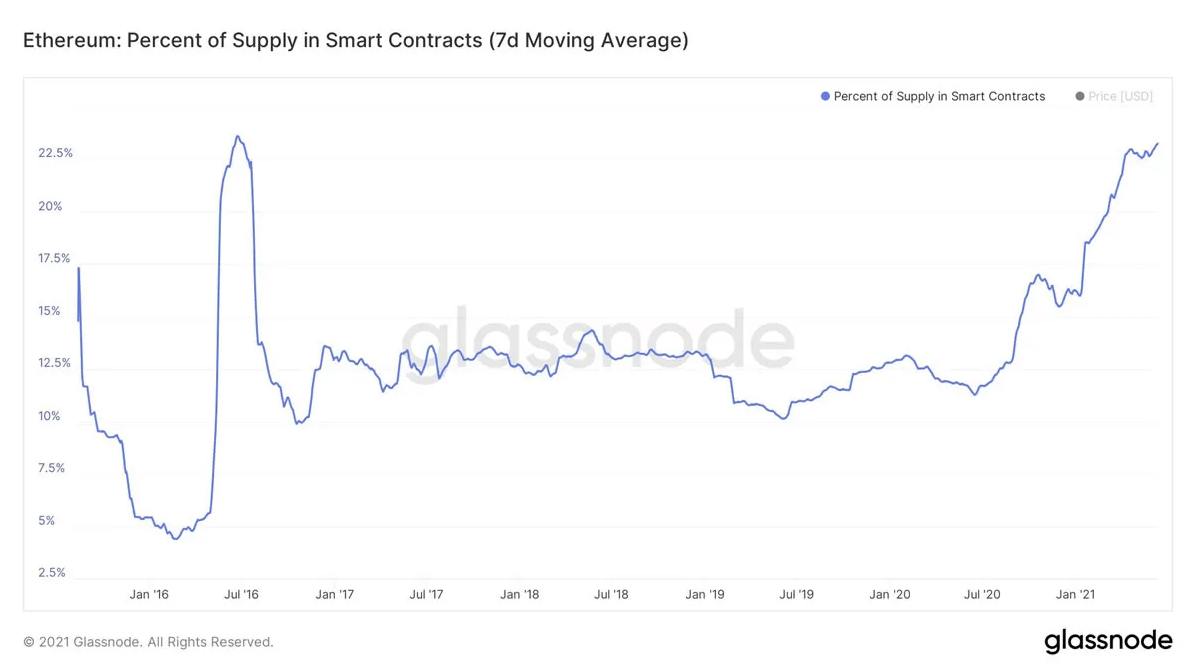 Source: Glassnode
However, according to Sassano, the amount of ETH locked in smart contracts in 2016 reached $230 million worth of Ethereum. Currently, the total amount of ETH locked is nearly $63 billion.
Ethereum saw its first smart contract lock-up amid the DAO release in 2016. Back then, DAO was the first decentralized third-party project to run on Ethereum's blockchain. Shortly after the $150 million DAO token sale, the autonomous organization suffered from a massive hack due to vulnerabilities in its codebase. Ethereum developers quickly forked the main blockchain to restore the stolen funds, resulting in the network splitting into Ethereum and Ethereum Classic.
Meanwhile, Sassano noted that over a million ETH tokens are locked in the Binance Smart Chain bridge contract, which aids interoperability.
Speaking of interoperability, a 25% share of the total amount of Ethereum tokens locked, or 5.42 million ETH are currently staked on the Ethereum 2.0 Beacon Chain deposit contract. According to current price data, over $13.5 billion is held in the contract.
However, traders expect those figures to decrease, as staking rewards diminish over time as more ETH is locked into the contract. The current yield is 6.7% annually.
The Ethereum 2.0 staking network already secured over 165,000 active validators, which is a 250% increase since the beginning of 2021.
Currently, Ethereum's price is up 7.89% on the day, shaking hands at $2,545.67. Bitcoin's runner-up rebounded from a weekend low of just under $2,300 on Saturday. The second-largest crypto to date recovered during Monday morning's Asian trading session.
However, Ethereum is still 43% off its all-time high but appears to have found solid support around current price levels.
Ethereum's gains come amid a revitalization in the entire crypto sector. Bitcoin recorded a twelve-percent price increase to $40,507.59 per BTC, while the rest of the top-20 are also recording 6-10% price increases.
Bitcoin
Ethereum
btc
eth
Ethereum news
Smart contract
Bitcoin price
Ethereum Classic
cryptocurrency news
crypto news
decentralized
Crypto Price
Ethereum Price
Smart Contracts
Ethereum 2.0
Binance Smart Chain