06 Jul 2022 Marsha Tusk
Bank Of America Sheds 50% Of Its Crypto User Base Amid The Largest Bitcoin Turmoil To Date
It Turns Out The Total Crypto Users That The Bank Handles Fell Below 500,000
---
It seems that the crypto winter is also affecting banking giants, as data from Bank of America shows that its crypto users fell over 50% to less than 500,000, falling down from over a million in November 2021. The main reason for the drop remains the havoc that Bitcoin and other cryptos are experiencing.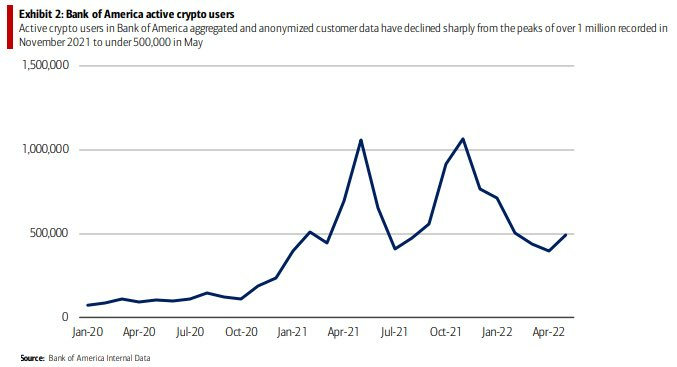 Source: Bank of America
Indeed, looking at CryptoBrowser's historical data, the world's largest crypto to date fell from its all-time high of nearly $70,000 in November to a little over $20,000 as of press time, which drove down the total crypto market cap to а little over $900 billion.
Bank of America's conclusion was formed via anonymized internal customer data, showing the number of clients that made crypto investments by sending or receiving payments to or from a cryptocurrency platform. Furthermore, central banks around the world are tightening their monetary policies in order to fight inflation, which further imposes risks on crypto assets.
Bitcoin recording its worst quarter ever
The ongoing havoc in the crypto markets was primarily due to Bitcoin's price movement, as the crypto leader lost almost 60% of its value over the past three months – from a 3-month high of $45,524 to just under $19,000 at the end of the three-month period.
The fall pushed back some investors, as data from Bank of America suggests that they witnessed a rise from 21% to 30% in investors saying they haven't invested in the cryptocurrency space and don't plan on doing so.
"Relatively few people view crypto assets as a reliable long-term investment." the bank noted, emphasizing that currently, cryptocurrencies make up no more than 1% of the overall U.S. household financial assets.
Bitcoin bulls consolidating
The ongoing uncertainty in the crypto sector has also hit the derivatives market, as crypto investment products AUM (assets under management) reached record lows in June, with the AUM of all major crypto investment product types falling sharply.
According to CryptoCompare, ETFs experienced the largest drop, declining 52.0% to $1.31bn, with weekly outflows from Bitcoin-based products averaging an all-time high record of $161mn. The situation with Ethereum exchange-traded products (ETP) is also in a declining pattern, with average outflows of $33.2mn per week.
Only the 21Shares Short Bitcoin ETP (SBTC) is on the rise, as the product, which "seeks to provide a -1x return on the performance of Bitcoin for a single day," cashed in a 30.8% monthly return. Also, according to CryptoCompare, the inverse Bitcoin ETP marks three consecutive months of AUM increase, with the latest increase from May to June being nearly 1.3%.
Bitcoin
btc
Bitcoin price
bank
bitcoin news
cryptocurrency news
crypto news
Crypto Price
Bank of America