06 Feb 2019 Anthony Lehrman
Binance Coin is Now in The Top Ten Crypto List Amid Global Crypto Fall
BNB overtook Bitcoin Cash SV to take the 10th place based on market capitalization.
---
Binance Coin (BNB) overtook Bitcoin Cash SV (BCHSV) or (BSV) to take the 10th place based on market capitalization.
The largest crypto exchange in the world pushed its token via an ICO in the summer of 2017 and had been growing in popularity ever since. While other cryptocurrencies see the bearish trend, with 2-10% drops, BNB has risen more than 20% just over the past month.
The main reason for BNB's success is the different implementations of Binance's coin in real life – like Binance's ICO platform, called Launchpad. Launchpad helped Tron's BitTorrent Token (BTT) to sell 23.7 billion coins using Binance Coin.
Binance Coin managed to surpass the $1 billion mark in market capitalization, and with the further development in Launchpad, experts are optimistic about BNB's future.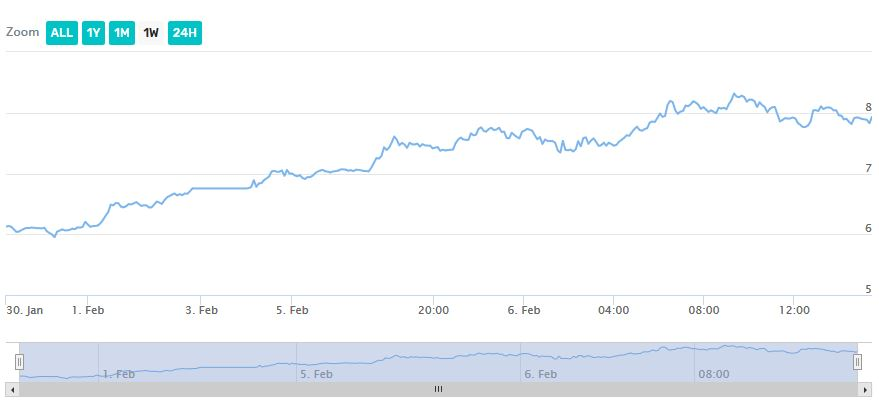 BNB price (source: https://cryptobrowser.io/coins/binancecoin-bnb/)
TRX price (source:

Read more: https://cryptobrowser.io/news/cryptocurrencies-fall-another-5-billion-tron-is-the-only-gainer/
The next ICO to be offered using BNB will be Fetch.AI (FET). The coin offering will start on 25th of February.
Binance's success is coming amid a massive bear market, with Bitcoin and other altcoins suffering from continuously decreasing trading volumes.
Binance announced Bitcoin trading fell 40% from last month, making the total trading volumes trough Binance to their lowest, since 2017.
Coinbase also announced a massive drop in trading volumes. The January volumes of BTC/USD trading pair barely made over $1 billion, compared to over $8 billion in December 2018.
The extremely bearish market has stopped the rapid growth of one of the largest crypto exchanges, OKEx. OKEx's growth in Q4 of 2018 has been halted, because of the lack of volatility, thus reducing the total amount of trading volumes.
And while experts are sure cryptocurrencies are entering a "plateau" of price movements and volatility, cryptocurrency exchanges continues to evolve. Recently, Binance closed a deal with a third-party payment provider for direct cryptocurrency purchases via credit card.
Coinbase
Binance
OKEx
Binance Exchange
binance coin
bnb
Binance Launchpad