15 Mar 2021 Anthony Lehrman
Binance Smart Chain Accused Of Fake Volumes
However, Researchers Found No Real Evidence To Back Their Accusations
---
One of the largest crypto exchanges to date, Binance, was accused of delivering fake technical indicators on its Smart Chain (BSC). Researchers, including Andrew Kong and FTX derivatives exchange founder Sam Bankman-Fried, made the accusations as PancakeSwap, running on BSC, has been publishing an enormous increase in volumes recently.
"There has been a lot of accusations regarding fake activity towards Binance Smart Chain (BSC) the past few weeks, but little evidence. We actually researched BSC user & economic activity and compared to other decentralized exchanges," Kong noted on Twitter, explaining his findings about the spike in unique addresses on BSC.
However, Kong emphasized that the primary reason for the unique addresses spike is the 1inch exchange's native CHI token deployment. BSC altered its algorithm to execute the addresses which were generated by the CHI smart contract and the figures dropped back to a normal level.
"The skepticism towards BSC is partially due to high volumes and TVL of PancakeSwap (PCS) seemingly coming from nowhere combined w/ Asian exchanges having a reputation of wash trading," Kong added.
The mechanism of work on DeFi platforms, however, makes it more difficult for wash trades to happen than on a centralized exchange, due to data from DeFi platforms is visible and publicly available on the blockchain. Kong added that Binance has to allocate up to $730 million annualized in order to pay the fees, instead of rebating them.
Fellow researcher Sam Bankman-Fried emphasized that fake volumes are a long-running concern in the crypto industry. He noted that despite the fake volumes, "there are lots of real volumes."
"My prior is that BSC would be majority real volume, but not confident; good to see real digging!", the CEO of FTX stated.
A large portion of the doubts come from PancakeSwap's increase in total value locked (TVL) and trading volumes. However, those indicators are fluctuating in correlation, which is a genuine movement indicator, rather than a fake volumes issue. Also, Kong developed the DEX AMM velocity indicator, which tracks the speed of turnover for automated market makers comparing transaction volumes against TVL figures.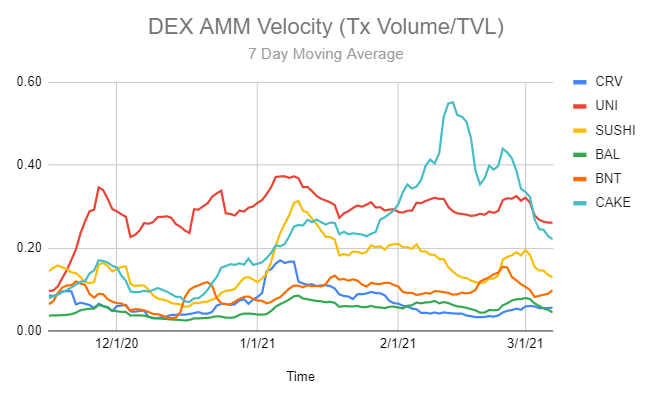 Source: Twitter
Furthermore, the researcher noted that arbitrage trading may be one of the key causes of PancakeSwap's recent activity uproar, as the exchange is close to Uniswap by arbitrage volumes, but cheaper transaction costs.
"Given that a tx on Pancakeswap on BSC is 100x cheaper than a tx on Uniswap (and PCS tx fee is 20 bps vs 30bps), you would expect significantly more arbitrage opportunity as well," Kong concluded.
The research also included social media activity, which is often tied to exchange performance but found no deviations that would suggest fake volumes reporting.
Blockchain
Binance
Blockchain Development
Blockchain Application
Blockchain News
Blockchain technology
Binance Smart Chain
BSC
AMM