23 Feb 2021 Anthony Lehrman
Bitcoin Accumulation By Coinbase`s Whales May Stop BTC Falling Under $44,000
Meanwhile, Bitcoin Recorded Its Biggest Hourly Green Candle In A Bullish Bounce From Correction
---
The fierce correction that Bitcoin endured on February 22 was short-lived, as the world's biggest cryptocurrency bounced back to around $54,000 before plunging back to current lows of $47,187.76. The correction comes just after Bitcoin reached its all-time high of $58,312 on Sunday, February 21.
The main reason for Bitcoin's ongoing steep price correction is the "avalanche-like" $1,5 billion liquidated on Kraken exchange alone. Furthermore, Binance also reported network congestion issues amid the consecutive downwards push.
"Almost a $7,000 hourly candle. That has to be by far the largest hourly move in history," crypto analyst Scott Melker reacted.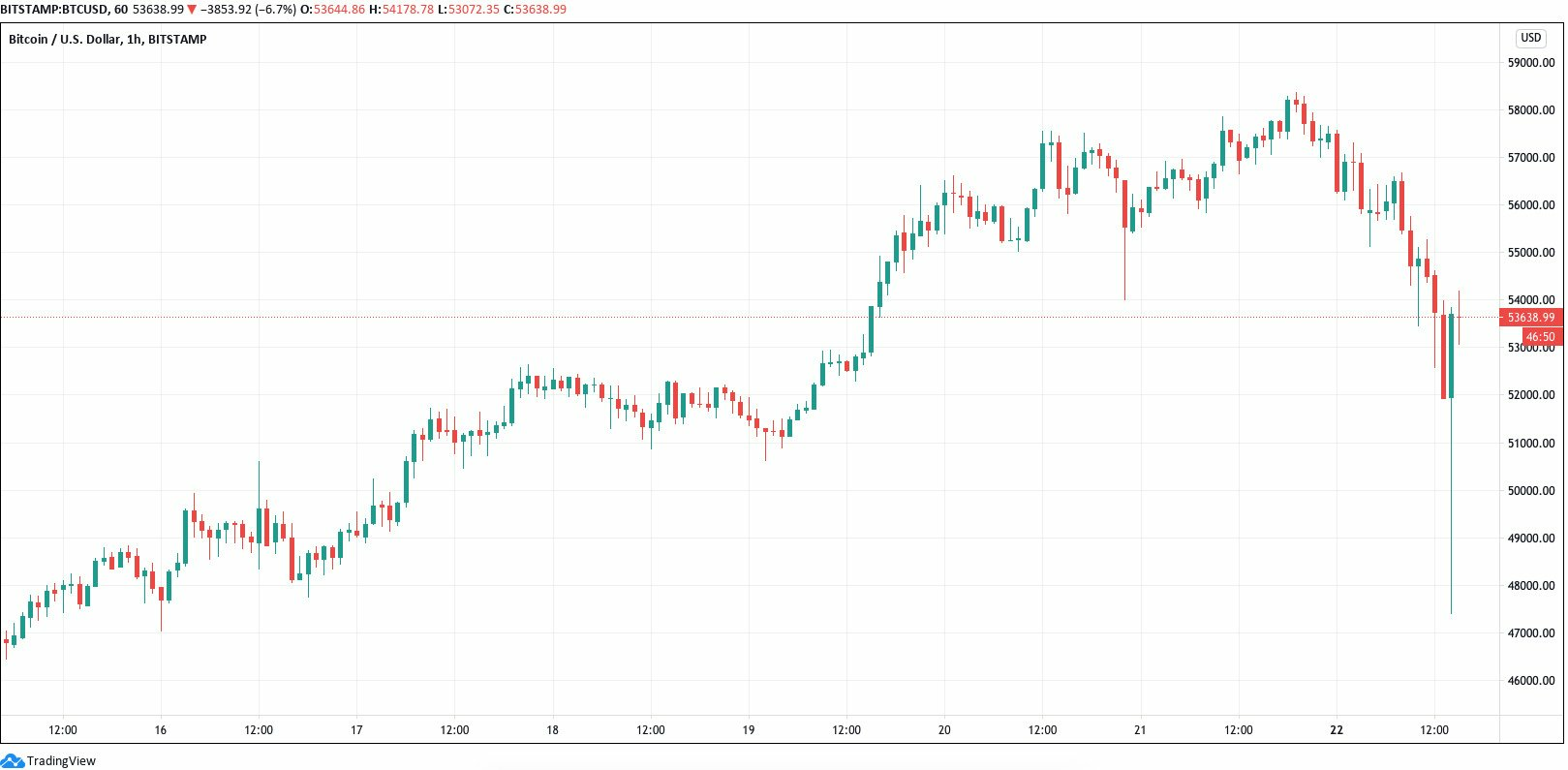 Source: TradingView
The massive dip coincided with a fresh batch of Bitcoin-oriented criticism from U.S. Treasury Secretary Janet Yellen, who claimed Bitcoin is an "inefficient" system and is still used in fraudulent and criminal activities worldwide.
To add fuel to the fire, Elon Musk also commented that Bitcoin's price "seems high", which may be the catalyst for the turmoil for the biggest crypto to date.
However, Bitcoin's price volatility does not affect Coinbase whales accumulation, as CryptoQuant's CEO Ki Young Ju commented that large-scale investors on the U.S. exchange, and one of the world's largest fiat onramps are buying in the $44,000 - $48,000 range.
"Coinbase Premium hit the all-time low -$1020 and then skyrocketed +$486. Remember who's driving the market. Coinbase whales have been accumulating BTC in the 44-48k range. Even if there are more corrections, it's unlikely to go down below 44k," Ju added.
Coinbase is notorious for providing a premium - where prices differ from elsewhere. The premium is calculated as a difference between the Coinbase Pro USD price and the Binance price, denominated in Tether (USDT). The price premium spike means Coinbase whales are on an accumulation spree despite Bitcoin's high price point.
Data from CryptoQuant also suggest large-scale institutional investors tend to hold their Bitcoin as an inflation hedge, rather than selling it for profit.
"Many U.S. institutions buy Bitcoin through Grayscale (GBTC) and even make GBTC premium. Our users often use this indicator as a bullish signal," CryptoQuant's research notes.
The rest of the crypto sector accompanied Bitcoin in its downfall, as Ethereum (ETH) slipped below $1500 to trade at $1,487.33 as of press time. Binance Coin (BNB) is still staying afloat, due to last week's BNB bull run, but lost almost 20% of its price and currently trades at $213.55.
Almost the entire crypto sector is recording double-digit losses, which range anywhere between eight and forty-five percent. One of the few gainers in the market wipe, Solana, on the other hand, recorded a 38% price increase daily, trading at $13.72
Bitcoin
Coinbase
Exchanges News
btc
Bitcoin price
exchange
bitcoin news
bitcoin news today
Exchanges