22 Jan 2021 Anthony Lehrman
Bitcoin And Ethereum Lose Ground As Crypto Market Collapses
The Rest Of The Crypto Sector Follows The BTC and ETH Decline And Records Massive Losses
---
The crypto sector may be entering a price turnover, as Bitcoin, the dominant cryptocurrency closed January 21's trading with a 13% price loss. The leading cryptocurrency experienced the same sort of behavior in the COVID-19-related market crash in mid-March 2020.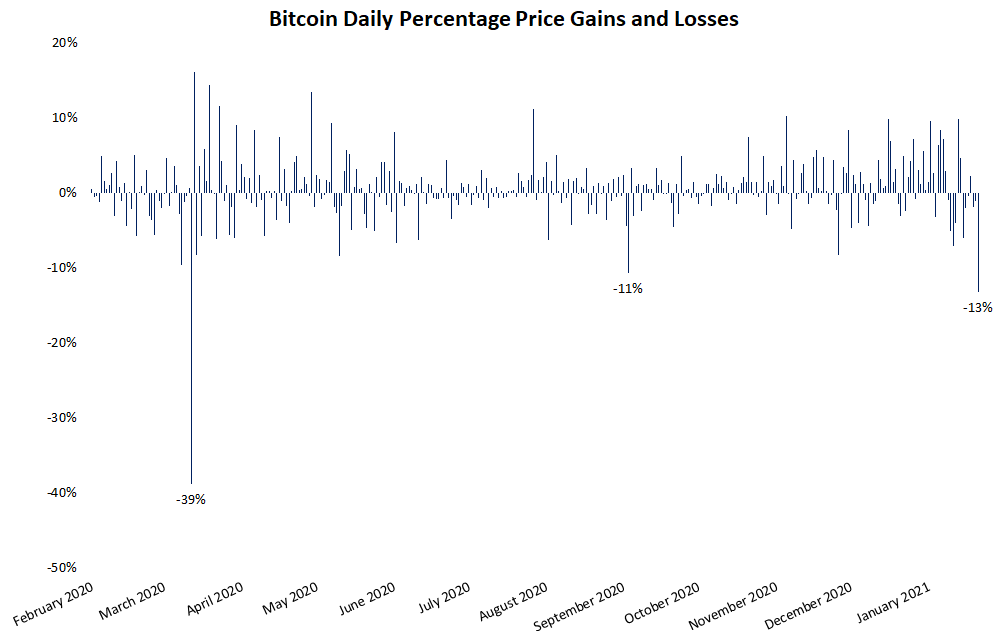 Source: TradingView; CoinDesk
However, many analysts like Techemy Capital trader Josh Olszewicz believe Bitcoin's price fluctuation is "probably just a dip" and a long correction is an almost impossible scenario. Olszewicz's opinion is backed by Bloomberg analyst Mike McGlone, who added that Bitcoin is "probing for support and resistance within a mostly $30,000 to $40,000 range for a while until embarking on the next leg of the stair-step rally."
On the other hand, crypto experts like Guggenheim's CIO Scott Minerd consider Bitcoin to be hitting a temporary top, which may lead the world's biggest cryptocurrency to date to retrace back to around its past all-time high of $20,000.
Bitcoin's price drop may be also due to increased selling pressure since the price per BTC hit $42,000 in mid-January. Selling pressure is most evident on U.S.-based crypto exchange Coinbase.
Meanwhile, Bitcoin's price fluctuation affected other key market players like Ethereum, for example. The second-largest cryptocurrency made a 20% price decline in just 24 hours, while the crypto sector's market capitalization shrunk to $850 billion.
After reaching a YTD top of $1,432, Ethereum lost ground and tumbled to the $1,050 - $1,100 region. The price slash, however, was market-wide, with many projects suffering from double-digit losses.
For example, Polkadot (DOT) lost 13% of its price, while Cardano (ADA) went past the 20% loss mark with a 22.23% price slippage. Other projects include Ripple (XRP) and Litecoin (LTC) with a 14% price slump each, Bitcoin Cash with a 19% price decrease, Chainlink (LINK) losing 18% off its price, and Binance Coin (BNB) falling down 11.34%.
However, the crypto sector still has a strong presence in terms of market capitalization, as AssetDash's "Top Assets by Market Cap" chart shows Bitcoin slipped just three spots to #11, with TSMC at #10 and Berkshire Hathaway sitting at #12. Ethereum, on the other hand, fell one place to #72.
Despite the daily price corrections, both Bitcoin and Ethereum continue to be among the best montly performers in the chart, with Ethereum gaining 44 positions with a market cap of $134,3 billion.
Bitcoin
Ethereum
Cryptocurrency
Crypto Market
btc
eth
crypto market monitoring
Ethereum news