16 Oct 2020 Morgan Hayze
Bitcoin And OKB Prices Fall Amid OKex Suspension On All Crypto Withdrawals
The Withdrawal Suspension Puts Strains On Crypto Market`s Prices
---
One of the leading crypto spot and derivatives exchanges, OKex, stopped all crypto withdrawals from its platform after "losing touch" with one of its private key holders. The trading platform announced that all withdrawal operations have been suspended since 11am Hong Kong time. However, no clear timeframe has been announced when withdrawals are planned to be resumed.
"One of our private key holders is currently cooperating with a public security bureau in investigations where required. We have been out of touch with the concerned private key holder. As such, the associated authorization could not be completed", the announcement from OKex states.
The exchange clarified that withdrawals would be resumed once the key-holder "is able to authorize the transaction."
The crypto market quickly reacted to the news, with Bitcoin dropping three percent from its $11,600 intraday high to trade as low as $11,250. Also, OKex's native OKB token plunged by around 15%, which is visible in the image below.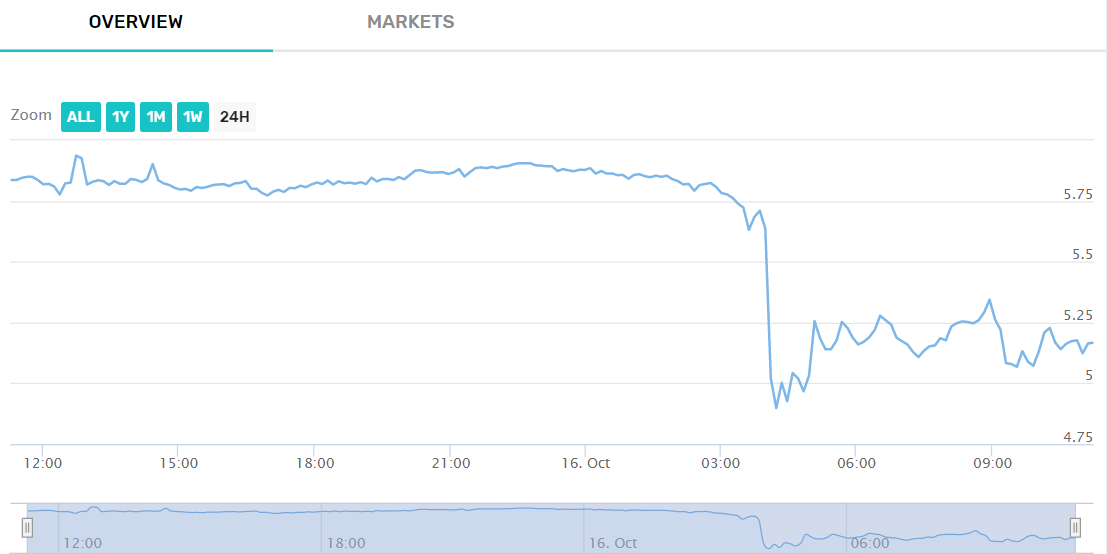 Source: CryptoBrowser.io
Meanwhile, Twitter-based transaction monitoring service WhaleAlert noticed several large-scale transactions between OKex and unidentified wallet addresses. Around 1,180 BTC worth $13.6 million, 21,000 Ethereum (ETH) tokens worth $7.65 million, as well as 50 million Tron (TRX) worth $1.3 million were registered as outgoing transactions. Also, WhaleAlert noted a massive $13.9 million incoming Tether (USDT) transaction.
The crypto community reacted to the news with a backlash of outrage. Many crypto users went public on Twitter, criticizing OKex's decision. In the meantime, OKex announced that all customer funds are safe and all other services, except withdrawals, remain in full operation.
Meanwhile, the OKex withdrawal suspension comes after public authorities in China conducted anti crypto-related money laundering operation. Reporter Colin Wu stated that the OKEx case may have something in common with the "Chinese government investigating money laundering using cryptocurrency for telecom fraud."
"Centralized exchanges are in a very dangerous state," Wu added.
OKex, which is Maltian-based crypto exchange, targets primarily the Asian markets. Colin Wu also discovered that "OKex-based over-the-counter crypto merchant, who mistakenly received around 500,000 CNY from a fraud group and the police is hunting him down across several provinces." However, Wu's information remains unverified as of press time.
OKex`s suspension on withdrawal services comes after arrests of 33 people during several separate law enforcement operations. All operations were on a global scale against money-laundering schemes, with focus across Europe, North America, and Oceania.
Bitcoin
Ethereum
TRON
Cryptocurrency
Crypto Market
Exchanges News
Tether
OKEx
crypto market monitoring
exchange
Exchanges
Tradings
Withdrawal