18 Nov 2020 Josphat Kariuki
Bitcoin Broke Above $18,000 After Surpassing $17,000 Just A Few Hours Earlier
The Crypto Leader Also Felt A Severe Correction Before Bouncing Back To Levels Past $18,000
---
Bitcoin, the world's top cryptocurrency to date, is continuing its price increase. After successfully establishing support zones at $17,000 and $17,500, the crypto leader aimed at the $18,000 level.
According to data from Cryptobrowser.io, Bitcoin broke above $18,000 in the early hours of November 18, reaching $18,463. Shortly after the yearly high, Bitcoin saw a massive price correction, which tumbled its price below $17,500. However, with trading volumes steadily increasing, Bitcoin bounced back and is currently trading at $18,201.34, marking a 7% price increase.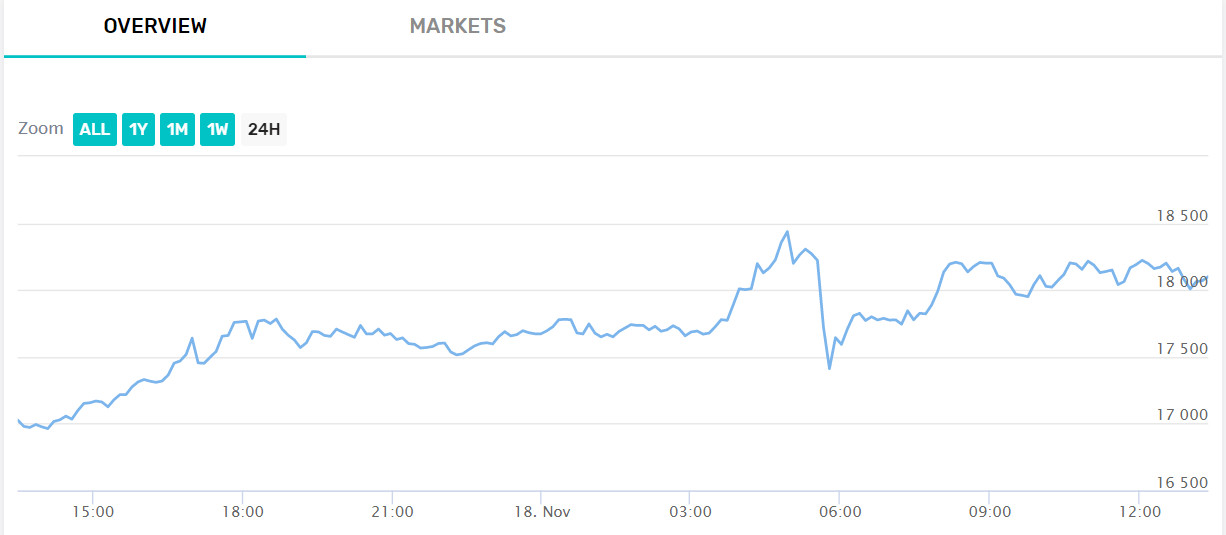 Source: CryptoBrowser.io
The price increase may be far more connected to global market movements and the Asia-Pacific region, as China's de-dollarization accelerates as U.S Treasury holdings near 4-Year lows, and constant development of the DC/EP digital yuan stablecoin. Furthermore, Chinese regulatory hurdles, which are heavily affecting one of China's biggest fintech giants – AntGroup, may not be enough for stopping AntGroup from conducting the biggest IPO in history.
Meanwhile, the technical indicator picture confirms that $18,500 remains a short-term resistance for the top cryptocurrency. Despite reaching $18,500 on crypto exchanges like Binance and Coinbase, the correction was quick and BTC went below $17,600, which in turn means $18,500 is a key area of interest for sellers to defend. If Bitcoin breaches $18,500, crypto experts are certain a broader rally would be imminent.
Also, the vast majority of Bitcoin, held in wallets remains profitable. According to data from IntoTheBlock, 99% of Bitcoin wallet addresses are now in a state of profit. Further, most of the crypto trading world set its eyes on eventual dips, which may be aggressively bought, resulting in further fueling Bitcoin's rise to all-time high levels.
The "buy-the-dip" thesis was confirmed by 10T Holdings co-founder Dan Tapiero, who is confident about Bitcoin's mid-term future.
"Not often in life do you get to look at a chart like this one. Bitcoin to slice through highs imminently. 3rd wave up to dwarf the 2017 move and should persist for several years. Real fundamentals driving price, unlike '17 speccy/ico retail flow. Big boys will buy dips now," Tapiero stated.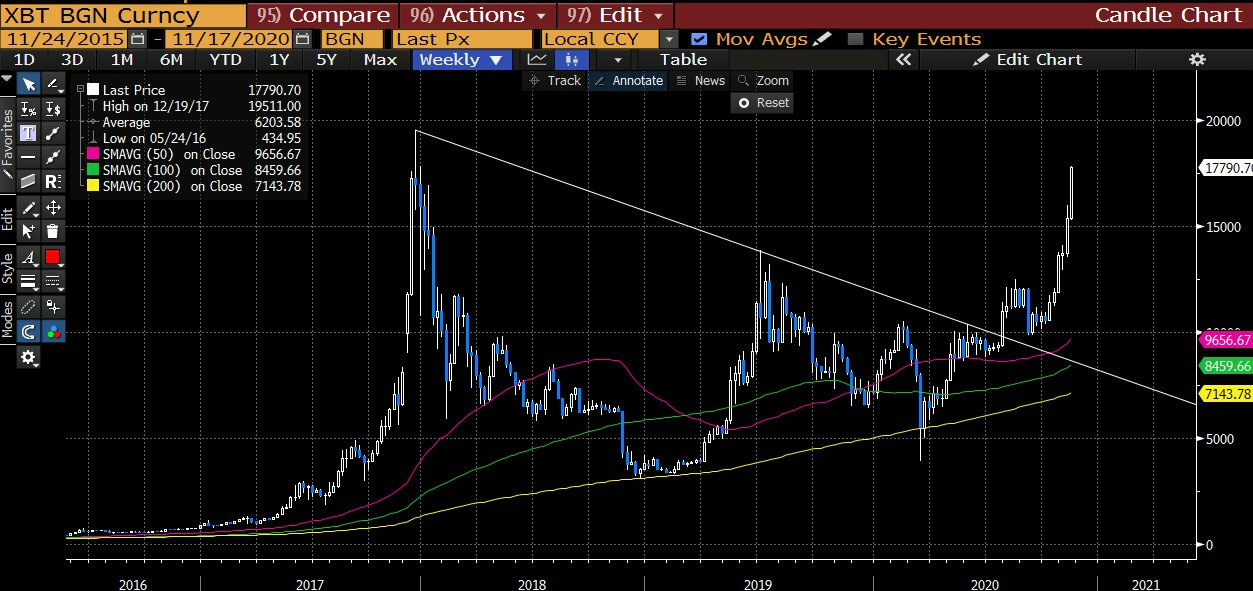 Source: Bloomberg
Tapiero's opinion was echoed by popular crypto traders like John Wick. However, some experts are on the other side of the spectrum, claiming Bitcoin is at the end of its short-term cycle, which is commonly followed by a steep price correction. Pseudonymous trader "Bitcoin Jack" noted that a drop in Bitcoin's price is the most likely scenario.
"We are right in the finale I think. Some upside left potentially to squeeze early shorters and bait more longs to trap. Then clap, bang goes the trap. We are eating shoarma for dinner," Bitcoin Jack concluded.
Bitcoin
Coinbase
Cryptocurrency
Binance
Crypto Market
btc
crypto market monitoring
cryptocurrencies
bitcoin news
cryptocurrency news
digital asset
bitcoin news today
digital
cryptocurrency market