29 Apr 2020 Simon Briggs
Bitcoin (BTC) Trading Volumes Spike Two Weeks Before The Halving
Trading Volumes On The World's Largest Cryptocurrency Surpassed The Levels Before The Global Market Wipeout From 12th March
---
Despite getting into a turbulent month of intense price swings and market wipes, due to the COVID-19 virus outbreak, Bitcoin's support seems to strengthen since the start of 2020. One of the largest crypto exchanges, like Binance and Coinbase, reported an average BTC trading volume of around $5.6 billion since the March 12 market wipeout. In contrast, Bitcoinity reported average Bitcoin trading volumes of $3,96 billion from January 1, 2020, to March 11. However, the average volume rally peaked at $9,2 billion worth of Bitcoin in the week after the global market crash.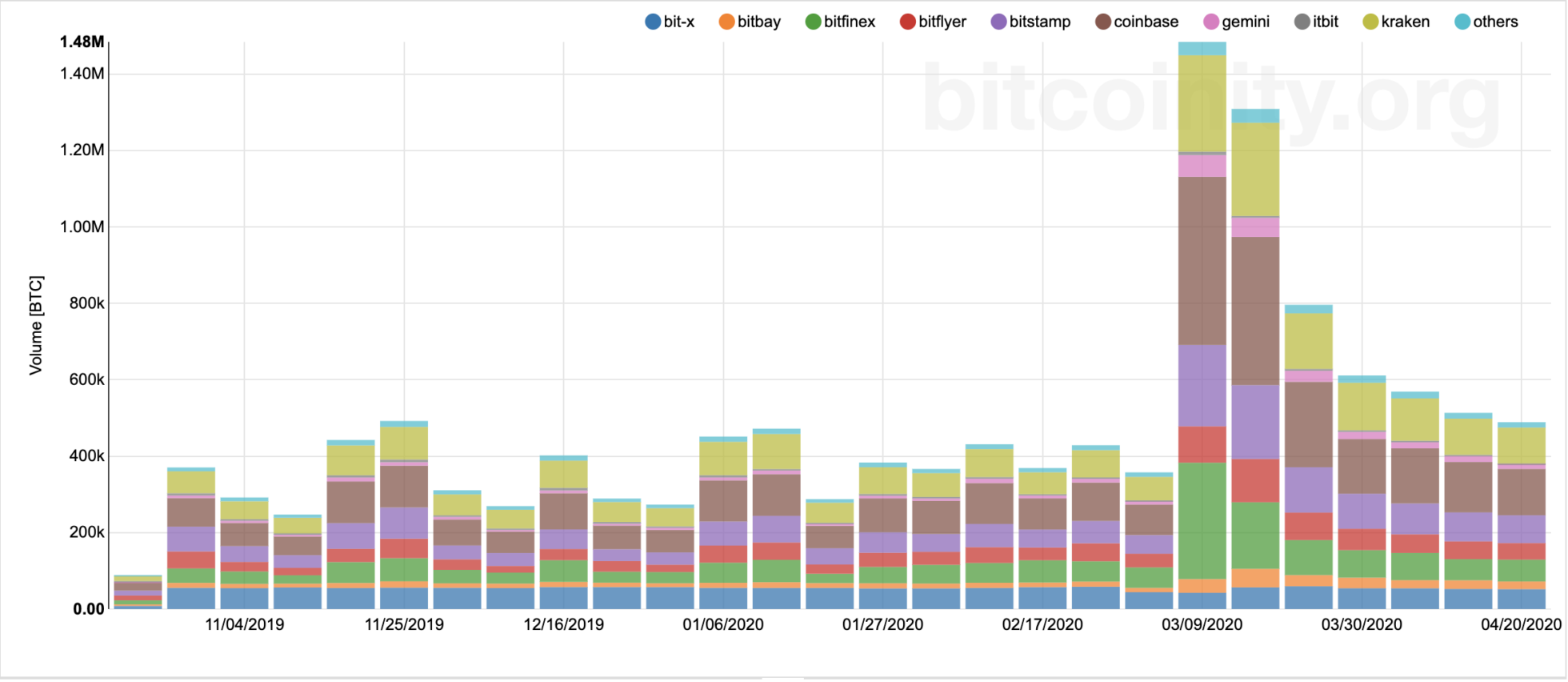 Source: Bitcoinity.org
Bitcoin's trading volume uptrend can be separated into two different models. The first model identified Bitcoin as a digital safe-haven asset, putting it alongside gold and other precious metals. Bitcoin's haven strengths were tested during the conflict between the U.S. and Iran when the geopolitical pressure forced the stock market down while fortifying Bitcoin's strongholds.
However, Bitcoin didn't stand to the massive fear-driven sell-off, and the price per BTC dropped in half – from $7,969 before the crisis to a yearly low of $3,858 on some exchanges.
The so-called "Black Thursday" market crash, however, created a global opportunity to "buy the dip" and benefit from Bitcoin's low trading price. Bitcoin's trading volumes skyrocketed, and the price followed quickly. The world's largest crypto managed to make a full recovery, trading at the levels before the crash. Volumes also took a massive boost last week, reaching higher levels than during the uptrend from Q1 of 2020.
The recovery, combined with the much-anticipated mining reward halving, scheduled for May 12, brought bulls back in the race. The halving event would cut down the reward for miners from 1800 BTC daily to 900 BTC per day.
Blockchain analysis company Glassnode reported that the BTC holder profile matures, as traders are going to hold Bitcoin, rather than trade it post-halving. The hold, in theory, should keep volatility and volume swings low.
Data aggregator Messari, on the other hand, sees a BTC bullish rally, nevertheless.
"It seems the crypto market activity settled down after the "Black Thursday" event, but with Bitcoin's third halving coming in just a couple of weeks, there is enough time to bring the animal spirit in the crypto sector," Messari stated in a blog post.
Meanwhile, Bitcoin moves on a steady weekly gain graph. The world's #1 crypto broke above the $8,000 resistance, with a strong volume increase in the past 24 hours. Currently, Bitcoin trades for $8,341.04. Marketwise, almost all of the top-100 cryptocurrencies mark 2-10% gains, with a total market capitalization of $234,661,359,327 and $152,634,163,535 in 24-hour reported daily volumes.
Bitcoin
Coinbase
Cryptocurrency
Binance
Crypto Market
Exchanges News
btc
crypto market monitoring
Bitcoin price
trading
bitcoins
exchange
bitcoin news
bitcoin news today
Exchanges
Tradings
Coronavirus