07 Nov 2018 Simon Briggs
Bitcoin Cash Price Hits the $630 Mark a Two-month High
The fourth largest cryptocurrency based on market capitalization, Bitcoin Cash (BCH), marked an 11% price increase yesterday, which continued today, reaching $634.02 this morning and a two-month high.
---
Looking at BCH's performance over the last seven days, its price jumped by 30 percent to the new trading price, as illustrated on the chart below.
Amid a rise of all cryptocurrencies from last week, Bitcoin Cash was trading at around $425 but surged with a 32.5 percent increase to a high of $588 on Monday. The surge marked a 5-week high in Bitcoin Cash (BCH)'s price.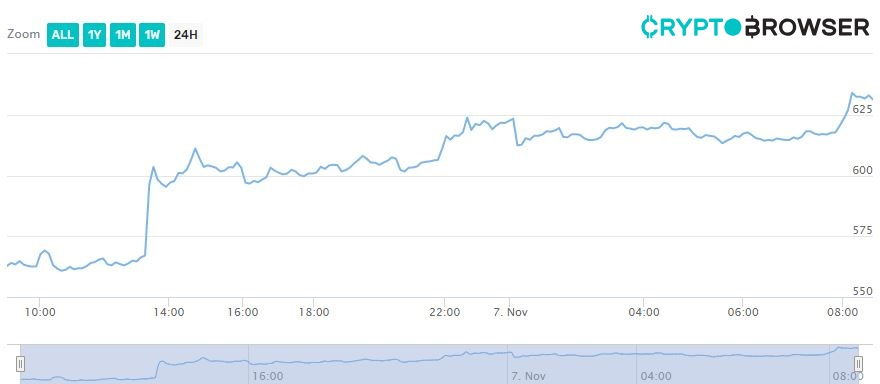 The price increase comes at a time when Bitcoin Cash is getting ready for a hard fork which will be released in the crypto world on November 15th.
The hard fork will implement two software products in its mainnet – Bitcoin ABC and Bitcoin SV. The primary goal of the hard fork is to increase the hashing capacity of the Bitcoin Cash network.
Bitcoin Cash is a result of an earlier Bitcoin (BTC) hard fork. The main issue that led to the hard fork was the scalability of Bitcoin.
Bitcoin Cash (BCH) is among the top gainers based on daily and weekly data.
As reported yesterday, the top-gainer on the crypto market is https://cryptobrowser.io/coins/ripple-xrp/(XRP), which jumped to over $0.50 to mark a one-month high. Stellar (XLM) also peaked its price by 8%.
Market capitalization in the cryptocurrency realm is up from $6 billion to a monthly high of $220 billion.
Bitcoin Cash
Cryptocurrency
Crypto Market
Prices
Markets
Market Capitalization