10 Jun 2022 Marsha Tusk
Bitcoin Could Reach 10% In Adoption By 2030
According To A Report, Bitcoin's Future Adoption Relies On The "Network Effect" Seen In Social Media Outlets
---
Bitcoin's global adoption can easily reach 10% by 2030, eclipsing past disruptive technologies such as automobiles and electric power, according to a report from Blockware.
The crypto intelligence company revealed the forecast in its report from June 9, 2022, comparing the path of the dominant crypto with the paths of nine groundbreaking technologies, including the automotive industry, smartphones, and social media.
"All disruptive technologies follow a similar exponential S-curve pattern, but [...] newer network-based technologies continue to be adopted much faster than the market expects," Blockware noted in its report.
Blockware made its prediction using the average and weighted average of historical technology adoption curves, as well as the growth rate of Bitcoin adoption.
"Bitcoin is a disruptive technology network that is quantifiably still in its early stages of adoption. In addition to examining the most pertinent Bitcoin user growth data and its historical relation to Bitcoin price, this report proposes a conceptual framework for forecasting future Bitcoin adoption in the context of past disruptive technology adoption cycles." the intelligence company added, highlighting that Bitcoin is still somewhere between the innovation and early adoption stages in its development, and a further market penetration could be happening soon.
Can Bitcoin holders trust the report?
However, Blockware's words are normally considered biased, as the company is actually the research arm of Blockware Solutions, a Bitcoin mining and blockchain infrastructure company. Nevertheless, data from the report suggest Bitcoin's adoption curve to be steeper than other disruptive technologies and to reach saturation quicker than many other disruptive technologies.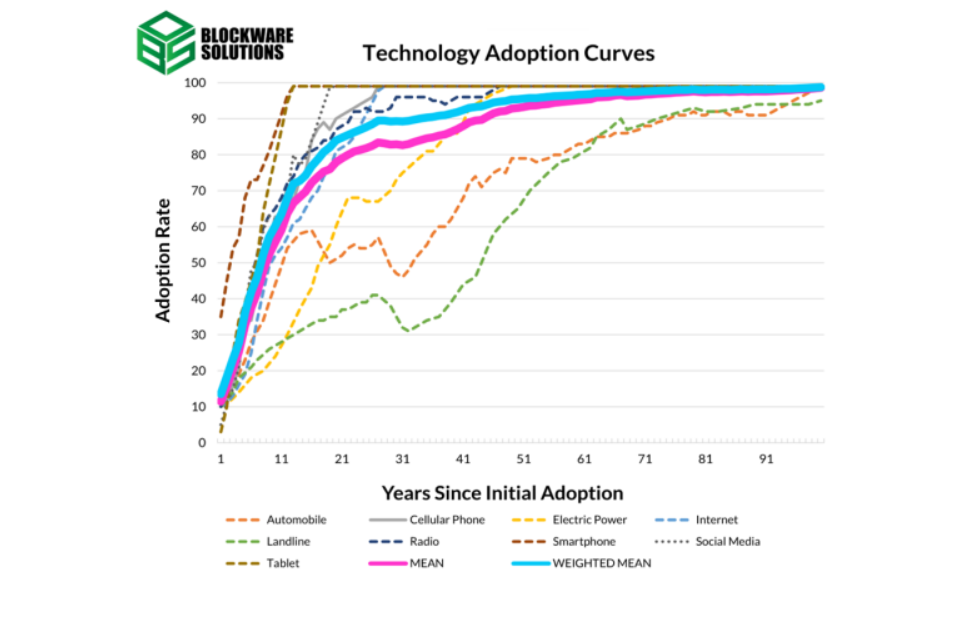 Source: Blockware Solutions
Meanwhile, what separates Bitcoin from other technologies is the direct monetary incentive to adopt such a technology, while in cars and smartphones, for example, users were adopting the new products and services, based on a convenience/efficiency-related incentive.
"With Bitcoin direct financially incentivized adoption creates a game theory in which everyone's best response is to adopt Bitcoin", Blockware added.
Could such a prediction come true?
Despite the bullish stance, Blockware did raise a flag of concern about their prediction model being only conceptual and it should not be considered as an investment or trading advice. Furthermore, the team at Blockware reviewed the report with several crypto investors and analysts, including executives from Ark Invest, Arcane Assets, AMDAX Asset Management, and M31 Capital in order to publish an unbiased report.
Nevertheless, the data in the report may be close to reality, as TripleA reported that in 2021, global crypto ownership rates reached an average of 3.9%, with over 300 million crypto users worldwide. Further data from Chainalysis reveal that Bitcoin's year-over-year adoption exploded nearly nine times, with Vietnam ranking the highest in cryptocurrency adoption, followed by India and Pakistan. Crypto exchange Gemini added that crypto adoption skyrocketed in 2021 in countries like India, Brazil, and Hong Kong.
Will the crypto market react?
The crypto market stagnation could provide both an excellent starting point for crypto adoption and provide risks to crypto newcomers due to volatility. The past 24 hours managed to push the entire sector slightly down, with a total market capitalization of $1.21 trillion. No major price swings were recorded, as the biggest price gainers in the past 24 hours were Bitcoin SV, which added 4% to its price, Helium adding yet another 2%, and LEO with a mere 1% price increase.
On the losing side, GALA, Algorand, and OMG Network scored the biggest price declines at around 7% each. Bitcoin is down 1.5% to sub-$30,000 levels, while Ethereum struggles to secure the $1,800 mark.
Bitcoin
Crypto Market
btc
bitcoin news
cryptocurrency news
crypto news
Crypto Price
Adoption