26 May 2023 Jane Whitmoore
Bitcoin Could See A "Big Move", Despite Bearish Crypto Sentiment
The Bearish Momentum Can Be Easily Seen In The Altcoin Market
---
Although the price of the leading cryptocurrency Bitcoin ($BTC) recently dropped to a ten-week low, one analyst recently predicted that the price of the cryptocurrency is about to make a "big move."
Leading on-chain analyst at Glassnode Checkmate has seen a growing sense of "exhaustion" among market players, which he described on Twitter. He emphasized the Sell-side Risk Ratio indicator, which is currently close to its lowest values ever observed.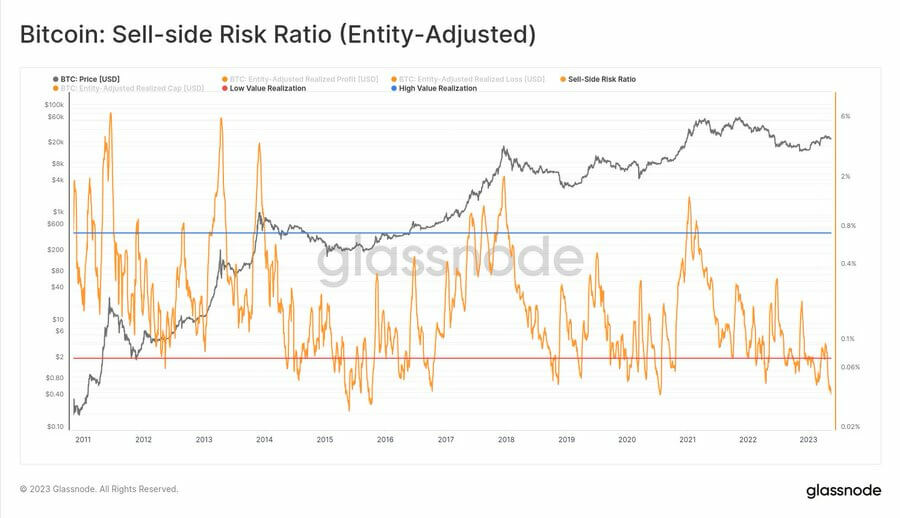 Source: Glassnode
Checkmate concluded that investors are unwilling to sell at the present prices, regardless of whether they are profitable on each of their individual investments, notwithstanding the difference between realized price and spot price.
This type of scenario typically happens "when sellers are exhausted on both sides, suggesting big moves are coming."
Philip Swift, the inventor of the data source LookIntoBitcoin and the co-founder of the trading platform Decentrader, recently urged investors to remain unaffected despite BTC's recent dismal performance.
According to Swift, Bitcoin is "performing well and as expected" despite the hysteria that has gripped the cryptocurrency market. According to various data sources, the price of the cryptocurrency is currently trading at its lowest point since mid-March while remaining inside a narrow $4,000 range.
According to Swift, there has been a "clear BTC breakout above Realized Price", which is the overall price at which the BTC supply was last changed is represented by the realized price. According to information from LookIntoBitcoin, this price is currently slightly above $20,000. Each cycle begins when the spot price crosses over the realized price line, as seen in Swift's accompanying chart. In the past, a large BTC upsurge came about 140 days later.
Thunders in paradise for the altcoins
Following the general cryptocurrency market, Ethereum dropped to a low of $1,760 in the early morning hours before making a move. ETH gained strength at the First Major Support Level (S1) around $1,765, rising to a high of $1,819 in the early evening. However, ETH slipped back to conclude the day at $1,806 after failing to pass the First Major Resistance Level (R1) at $1,845.
Staking inflows decreased from 76,256 ETH on Wednesday to 58,624 ETH on Thursday, according to CryptoQuant. Having declined twice in a row, this was a bearish sign for the ETH community.
The withdrawal profile, however, was negative. Principal withdrawals spiked to above-average levels last night. The forecast for withdrawals in the morning session was equally negative, with principal ETH withdrawals predicted to stay high.
The net ETH staking balance decreased to an excess of 80,270 ETH, or $148.22 million, on Thursday from a surplus of 220,950 ETH on Wednesday. There were 6,460 ETH in withdrawals compared to 86,730 ETH in deposits.
TokenUnlocks reports that the entire amount of pending withdrawals was 43,600 ETH, or roughly $78.70 million. Notably, the staking APR was 8.59%, up 1.78% from the previous day.
What about Ethereum's price?
To reach the first major resistance level at $1,830, ETH needs to stay away from the pivot at $1,795. A breakthrough of Thursday's $1,819 high would denote a breakout session. However, a bullish session has been supported by data on ETH staking, US economic indicators, and US debt ceiling updates.
The bulls would probably test the second major resistance level at $1,854 in the case of a protracted rise. The third major resistance level is located at $1,913.
In the event of a fall through the pivot, the first major support level at $1,771 would come into play. However, eth should resist falling below $1,750 and the second major support level around $1,736 until a sell-off spurred by risk-off occurs. The third major support level is located at $1,677.
Bitcoin
Ethereum
btc
eth
Ethereum news
Bitcoin price
bitcoin news
cryptocurrency news
crypto news
Crypto Price
Ethereum Price