27 Jun 2019 Marsha Tusk
Bitcoin (BTC) Dropped 15 Percent In An Hour Yesterday, Here Is Why
Is the Elliot wave theory applicable in such events?
---
The Bitcoin spike in June managed to get to levels of $13,900, making a 350% price gain since December 2018. The global crypto leader brought back 61.8% of the 2018 bearish trend. The upwards rally saw significant support from bulls, with little to no resistance. Nevertheless, the cost dropped 15% in just an hour late on Wednesday. The plunge lowered BTC's price to $11,800 before bouncing back to $13,000.
The primary reason behind the drop is Coinbase shutting down operations late on Wednesday. The blackout happened over the entire Coinbase frontend, leaving the backend intact. Coinbase later reported that the issue was resolved. Despite Coinbase being non-operational for just an hour, Bitcoin's price plunged to $11,800, losing almost $2,000.
As of press time, BTC exchanges for around $11,774, and despite the drop, it's market dominance is growing steadily. The expansion from 56% to 62% in under a month is something to consider.
But will Bitcoin's price continue its upwards rally? It's hard to tell for sure, but the market will make a significant correction of the current bullish pattern at one point or another. Bears could push Bitcoin beneath $10,000 and even to $8,500, if not lower.
On the other side, if we take into consideration the strength of crypto bulls at the moment, no dimension is hard to break. The possible milestones for Bitcoin's price are at $17,100 and the untouched high at $19,800.
Bitcoin value forecast: Elliott wave theory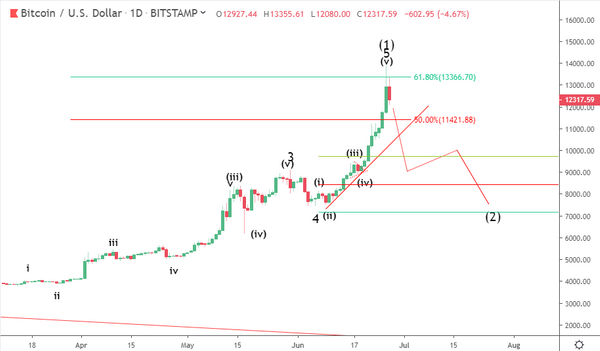 According to the Elliott wave hypothesis, Bitcoin is currently at the fifth rush of a bullish wave from $3,100. The previous reverse levels were the 50% and 61.8% correction levels in 2018 at $11,400 and $13,400 respectively.
The last week Bitcoin's price surpassed both levels, but there were no apparent signs of reverse patterns until now. If the current dip continues below the wave (v) trendline, we might see a drop to $8,000. If the price stays above the line, significant price increases can be seen.
Bitcoin
btc
Bitcoin price
bitcoin news
bitcoin news today
btcusd
Crypto Price