01 Sep 2018 Arjun Agarwal
Bitcoin Falls Below the $7K Mark
On August 30, right after Bitcoin's short leap above the $7,000 mark, cryptocurrency markets witnessed the top ten coins losing between 1.5% and 5% of market cap.
---
All the top cryptocurrencies fell into the red category except for 13 altcoins. Bitcoin is still below the $7,000 mark and at that time was trading for $6,942, down by 1.52%. The monthly losses for Bitcoin are estimated at reaching nearly 15%.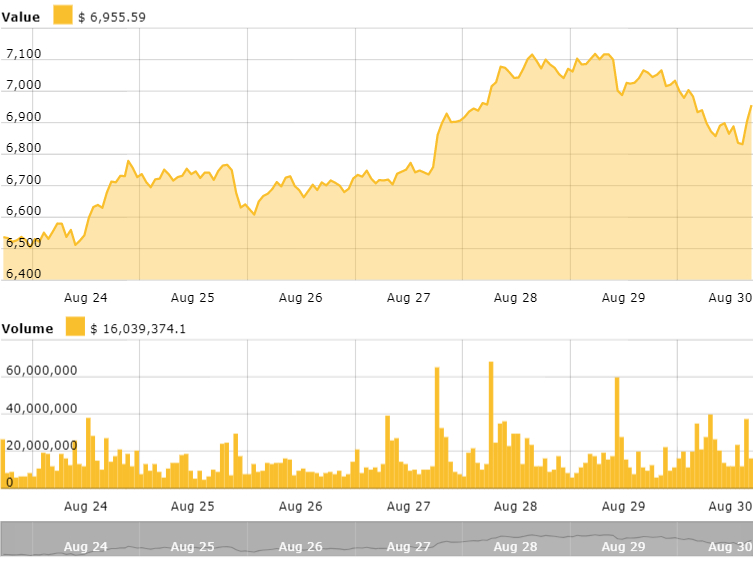 Ethereum (ETH) could not escape the same fate and lost a little over 3% of its value. It was trading for $284. As a result, ETH shifted the past gains it made and reached a monthly loss of 39%.
Stellar (XLM)- another one of the top ten coins, suffered by 2.86% and was sold for 22 cents. Ripple (XRP) was trading for 33 cents and got down by 2.96%. Bitcoin Cash (BCH) reached a low point with a 3.17% loss and was trading for $538.77.
Litecoin (LTC) performed well, compared to the cryptos above, and was down by only 2.41%. It was exchanged at almost $60.50. EOS (EOS), which reached a 12% growth the day before, moved backward by 3% and was trading for $6.05.
The price-performance of IOTA (MIOTA) has been remarkable mainly thanks to its partnership with the Japanese conglomerate Fujitsu. The company will launch IOTA's proof-of-concept (POC) to complete audit trail processes. Even with that the crypto lost 4.68% and was trading for $0.71.
The total market capitalization of the uppermost cryptocurrencies was estimated to be around $225 billion which is $8 billion less than the day before.
With a fluctuated market price, government regulators are trying to reach transparency in the industry. Economic and financial affairs ministers from the EU will gather for a meeting in September to discuss the difficulties faced by digital assets.
The government of Poland has introduced a bill to explain the country's crypto taxation policy. Charlie Lee believes the current markets hold a possibility for massive adoption and Anthony Pompliano is sure the cryptocurrency virus is spreading.
Bitcoin
Ethereum
cryptocurrency trading
Cryptocurrency exchange
Litecoin
Bitcoin Cash
Crypto Market
Ripple
IOTA
EOS
Stellar
Prices
Markets