15 Jun 2021 Anthony Lehrman
Bitcoin Floats Around $40,000, Reaching Its Highest Level Since May
Meanwhile, Tesla's CEO Elon Musk Noted That The Carmaker May Resume Bitcoin Payments If Bitcoin Mining Becomes Greener
---
The world's largest cryptocurrency to date, Bitcoin, has once again surpassed $40,000, reaching a weekly high of $40,978.36. The upwards spike gives technical analysts a breath of fresh air, as Bitcoin was close to recording a "death cross" price pattern, which indicated more trouble for the #1 crypto.
The weekly price increase sits at 21 percent, which also pushed other crypto projects to follow suit.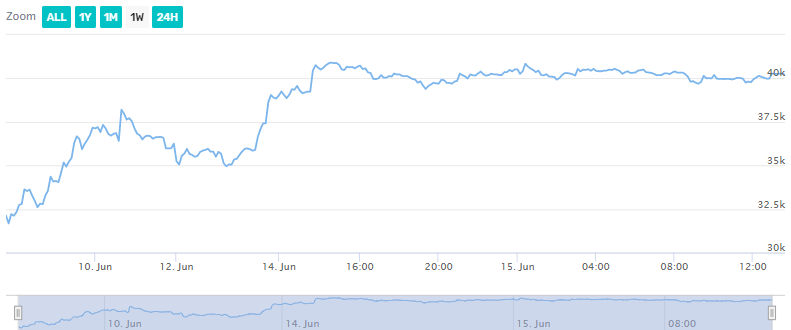 Source: CryptoBrowser
Art Hogan, chief strategist at National Securities commented on Bitcoin's technical picture, noting that "getting back above $40,000 was technically a positive."
"The folks who look at this using technical analysis would tell you that when it breached $40,000, that sent a negative signal, and now that it's recaptured that level, it sends a positive signal," the strategist added.
Analysts are predicting great times for Bitcoin if the price per BTC manages to breach over the 200-day moving average price point of $42,500. If the biggest crypto to date manages to pull the trick off, its price could most definitely spike towards the $50,000 area.
However, "In order for Bitcoin to resume that rally, I think you're going to need to see more widespread legitimate adoption," Tom Essaye, a former Merrill Lynch trader noted.
"Bitcoin is always going to be volatile and the manic run-up we had was never sustainable. The question is where do we settle? What is the new floor in Bitcoin?," Essaye added.
Despite Bitcoin's comeback, the crypto sector is still far behind from its mid-April highs. Bitcoin is down 38.35% from its April 14 all-time high of $64,863.10. Ethereum's losses are even greater – as of press time the second-largest crypto to date recorded a 40% price drop since its $4,362.35 all-time high, which happened on May 12.
The spike came at the same time as Tesla CEO Elon Musk commented that its automotive brand may soon re-start its Bitcoin payments program, but only after miners go 50+% in clean energy. However, scientists from the Cambridge Center for Alternative Finance announced that 39% of crypto mining is already powered by renewable sources, mainly hydroelectric.
Bitcoin
Ethereum
Cryptocurrency
Ethereum news
Bitcoin price
bitcoin news
cryptocurrency news
crypto news
Ethereum Price