30 Oct 2018 Josphat Kariuki
Bitcoin Hits Estimated Support Point At $6235
Following a rough trading day after falling to $6201.14 yesterday, Bitcoin managed to make its way up to $6234.46 by the morning trades – reaching estimated support value of $6235.
---
Trading at $6267.14 in the early hours of the day, Bitcoin is approaching the $6275.30 resistance point. Experts believe that the BTC/USD pair needs to trade above $6289.25 to continue with the upward trend.
Some believe the pair could fall back to $6235 if it doesn't hold above $6275.30. Some reports also indicate that Bitcoin could further drop down to $6142.20 if it falls back to $6235.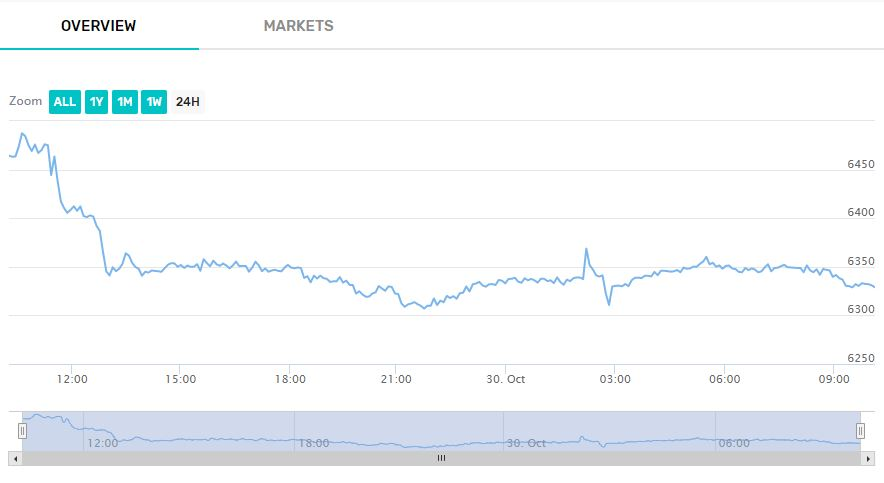 Bitcoin will celebrate its 10th birthday tomorrow, October 31, marking a decade since the publication of its white paper. Since its launch, this cryptocurrency has traded at less than a cent and risen to almost $20,000.
Bitcoin's Future by 2028
Following Bitcoin's success, the crypto community saw the launch of over 3,000 digital assets. Due to the volatile nature of the market, some have failed to leave a clear mark in the financial revolution history, whereas others have been reshaping payments as we know them today. And while none pose a significant threat to Bitcoin, some experts believe that the situation is about to change.
The CEO of deVere Group - Nigel Green, foretells that Bitcoin is about to get stiff competition with the booming crypto market. Despite spearheading the crypto revolution, Nigel believes that Bitcoin's dominance and influence will significantly reduce in the second decade.
With the mass adoption of cryptocurrency, various digital assets will emerge and dent Bitcoin's market share by increasing the competition. By Nigel's estimations, the current $400 billion crypto market will hit the $20 trillion mark in the next decade.
Currently, there is a shift away from fiat currency, and the trend is only expected to increase by 2028. Mass adoption is expected to rise at a thriving speed, growing the cryptocurrency market by 5000% within the next ten years. That means the market will have drastically changed by the time Bitcoin celebrates its 20th anniversary.
As a notoriously volatile digital currency, Bitcoin has seen a 2000% rise in 2017, followed by a 65% decrease in 2018. Since September, it has been consistently trading at $6,500 while fluctuating by a few hundred dollars.
The trend has been supported by the absence of destabilizing news in the crypto space along with huge attempts to address Bitcoin challenges. If the trend continues, crypto experts believe that the leading digital asset will realize steady gains in the coming years.
Iqbal Gandham, а crypto expert at eToro highlighted Bitcoin's resilience over the last 10 years and its ability to ride the volatility waves. Talking about the future, he added that the next decade could see Bitcoin becoming the norm when it comes to money transfers and payments.
Bitcoin
btc
btcusd
Prices