02 Jul 2020 Morgan Hayze
Bitcoin Hits Several Records Amid Seemingly "Boring" BTC Period
The Records Come As Bitcoin's Daily Trading Volumes Decreased And Social Engagement Slightly Increased
---
The past couple of weeks were rather calm in the crypto world, as Bitcoin showed decreased price volatility and sideway price movements. However, the world's biggest cryptocurrency based on market capitalization achieved several highs on vital metrics, such as hourly transaction count, number of new addresses and number of active addresses.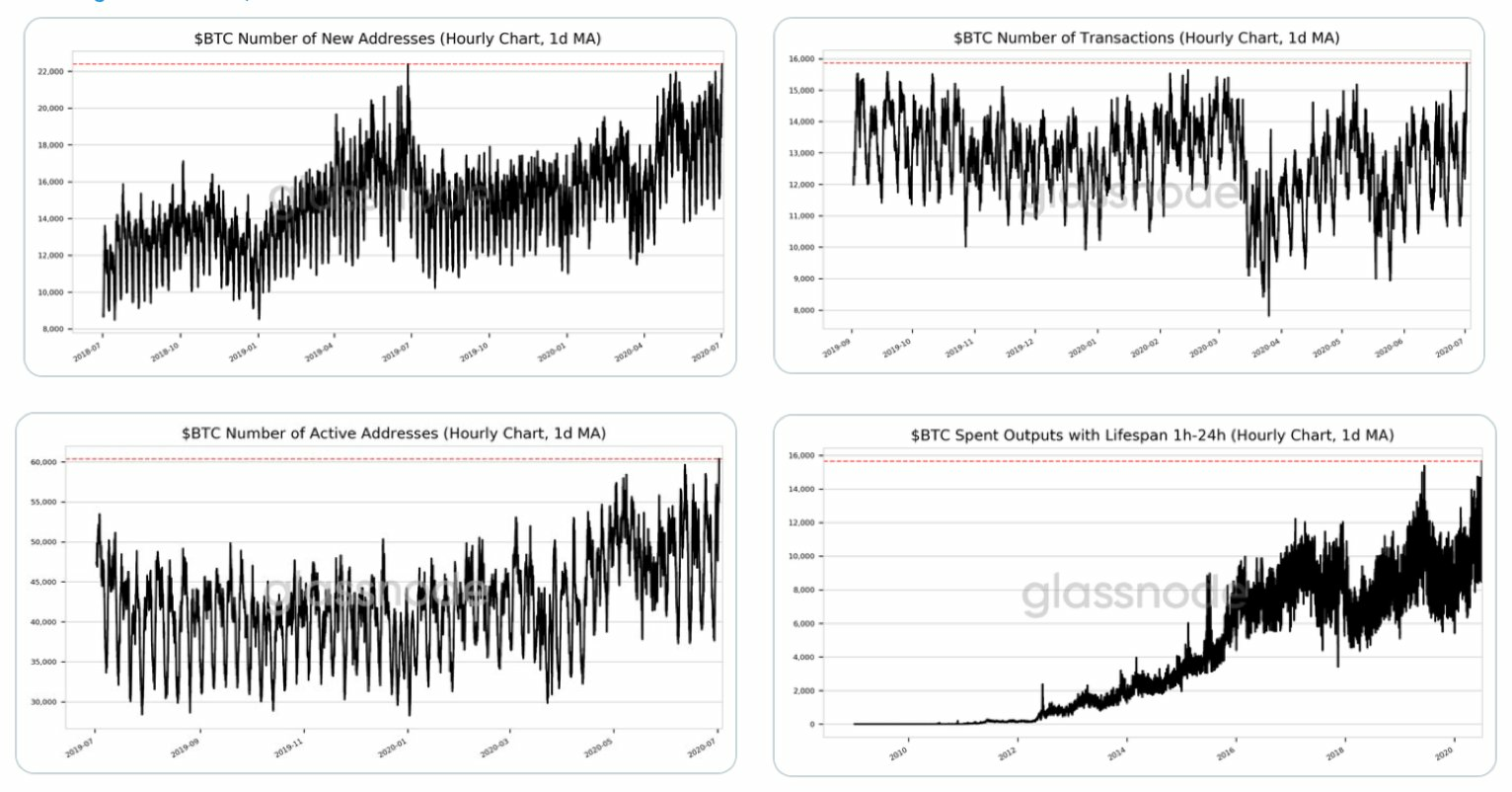 Source: Glassnode
The news was firstly announced by crypto analytics company Glassnode's chief technical officer Rafael Schultze-Kraft. He tweeted a graph, showing Bitcoin hit a two-year high on hourly new addresses. Active addresses marked a one-year high, while transaction count hitting a 10-month high. Bitcoin also recorded an all-time high in the field of hourly spent outputs with a 4-hour lifespan.
There hasn`t been such an increase in Bitcoin new addresses since the bullish run at the end of 2017. Since the end of the bullish run, Bitcoin has been on a steady daily new addresses increase run, starting from 195,000 in April to reach a current number of over 450,000. Bitcoin also recorded an almost three-fold increase in daily active wallets, reaching over 1,08 million as of today from 423,000 at the beginning of 2018.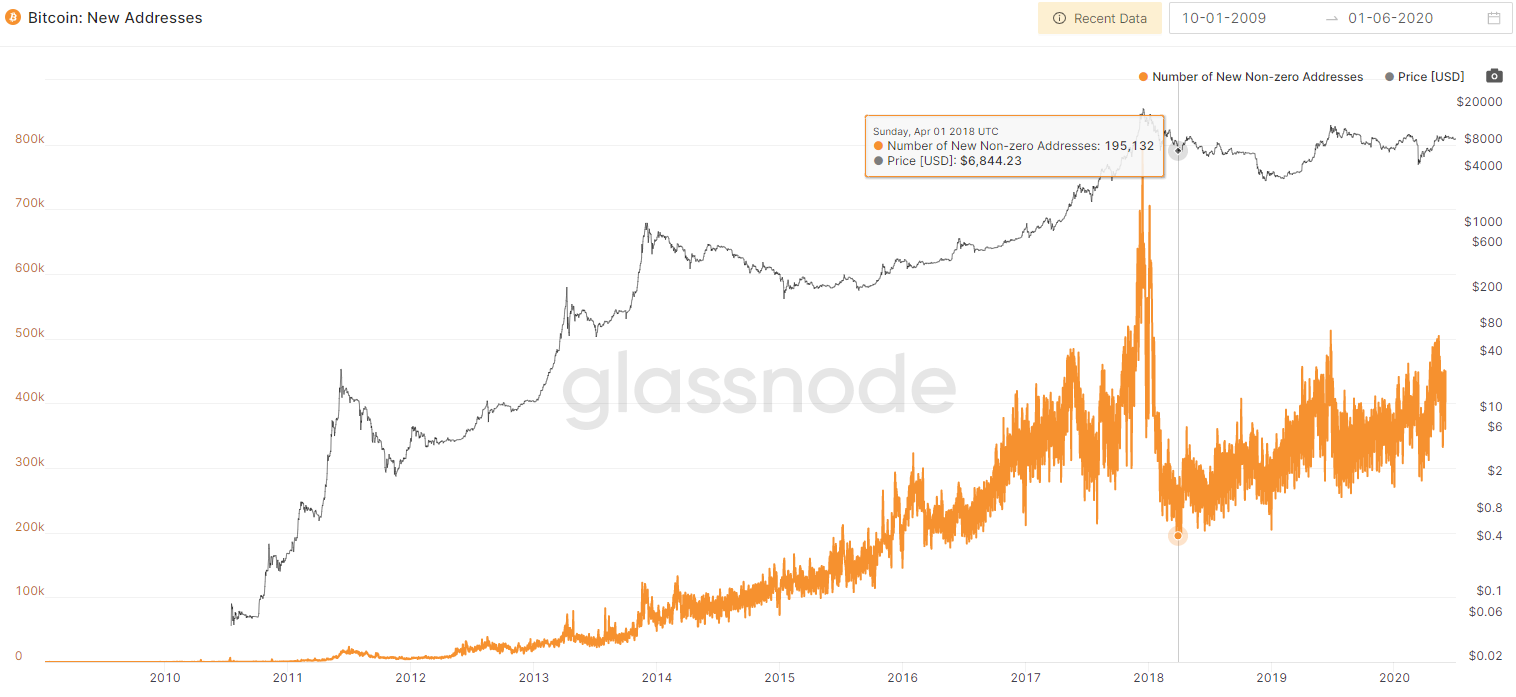 Source: Glassnode
The new highs come amid crypto experts considering Bitcoin's current situation as "boring". According to Mati Greenspan from Quantum Economics, even the combined effects of the hourly transaction counts high and the surge in the active addresses could not make Bitcoin "interesting".
"Even the halving event, when the network difficulty increased with 100%, is getting boring. Despite the news, social engagement and trading volumes are still falling", Greenspan tweeted.
Indeed, Bitcoin's difficulty adjustment remained flat on July 1, 2020, moving down just 0.0033%. Also, Bitcoin's daily trading volume decreased from over $50 billion in May to around $15 billion at time of press.
Speaking of social engagement, crypto analytics platform Lunarcrush posted a graph, showing subtle social activity growth trend since the start of 2020. According to the researchers, last week showed a slight boost in social media posts regarding Bitcoin, reaching 927,000 publications. However, despite Bitcoin being rather calm on social media, its price increased dramatically in January and April.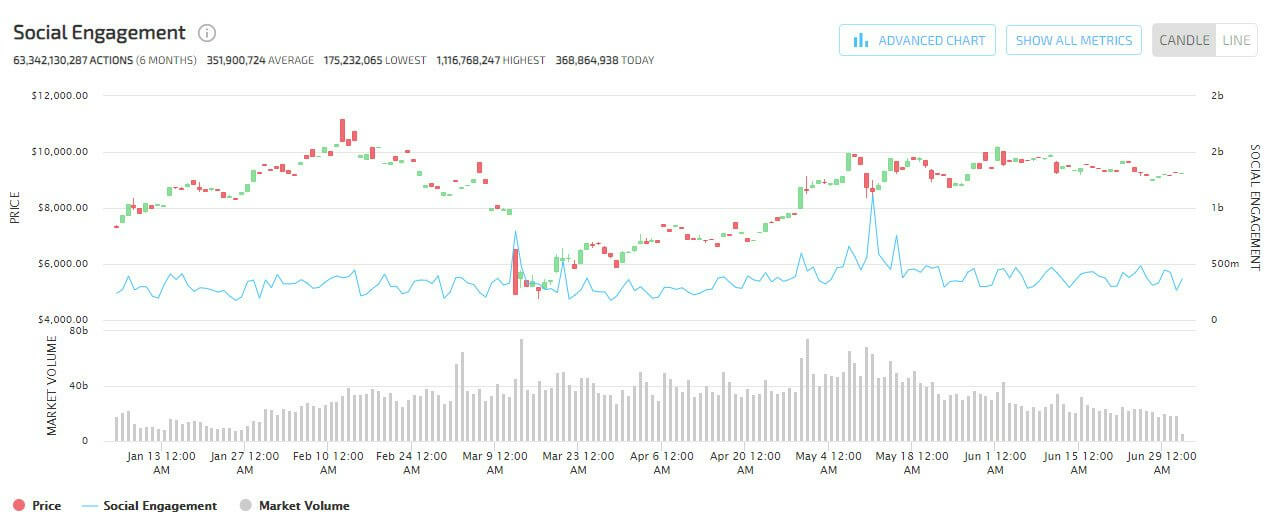 Source: Lunarcrush
Bitcoin
cryptocurrency trading
Cryptocurrency exchange
Cryptocurrency
Crypto Market
Crypto wallet
btc
crypto bitcoin
wallet
crypto market monitoring
Bitcoin price
bitcoins
cryptocoins
cryptography
action
Market Capitalization