26 Apr 2021 Arjun Agarwal
Bitcoin Is Getting Closer To March 2020's Oversold Numbers
The Crypto Leader Also Recorded Its Second-Largest Red Candlestick In Its History
---
Despite the crypto market seems to have entered a recovery state after a week full of downwards price motion, Bitcoin continues to suffer from high volatility. After Bitcoin holders marked a new all-time high of $64,863.10 on April 14, now the tides have turned and the industry leader recorded a monthly low of $47,159.49 on April 25. The volatility pushed Bitcoin's market capitalization back below $1 trillion, as of press time.
Moreover, despite a daily push upwards, the situation around both traditional and crypto markets seems to be influenced by Joe Biden's decision to prepare a bill, which would increase capital gain taxes almost double. The news quickly provoked panic among stockholders and traders, which reflected in a widespread drop in almost all financial indices in the United States and other countries.
However, Bitcoin's downward push to a current price point of $53,274.77 may be temporary, as indicators like the 10-period moving average and the 55-period moving average are crossing to the downside, indicating a temporary weakening bullish trend.
Meanwhile, Bitcoin still seems to struggle with regaining trader trust, as indicators like the Relative Strength Index (RSI), which shows the balance between Bitcoin buyers and sellers, signals that Bitcoin is heavily oversold. According to the index, just 25% of the Bitcoin traders are buying, while 75% of all traders are placing sell orders, which could mean traders are exiting their positions and transferring their holdings to fiat, commodities, or altcoins.
Another interesting indicator is the Crypto Fear & Greed Index, which shows investor sentiment, which currently sits at 27. This is the lowest point Bitcoin has endured since the March 2020 COVID-induced market wipeout, which drove the Fear & Greed index to a level of 8, with the lower score meaning traders are investors are in extreme fear of losing value.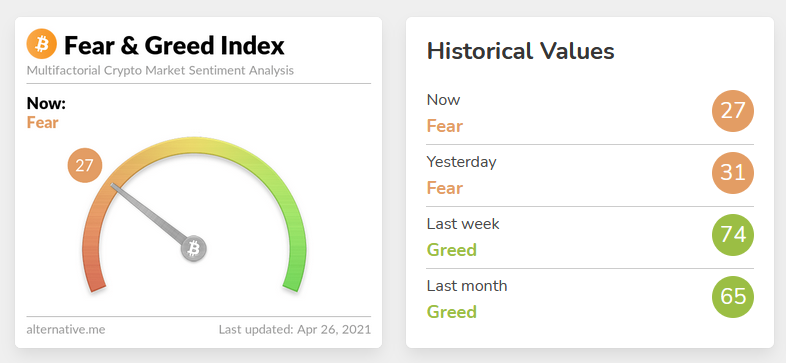 Source: Alternative
However, the low RSI and Fear & Greed indices may turn out to be bullish signs as markets tend to seek equilibrium, and Bitcoin's price may bounce back to $60,000 per BTC.
The altcoin sector reacted correspondingly to Bitcoin but managed to record bigger daily price gains. Ethereum is up 11% to a current price point of $2,487.54 per ETH, while Binance Coin is up 9 percent to clear the losses on a weekly basis. Among the top 10 best-performing crypto assets, only Dogecoin (DOGE) seems to have stayed on the negative trend, losing another two percent off its price, which adds up to 29.17% weekly losses. In contrast, the rest of the top-ten is recording 7%-13% price gains.
Bitcoin
Ethereum
btc
dogecoin
Bitcoin price
binance coin
doge
bitcoin news