10 Jun 2018 Luchezar Simeonov
Bitcoin Mining Calculators Help Estimate BTC Investments
The Bitcoin community is going through challenging times, as Bitcoin mining has turned into an activity with questionable profitability as a return of the significant money and resources spending
---
Mining Bitcoin was easy in 2009, whereas nowadays the question that matters is: "Is it really worth it?".
For the last ten years, Bitcoin mining has transformed into a promise for a long-term investment with a profitable return. Unfortunately, the current block reward for a miner is only 12.5 BTC, compared to 50 coins in the early days of mining activities. This makes it much harder for regular and beginner Bitcoin miners to obtain coins.
Another issue is that the current Bitcoin supply is approaching the maximum supply in circulation. This also leads miners to the question whether the significant financial investment for equipment and the resources needed for it are justified by the expected return.
Bitcoin mining profitability calculators help investors decide whether or not to bet resources on this endeavor nowadays.
What justifies mining, despite the lower block rewards and the higher difficulty, is the market price that went nuts since the initial release. For the last 30 days though (May 8th, 2018 – June 8th, 2018), Bitcoin suffered significant losses, totaling to $1,690. According to some experts, for more than a week now Bitcoin's price in USD is fluctuating between $7,300 and $7,900.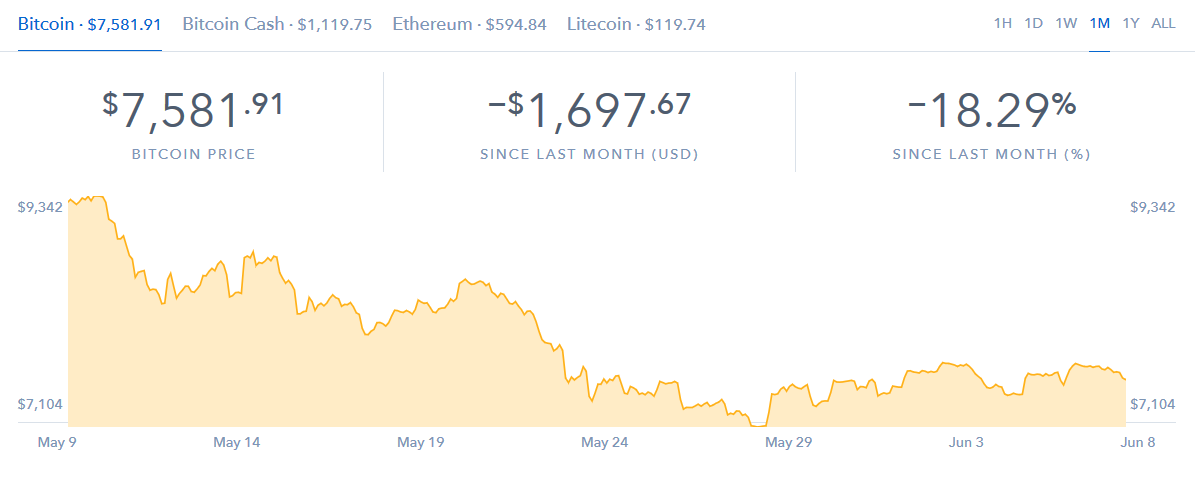 This creates a situation where more and more new Bitcoin wallets emerge on the market while the USD price isn't giving any guarantees to go up.
Only a few months ago, Bill Gates said in an interview, "It's kind of a pure 'greater fool theory' type of investment."
"As an asset class, you're not producing anything and so you shouldn't expect it to go up", he also said referring to the bitcoin holders' community. Shortly after that, a post on Reddit appeared to argue that Bitcoin isn't a subject of that theory.
Miners benefit from the simple equations that most Bitcoin mining calculators use to determine mining profitability and return a reasonably simple answer to the "Worth it?" question.
The calculator's algorithms consider the current BTC price in USD, the block reward, the difficulty for mining that crypto, the hardware' hash rate, power wattage and electricity cost per kilowatt hour. Calculators process the provided information to identify how much time is needed for break-even and predict the profit per day under the provided conditions.
These functions turned mining calculators into a must-have tool for miners and investors. The only downside of the calculators is that Bitcoin' value and electricity cost are variables.
Although the platforms running these equation-solving solutions often remind this, people seem to be lured by how fast they could profit.
On the matter, the Reddit Bitcoin community suggests that the crypto world needs a reliable Bitcoin calculator and that users should not take numbers for granted.
Bitcoin
mining
btc
Bitcoin mining
bitcoin news
cryptocurrency news
crypto news