19 Apr 2023 Marsha Tusk
Bitcoin Mining Stocks Are Exploding, Surpassing Bitcoin Itself
The Increase In 2023 For Bitcoin Mining Stocks Is Even Greater Than Tech Companies
---
Following an 80% increase in Bitcoin, BTC mining stocks are currently beating tech stocks and indexes.
This year, the performance of stocks involved in Bitcoin mining has skyrocketed. The major uptick made by the top mining players comes after a difficult decline for many in 2022.
Jaran Mellerud, a BTC mining expert, claims that 20 of the top mining companies witnessed their stock prices increase by at least double this year. Their performance has outperformed both Bitcoin itself and the leading tech equities.
Huge gains for stocks of Bitcoin miners
On April 18, Mellerud published a list of the top mining companies for 2023.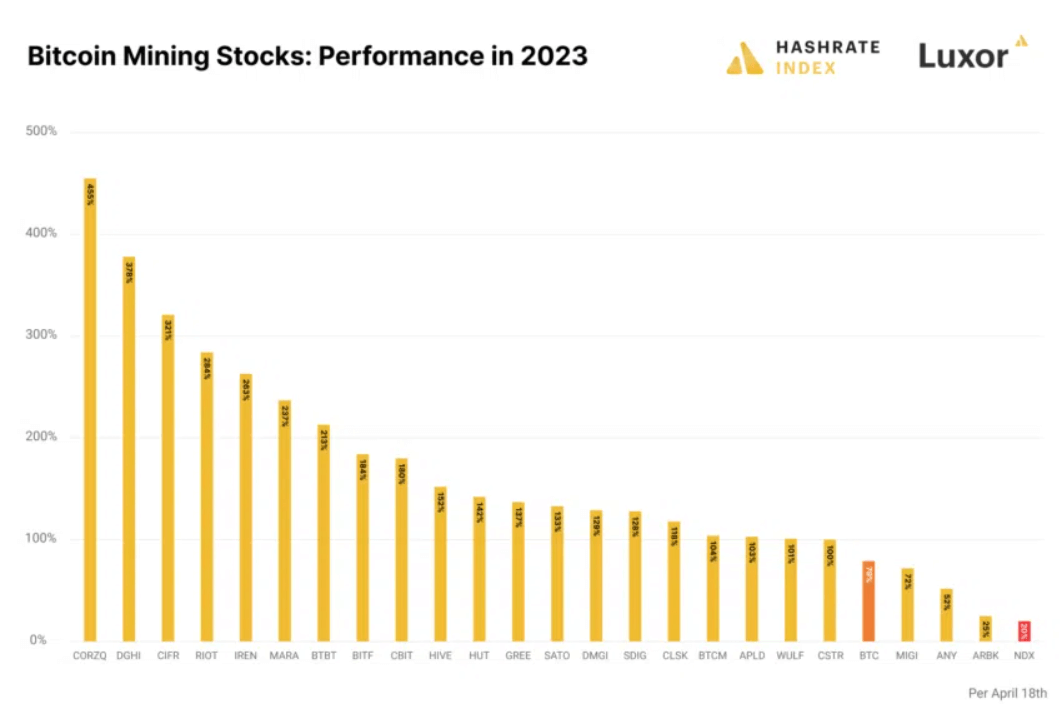 Source: HashrateIndex
With a staggering 455% stock price increase, Core Scientific has been the best-performing Bitcoin mining company thus far in 2023. The analyst discussed the reasons behind the significant stock movement.
"Its massive debt has given its equity a boost during the up-only market environment so far in 2023. Its cash flows relative to equity have been positively affected (but disproportionately so) by the improvements in mining economics."
Additionally, there have been significant increases for Marathon, Digihost, Cipher, Riot, Iris Energy, and Cipher between 237% and 378%.
Mellerud noted that the majority of these businesses are substantially less financially burdened than Core Scientific and have very low debt levels in comparison to equity.
"The outperformance of these stocks is likely caused by company-specific factors, as they have all delivered solid monthly operational updates exceeding expectations this quarter." In addition, this year's gains for Bit Digital, Bitfarms, Cathedra, Hive Blockchain, and Hut 8 ranged from 142% to 213%. Surprisingly, the 20 mining companies have outperformed Bitcoin's 80% increase since the year's beginning.
"Most mining stocks would rise by more than 50% from today's level, while the four to five biggest gainers would soar by more than 150%," the analyst said if BTC price increased by a further 40% to reach $42,000 this year.
Tech stocks are not competitive
Comparatively, the tech-heavy NASDAQ 100 Index has only managed a 20% increase thus far this year, according to MarketWatch.
Alphabet, the leading search company in the world, has only enjoyed a meager 17% increase in stock price this year. Microsoft, a major provider of software, has only managed a meager 20% rise since January 1.
Additionally, Apple, the biggest tech company in the world, was able to increase share prices by 33% in 2023.
Even though gold is frequently promoted as a store of value, prices have only increased by 9% so far this year.
Even the price of Coinbase stock (COIN) has increased by 100% since the year's beginning. As a result, the crypto narrative has made a triumphant comeback in 2023, but will it last the rest of the year?
Bitcoin
Nasdaq
mining
btc
Bitcoin mining
Bitcoin price
stocks
bitcoin news
cryptocurrency news
tech
crypto news