10 Jan 2023 Marsha Tusk
Bitcoin Moves Sideways Into 2023, A Bumpy Road Ahead
Data From Bitcoin's Price Movement Suggests That The World's Largest Crypto Would See A Hard Time Overcoming $18,000
---
The year 2022 managed to inflict heavy damage to the crypto sector, with Bitcoin dropping from a high of $47,700 on January 2 to a low a tad below $16,000 on November 22. Since then, Bitcoin is sliding sideways with the largest crypto to date gaining only a small price advantage since its 2022 low. Currently, Bitcoin is trading at $17,254 after breaking the $17,000 barrier on January 9.
Interestingly, the crash of cryptos managed to shrink volatility figures, as Bitcoin's 7-day volatility dropped to levels not seen since October 2018. Vetle Lunde, senior analyst at Arcane Research, commented that if the trend continues, "it will be a year for the patient, as we do not anticipate prices nearing former all-time highs in 2023."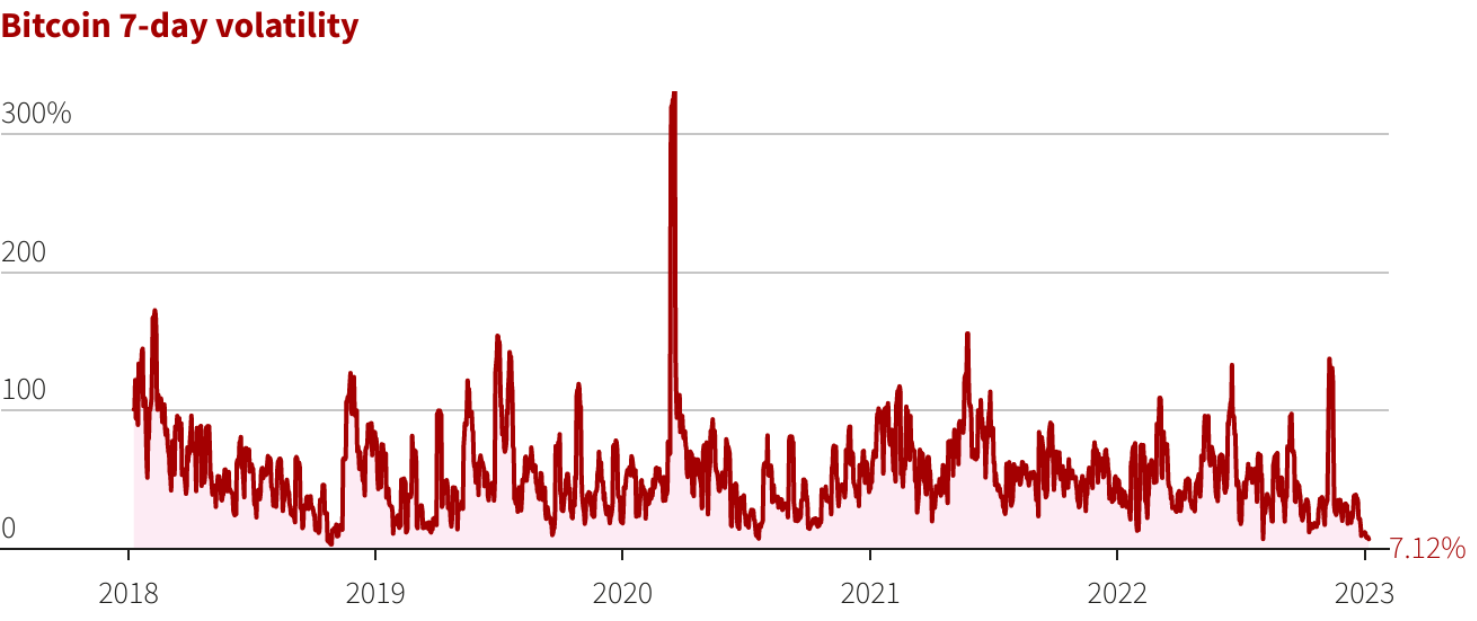 Source: Rafinitiv Datastream
Meanwhile, spot trading volumes also remained stagnant after slumping about 48% in December to $544 billion, the lowest crypto spot trading volumes level since December 2019.
On the flip side, some market players are inclining toward the thesis that 2023 should be better than the bloodbath of 2022. "I feel encouraged by the floor we've seen forming under bitcoin, it shows there's a lot of demand around $16,000 and $17,000 levels," Callie Cox, investment analyst at eToro noted.
Technical analysis
According to Marcus Sotiriou, an analyst at digital asset broker GlobalBlock, the tightening of the Bollinger bands since July 2022 may turn out to be tied historically to happening prior to aggressive moves to the upside for Bitcoin. "These low volatility periods rarely last for long, and volatility compression periods have previously tended to be followed by sharp moves, even in stagnant markets," Arcane Research's Lunde commented.
However, bears are pointing out that the macroeconomic landscape would continue to put pressure on the crypto sector. Sotiriou highlighted that "the weaker economic outlook means people have less disposable income to invest in what they deem as risky assets like crypto."
Furthermore, the current economic uncertainty could push crypto investors into cash like the U.S. dollar, which seems inversely correlated to the price movements of Bitcoin.
Could Bitcoin break above $18,000?
Several factors indicate that Bitcoin could see a rise above $18,000 as investors are anxiously waiting for the Consumer Price Index (CPI) release on Jan. 12. The CPI value would most likely dictate whether the U.S. Fed will raise interest rates by 25 basis points or 50 in early February. If the CPI is weaker, the crypto markets may see a welcoming boost.
Furthermore, the S&P 500 index rose to its highest level in 26 days on Jan. 9., which adds to a lower CPI index value forecast. Bitcoin's two-month futures premium also shows that the leading crypto is still in the neutral-to-bearish area, as its current futures premium sits at 1%.
Bitcoin
btc
Bitcoin price
trading
cryptocurrencies
bitcoin news
cryptocurrency news
crypto news
Crypto Price