02 Apr 2019 Jane Whitmoore
Bitcoin Reaches $5,000 In Just Minutes, What Happened?
Overall, the market saw $18 billion capitalization increase.
---
The largest cryptocurrency based on market capitalization, Bitcoin (BTC), made an upward rally during Tuesday's early trading session. The #1 digital asset quickly climbed to a $5,000 resistance, before settling to around $4,750.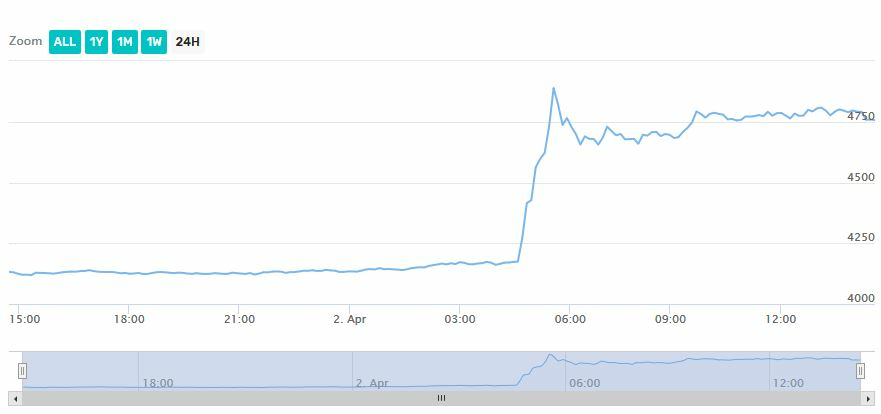 BTC price, source: https://cryptobrowser.io/coins/bitcoin-btc/
News about Bitcoin hitting $5,000 lead to other cryptocurrencies' price increase as well. Ethereum (ETH) took a massive gasp of fresh air with prices climbing up above $155.
Ripple (XRP) managed to record a 9-percent increase, and Litecoin (LTC) spiked with a 15-percent price increase.
Overall, the market saw $18 billion capitalization increase, forming a four-month high of $160 billion.
But what is happening with Bitcoin and the crypto sector?
Some specialists are claiming that the launch of Coincheck, a Japanese over-the-counter trading platform shifted the price in Bitcoin's favor. Others think that the sudden peak is because the ecosystem has been booming recently, with lots of institutional announcements, and technical developments.
The skeptics are relying on trading volumes data, which show a minor increase with a huge price leap.
Crypto Dog, one of the most famous names in the crypto sector, explained that the sudden spike is a try for Bitcoin to seek liquidity.
Nevertheless, Bitcoin's rally suggests bearish times are over, and investors in the United States will continue the upward momentum for the cryptocurrency, pushing the whole crypto sector up.
Bitcoin
Ethereum
Litecoin
Crypto Market
Ripple
btc
eth
Bitcoin price
LTC
XRP
Crypto Price
Ethereum Price
Ripple Price