05 Dec 2019 Arjun Agarwal
Bitcoin Records Highest Ever Transaction Volume, $8,9 Billion Worth Of BTC Moved Within An Hour
Such spikes are typical when exchanges move their funds across different cold wallets.
---
Crypto volatility has been an issue since the creation of digital cash, as whales in the industry can manipulate trading volumes and prices with massive buyouts and sellouts.
Online crypto insight service Glassnode warned the community that the reason behind the spike in price is a series of 21 transactions on the Bittrex crypto exchange. Each transaction contained around 56,000 BTC, with an estimated value of 419 million USD.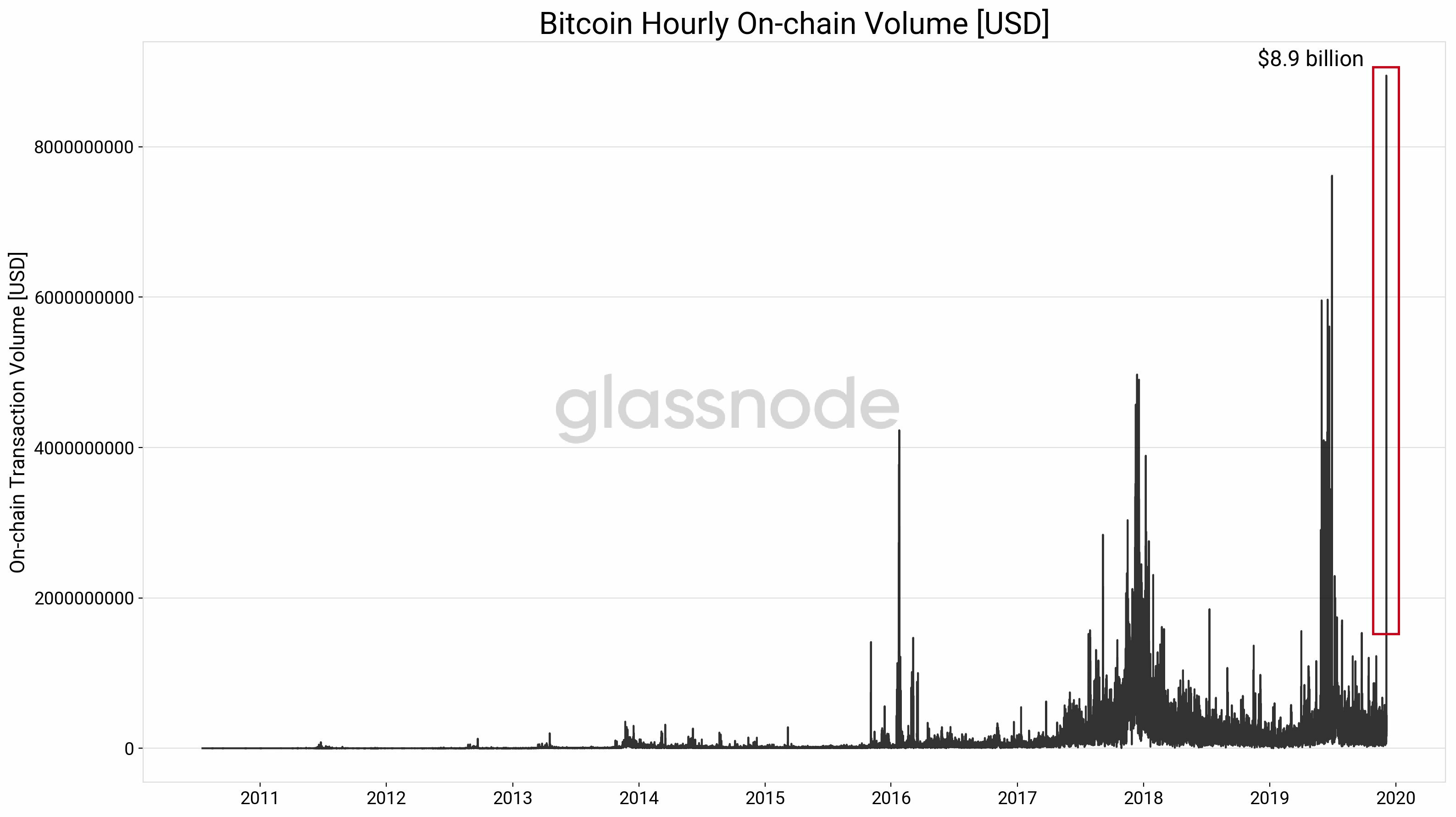 Source: Glassnode

WhaleAlert also noticed the spike but clarified that such moves are usually a result of the so-called "peeling" process. Peeling means relocating various amounts of assets into a different cold wallet, or a series of wallets. The process is done due to security reasons - the risk of a cold wallet breach is minimized when there are multiple wallets involved.
The spike, however, quickly boosted Bitcoin's price - the leader in cryptocurrencies gained over $300 in just 30 minutes. Despite the peak, Bitcoin's price corrected again to around $7,460. Bitcoin's price pump was also affected by $84 million worth of Tether was transferred to OKEx. Some crypto experts quickly claimed Tether for being a manipulative crypto asset. Still, VanEck director Gabor Gurbacs defended Tether and called for a stop to the wich-hunt with the stablecoin, used as a "gateway into Bitcoin."
The price volatility issues remain a mystery. According to statistics, the probability of a Bitcoin price change over 10% is just 0.02 percent. Nevertheless, Bitcoin proved statistics wrong, recording a 66th drastic price correction. The price deviations are probably a sign of a still immature market, rather than market manipulations.
Bitcoin
Cryptocurrency exchange
OKEx
btc
Bittrex
Bittrex exchange
Volatility