03 Nov 2023 Josphat Kariuki
Bitcoin Slumps 4% In A Consolidation Attempt
It Turns Out That The Leading Crypto To Date Is Back Where It Started Its Push Upwards
---
With BTC price action more than $1,000 lower, Bitcoin is eating away at the gains that came after the Federal Reserve announced interest rate changes.
Following the Wall Street open on November 2, Bitcoin (BTC) fell below $35,000 because of a warning from analysts about "overheated" derivatives.
Cointelegraph Markets Pro and TradingView data showed that the price of Bitcoin was declining as it lost territory that it had gained the previous night.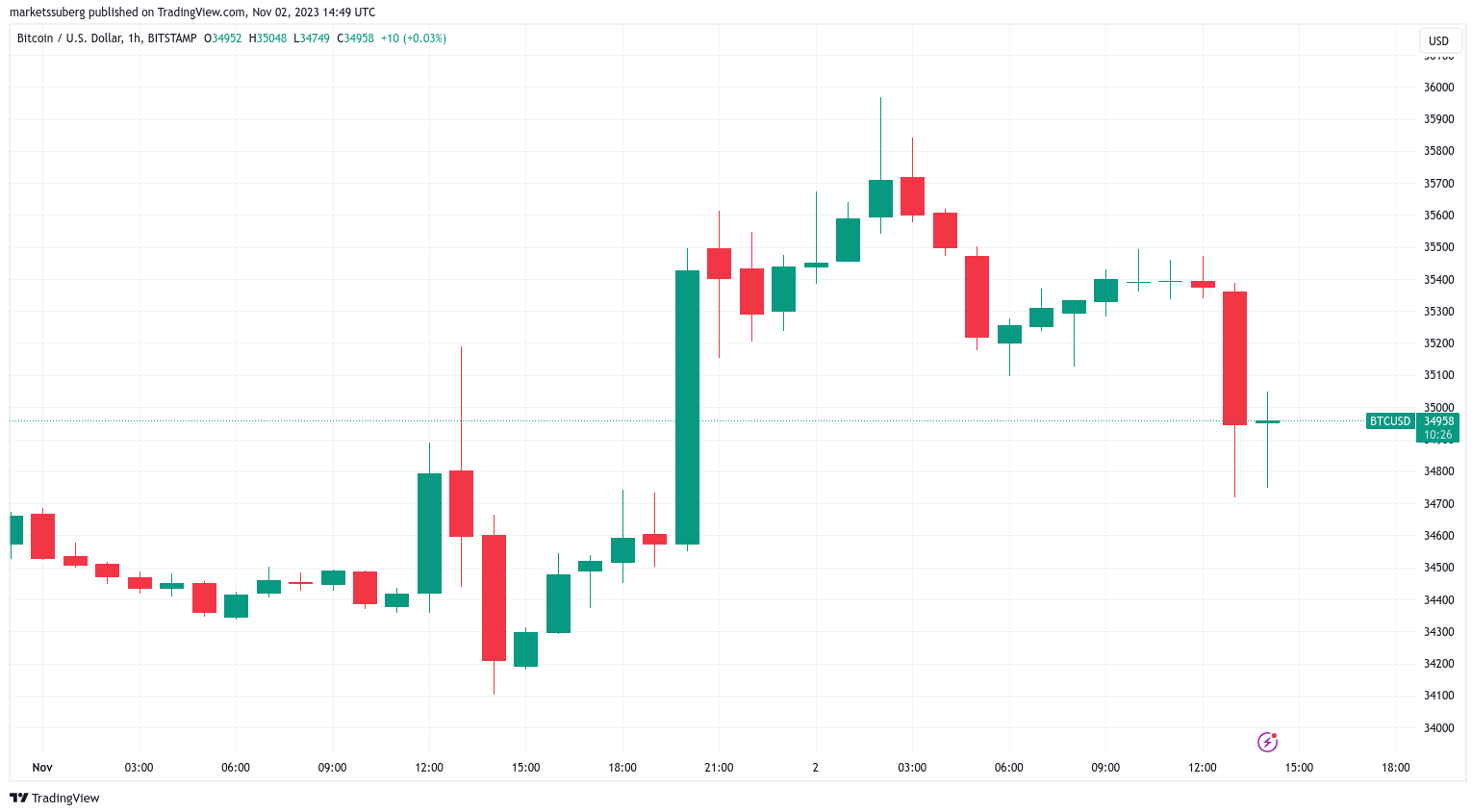 Source: TradingView
As of this writing, the largest cryptocurrency was in the midst of stabilizing after reaching new 18-month highs of $35,968 on Bitstamp.
The peak was reached following upbeat remarks made by US Federal Reserve Chair Jerome Powell, who hinted that interest rate increases would soon come to an end in a speech.
At the Federal Open Market Committee's (FOMC) most recent meeting on November 1, the Fed decided against raising interest rates.
According to recent data, the third quarter saw robust growth in economic activity. The unemployment rate has been low, and job increases, while still solid, have moderated since the beginning of the year. An accompanying press release said, "Inflation remains elevated."
"The U.S. banking system is sound and resilient. Tighter financial and credit conditions for households and businesses are likely to weigh on economic activity, hiring, and inflation. The extent of these effects remains uncertain. The Committee remains highly attentive to inflation risks."
As noted by Cointelegraph, $35,000 was soon established as a crucial BTC price support level that traders needed to maintain. On the other hand, the region over $34,500 was referred to as the "ideal" objective for a local low.
Though it has already dropped more than $1,000 from its peak, some people were concerned about Bitcoin, especially those in the derivatives markets.
Charles Edwards, the creator of Capriole Investments, a quantitative Bitcoin and digital asset fund, stated on X, along with statistics from Capriole, that "all Bitcoin derivatives markets are overheated at present."
Skew, a well-known trader, responded by concurring that spot markets were now responsible for maintaining the strength of the Bitcoin price.
Material Indicators, a monitoring site, came to the same conclusion in its own analysis: the current Bitcoin trading climate calls for "caution."
Uploading a snapshot of liquidity on the largest global exchange Binance's BTC/USDT order book, it issued a warning that support levels were likely to vanish rapidly, akin to a "rug pull."
As of the time of writing, newcomer support was gaining liquidity at both $34,000 and $33,500.
Bitcoin
btc
Bitcoin price
bitcoin news
cryptocurrency news
crypto news
Crypto Price
federal reserve