06 Jan 2021 Jane Whitmoore
Bitcoin Spiked To Another All-Time High, Possible Correction At $36,000
Despite A 300% Yearly Gain, Analysts Are Expecting A Pullback Around $36,000
---
Bitcoin, considered as the benchmark cryptocurrency to many crypto enthusiasts, made a wild upwards rally on Wednesday, January 6, reaching a new all-time high of $35,737.61. The latest set of gains are, according to analysts, a part of a retracement rally, after a downwards push from $34,810 to a low of $27,678. However, Bitcoin faced a massive wave of support and quickly mitigated the correction to trade at $34,980.25 as of press time.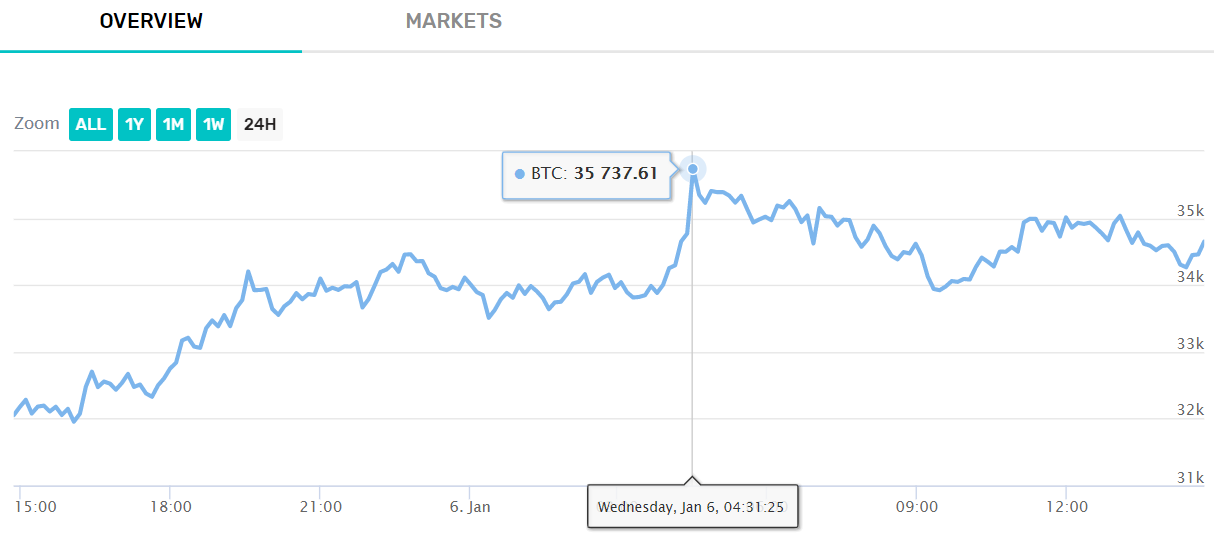 Source: CryptoBrowser.io
Most of the BTC gains appear in-sync with the 10-month bearish stance the US dollar is experiencing. On January 6, 2021, the US dollar index hit its lowest level since April 2018 - 89.275, when investors reduced interest in the US dollar, waiting for Senate elections in Georgia.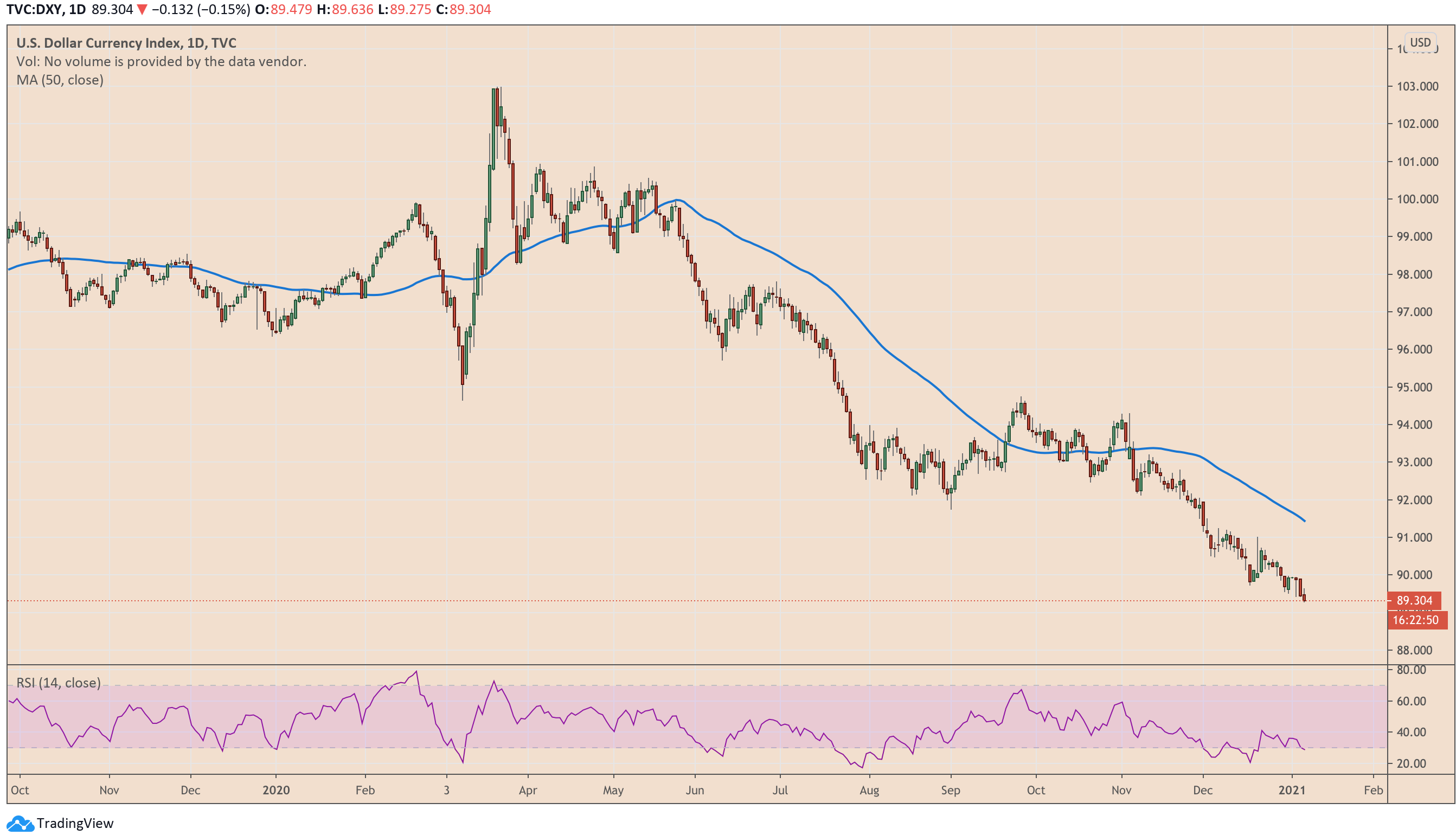 Source: TradingView
In the wake of the US dollar weakening, institutional investments seem to be the narrative for Bitcoin's price explosion past $35,000. Analysts at JPMorgan noted on January 4, that Bitcoin may reach a price point of $146,000 by the end of 2021, as Bitcoin goes head-to-head with gold for being the best safe-haven asset. Just a day after, Skybridge Capital announced the launch of a $40 million crypto-centric fund. Skybridge founder Anthony Scaramucci went even further, claiming Bitcoin to be a better alternative to gold.
"It's easier to store, it's harder to steal, and it's more portable," he told Bloomberg. "So, therefore, it's become the ledger or the storage of the future in terms of the storage of value."
Investors, eligible for participation in the fund, have to put in at least $50,000 in order to have exposure to Bitcoin.
Meanwhile, other analysts have a different opinion on the current Bitcoin situation. Veteran Bitcoin and Crypto analyst, MagicPoopCannon, made an analysis of the current status of the world's largest cryptocurrency. Magic made his predictions based on measurements of the length of the move from Bitcoin's lowest 2019 level of $3,700 to Bitcoin's milestone high of $20,000.
"What I'm currently watching, other than potential resistance at the 36,000 level, is a retracement down to the 10 week MA (in black.) In previous bull markets, BTC retraced to the 10 week MA on the way up…Currently, the 10 weeks MA is at 22,182." MagicPoopCannow pointed out.
Bitcoin
Cryptocurrency
Crypto Market
crypto market monitoring
bitcoin news
bitcoin news today
usd
us economy
Prices
USA