05 May 2020 Anthony Lehrman
Bitcoin Stays Above $8,800 As The U.S. Government Considers New $3 Trillion Debt
The Total Amount Of US Government Debt Will Equal $25 Trillion US Dollars
---
The world's leading cryptocurrency, Bitcoin, managed to recover from the downtrend over the past weekend and stayed above the $9,000 psychological barrier, before correcting to $8,832.56, as of press time.
Despite its weekly closing correction, which pushed down Bitcoin's price in the $8,500 region, the leader in the crypto sector rebounded and found strong support in the $8,700-$8,850 regions. The support was followed with a short consolidation period, despite the trading turbulence оn global level as of 4th May.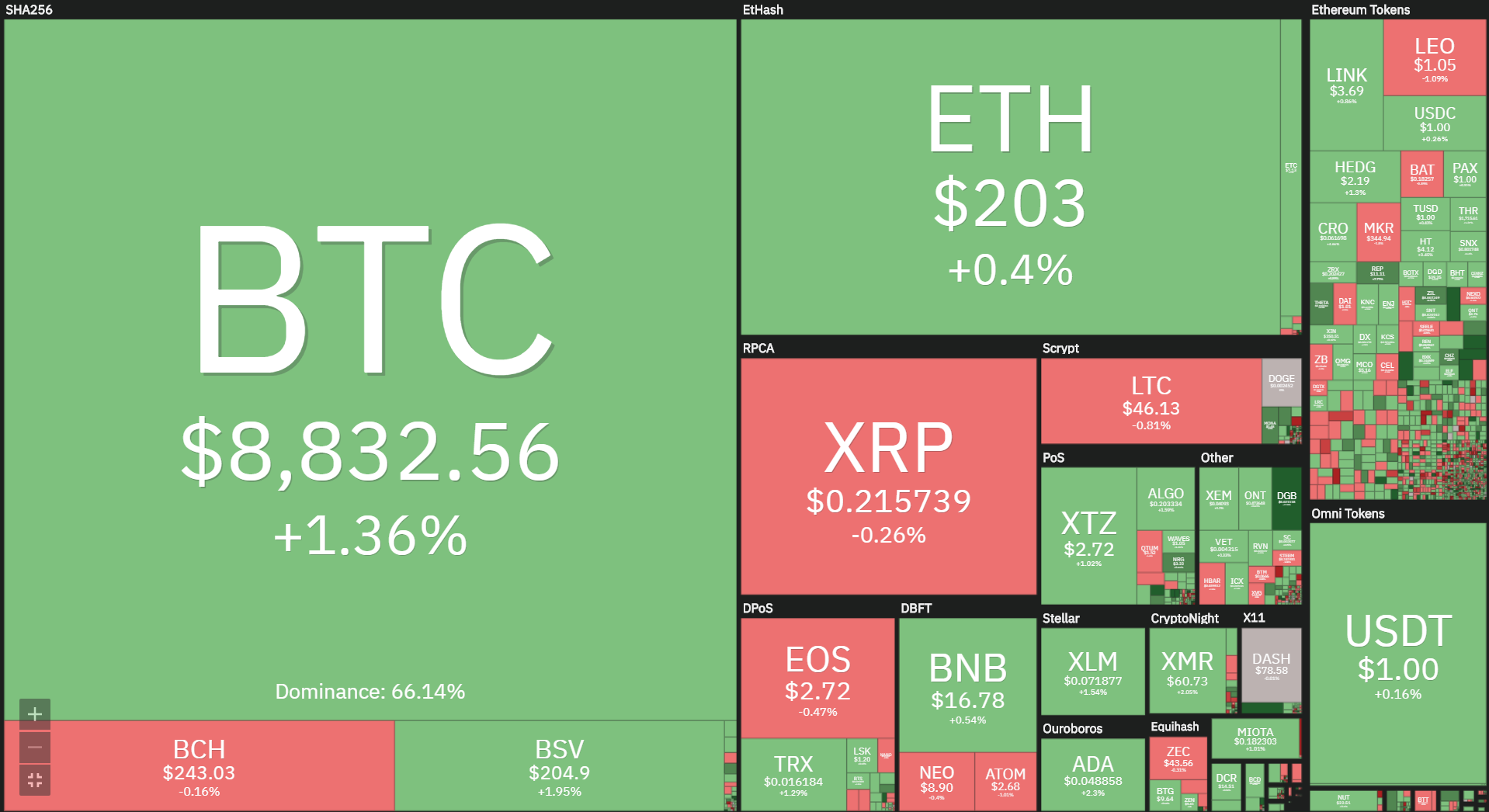 Source: Coin360 "Hourly crypto market price chart"
Bitcoin's safe haven behavior continues, as the U.S. Treasury announced that the institution is going to borrow up to $3 trillion in Q2 of 2020 to subsidize the economy due to the recent COVID-19 virus outbreak. The new debt would result in a total of $24.9 trillion in the red. The US debt has increased with $1.5 trillion since 1st of March.
Also, the Federal Emergency Management Agency published a forecast model showing 200,000 new infected cases every day until 1st June, with an estimated daily death toll of 3,000 deceased, as States re-open.
Another pressure point for the U.S. economy is that more than 30 million Americans remained without jobs and filed for unemployment.
The pressure resulted in drops in the major US indices, which this time did not correlate into the world of cryptocurrencies, as it happened with the "Black Thursday" event on March 12. Bitcoin bulls set their target to $9,500, as trading volumes suggest clear skies above.
However, technical analysis shows strong resistance at $9,000, as Bitcoin struggled to keep its ground above the 20-day moving average. Bitcoin was rejected three times at $8,950 with Bitcoin bulls anticipating moves above $8,970, which would clear their way up.
Other indicators, such as the Moving Average Convergence Divergence (MACD) and Relative Strength Index (RSI) hint bullish market, as the RSI jumped from 47 to 60.
In the last hours on 5th May, Bitcoin slipped below $9,000 in seems to be a straight freefall form the high of $9,047.53, according to data from CoinMarketCap.
Тhe main force of recent bullish activities, according to traders, can be attributed to the upcoming third BTC halving, scheduled for next Monday, 11th May. As the price per mined Bitcoin decreases, so does inflation, and experts consider the halving procedure as a clear indicator for a price pump. However, some market analysts fear that the halving would affect prices negatively in the short-term, especially with the ongoing economic uncertainty worldwide.
Bitcoin
Cryptocurrency
Crypto Market
crypto
btc
crypto market monitoring
Bitcoin price
bitcoins
bitcoin news
bitcoin news today
us economy
USA
US
Halving