18 Feb 2019 Samantha McLauren
Bitcoin Surpassed $3,700, Will it Reach $4,000?
All top ten cryptocurrencies by market cap have seen green today.
---
Over the past week Bitcoin (BTC) has been making slow, but steady increase in its price, moving from $3,400 to $3,600 yesterday. There have also been slight declines, but not significant enough to counteract the steady gains. BTC gained over $100 in just 24 hours, testing the next milestone for the digital currency leader - $3,800
The Bitcoin upwards movement comes after a month-long difficult period for the entire cryptocurrency market. The last time BTC has gone over $4,000 was at the beginning of the year. Based on trading volumes, however, there might be a new positive wave for the entire crypto market.
Ethereum (ETH) has increased its price also, with market capitalization reaching $14 billion, surpassing the former #2 amid the crypto crisis – Ripple (XRP). Ripple sits at close to $13 billion in market capitalization.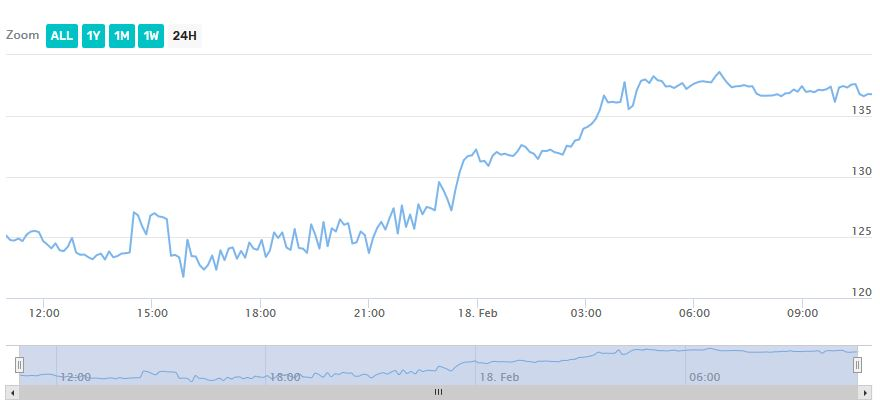 ETH price (source: https://cryptobrowser.io/coins/ethereum-eth/)
Almost all of the top twenty cryptocurrencies by market cap have seen green today. The increase is due to more institutional players joining the cryptocurrency sector, according to fintech experts. At least for now, institutional players have been neglecting the possibility to invest and use cryptocurrencies, but with JPMorgan entering the crypto sector with its coin and Western Union utilizing Ripple (XRP) for cross-border payments, the pressure to join the game has never been so vivid.
Changpeng Zhao, the CEO of Binance, stated earlier this month that the crypto sector is in no need of an ETF to prosper but rather more entrepreneurs who can build real projects. Until then, the Bitcoin ETF proposals are still in the sphere of speculation.
And while there are already many signals for the approval of such ETF proposal, the process is taking much longer than the industry wants.
Bitcoin
Crypto Market
btc
Bitcoin price
btcusd
Crypto Price
Ethereum Price
Ripple Price