27 Jul 2020 Arjun Agarwal
Bitcoin Surpasses $10,000; Next Target Is $10,500
Bulls Seem To Be In Charge Of Bitcoin's Weekly Upwards Price Rally As Trading Volumes Increased
---
The leading cryptocurrency to date, Bitcoin, managed to secure and surpass one of its most important price point checks - $10,000. Bitcoin's price movement in the past seven days indicates that bulls gathered strength to overcome the major resistance zone and keep Bitcoin afloat above the new $10,100 support zone.
Amid the price rally, the #1 crypto also hit a monthly high of $10,308, according to data from Cryptobrowser.io. After the monthly high surge, Bitcoin corrected to a value of little above $10,100 but quickly bounced back to trade at $10,197.44, as of press time, with $1,627,720,536.96 in 24-hour trading volume activity.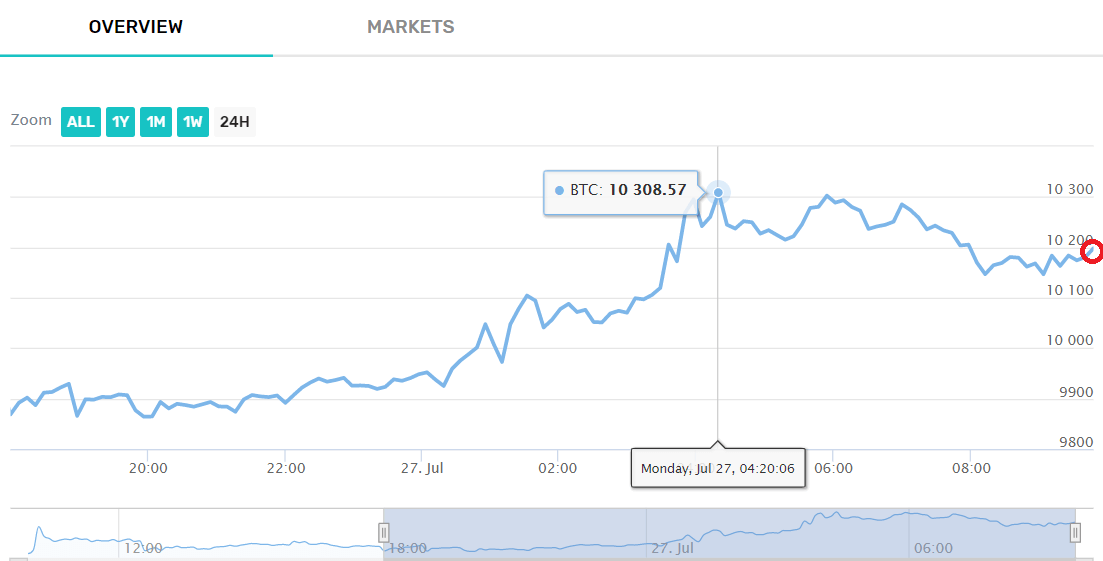 Source: Cryptobrowser.io
The bullish momentum for Bitcoin made some crypto analysts and experts consider Bitcoin to jump above $10,500. If such an event happens, experts believe Bitcoin to be anywhere in the range from $11,000 to $16,000.
Looking at the past week, Bitcoin's price rally marked a 12,76% price increase for the leader of cryptos, rising from $9,142 on July 21, 2020. Also, Bitcoin formed some strong support zones, lying around $9,450 and $9,700. Traders are considering the $9,900-$9,800 levels as a consolidation zone for a larger upwards push.
However, the over-$10,000 price surges occurred in times of high-trading volumes, so crypto traders have to take precautions when entering the market.
Meanwhile, Bitcoin's price surge reflected the prices in the entire crypto sector, with Ethereum surpassing $300 earlier this week and settling around $325. Ethereum currently trades at $323.65, after surging as high as $327,77, which is a yearly high for the second-largest cryptocurrency to date.
The rest of the altcoins` sector made minimal gains, ranging from two to five percent.
The recent Bitcoin price surge, on the other hand, made some crypto experts compare Bitcoin with traditional investment assets like gold (XAU). Peter Schiff, for example, stated that Bitcoin investors are not considering the cryptocurrency as a stability option, but rather as a speculative asset. Schiff also noted that some investors are bridging the gap between physical gold and cryptocurrencies by putting their money in gold-backed stablecoin projects like Tether Gold (XAUT). The Tether Gold reached $1,902 on July 24, as the commodity price recorded a closing price at $1,897.50 being on the verge of reaching its intraday high of $1,921 from September 2011.
Schiff concluded his bearish thoughts on Bitcoin, stating: "Two of the last three times #Bitcoin rose above $10,000 in Oct. of 2019 and in Feb. of 2020 it soon fell by 38% and 63% respectively. The last time Bitcoin rose above $10,000 was in May, and it only fell by 15%. It's above $10,000 again today. How big will the next drop be?"
Bitcoin
Ethereum
Altcoin News
Crypto Market
Tether
eth
trader
crypto market monitoring
Ethereum news
Bitcoin price
trading
bitcoins
altcoins
price
bitcoin news
market
bitcoin news today
ether
Prices
Markets
Gold