21 Sep 2021 Marsha Tusk
Bitcoin Tumbles Down To Nearly $40,000 Amid Chinese Debt Crisis Concerns
Bitcoin's Downward Move Dragged Most Of The Top-100 Cryptos Down With It
---
The world's largest crypto to date, Bitcoin, suffered from an 11% price dip in the past 24 hours, due to speculations and fears about China's property market debt crisis.
After cracking down on Bitcoin mining, the world's largest crypto to date has been trying to keep afloat on the $40,000, but Chinese real-estate company Evergrande Group and its over $300 billion in liabilities may be the reason behind the latest Bitcoin price dip.
If Evergrande files for bankruptcy, it could turn over the whole Chinese economy and provoke a more global turn of events. The situation can be linked to the Lehman Brothers bankruptcy, which in turn has led to global financial turmoil. However, experts are noting that the impact of the Evergrande case would be less powerful.
Furthermore, Evergrande's stock has fallen 85% in the past year, resulting in protests from employees, builders, and homeowners.
Meanwhile, Bitcoin endured a rollercoaster ride of a month, starting in late August with El Salvador becoming the first country to adopt Bitcoin as a legal tender. However, El Salvador's Bitcoin implementation faced technical issues, which provoked a series of selloffs.
This is the latest of China's impact on Bitcoin since the Chinese state enforced its 2013 ban on mining and other cryptocurrency-related services.
The Evergrande case managed to push down Bitcoin's price to a monthly low of $40,468.33, after moving between $45,000 and $52,000 in the month prior to the dip. The downwards push caused other cryptos to plummet too.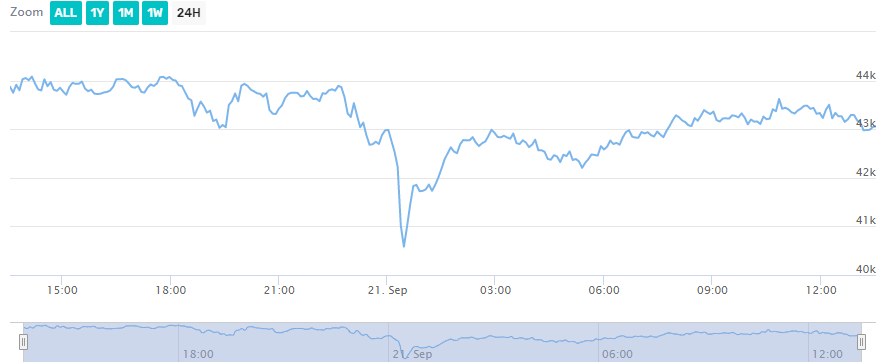 Source: CryptoBrowser
Ethereum, for example, made a sharp 12% drop in its price, falling down to $2,826.07 after trading around the $3,300 mark prior to the drop.
Almost all of the top-100 cryptos are trading recording weekly losses, despite projects mainly in the DeFi sector experiencing substantial daily gains. Avalanche (AVAX) seems to be among the biggest price gainers, recording nearly 8% price increase in the past 24 hours and 18% on a weekly basis.
Bitcoin
Ethereum
btc
Bitcoin price
china
cryptocurrencies
bitcoin news
cryptocurrency news
crypto news
Crypto Price
Ethereum Price