27 Oct 2020 Samantha McLauren
Bitcoin Whales Reached An All-Time High During Bitcoin's Last Bull Run
Whales Are In Possession Of Around 8 Million BTC Out Of The Total 18,527,687 BTC In Circulation
---
The bullish wave that engulfed the world's largest cryptocurrency also gave its reflection on the amount of Bitcoin whales. Data from research and analytics company Glassnode shows that the total number of Bitcoin addresses holding over 1,000 BTC reached an all-time high of 2,231 as of October 25th. In comparison, just five days back, the total number of Bitcoin whales was 2,178.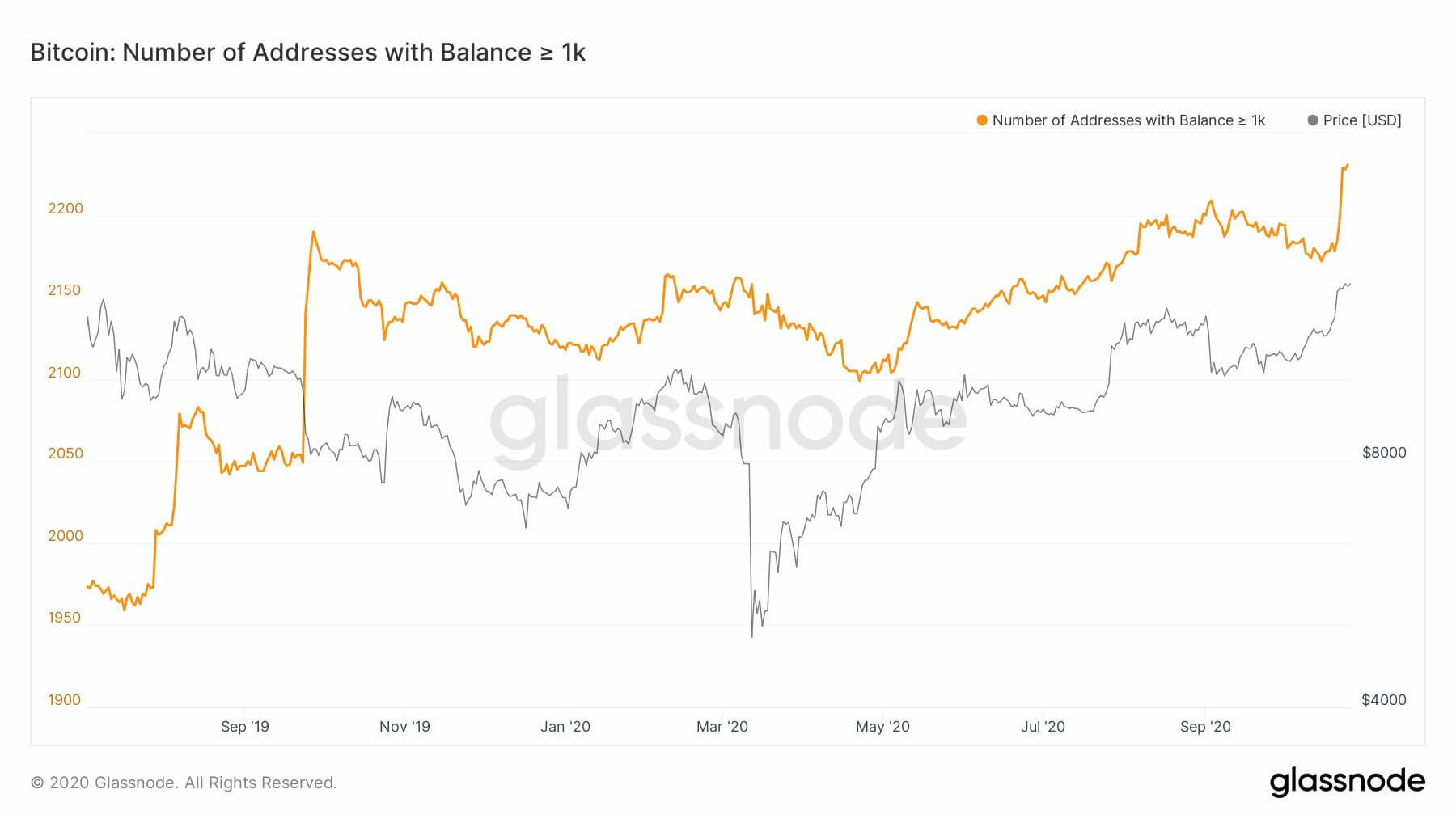 Source: Glassnode
The data also shows оnly 105 wallets possess over 10,000 BTC. The largest wallet, however, holds 203,502 BTC, which is approximately $2,7 billion USD. Nearly 49% of all wallets were found to have balance between 0 and 0.001 in Bitcoin.
According to Bitcoincharts, whales are in control of 42.65% of the current circulating supply of Bitcoin. However, the company emphasized that the figures do not show the ownership of the addresses, as multiple addresses may be in control of a single entity. Likewise, a single wallet address may be controlled by a group of individuals or entities.

Source: BitcoinCharts
Earlier this year, data from researcher Sergio Dermain Lerner discovered that Bitcoin`s original creator, Satoshi Nakamoto, mined 1,1 million BTC from a single PC. The vast majority of the funds are believed to remain unmoved from the wallets.
The holding pattern tends to become more popular among Bitcoin owners too, as 62% of the BTC in supply stayed without movement for over three years, while almost a third of all Bitcoin didn't move for at least a year.
The holding pattern, however, acts in contrast to Bitcoin's latest bullish race, which skyrocketed prices past $13,000 per BTC. The upwards push was fueled by payment solutions provider PayPal announcing that it is adding support for several cryptocurrencies, including Bitcoin. The news made Bitcoin's price bounce over $12,500, reaching a high of $13,200 with a subsequent spike to $13,370.
Also, Bitcoin secured its second-highest weekly close since its all-time high peak in January 2018. The Sunday close is also the sixth-highest in Bitcoin's history.
Bitcoin
Cryptocurrency
Crypto Market
wallet
crypto market monitoring
Bitcoin price
bitcoins
cryptocurrencies
bitcoin news
cryptocurrency news
bitcoin news today
PayPal
cryptocurrency market