19 Jul 2021 Simon Briggs
Bitcoin's Price Outlook Remains In The Red, Experts Claim
The Largest Crypto Asset To Date May Be Heading To $23,000, According To Investors
---
Bitcoin continues its downwards trajectory, reaching a weekly low of $31,192.75 according to data from Cryptobrowser.io. The fall, which started in mid-May 2021, may evaporate Bitcoin's gains from the start of the year.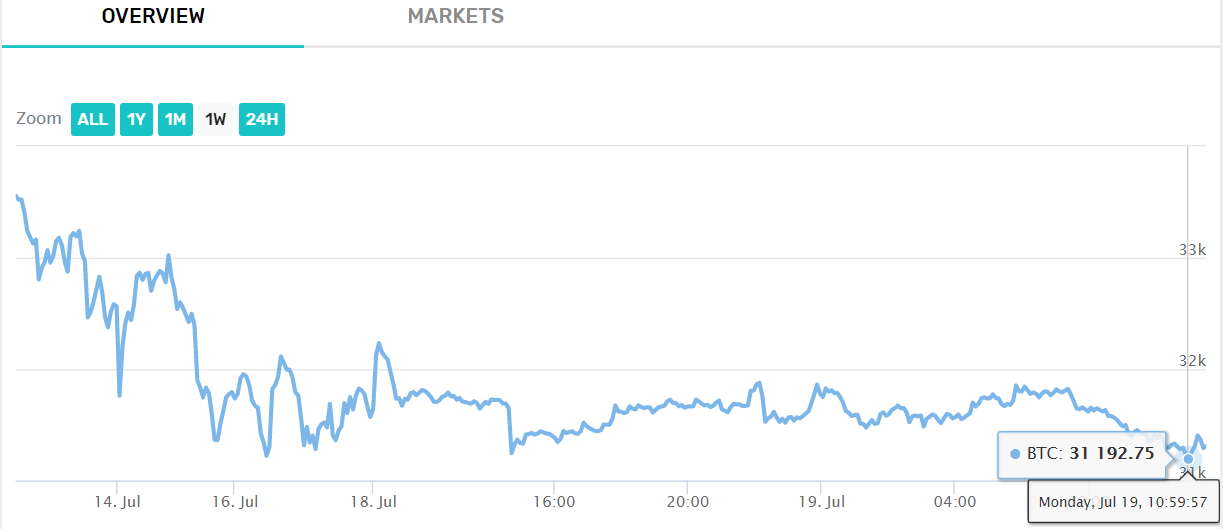 Source: CryptoBrowser.io
It seems Bitcoin bears hold the resistance strong at $33,200, but bulls keep pushing the price per BTC above the $30,000 line. In order for Bitcoin to overcome the fierce resistance, its price must overcome and maintain levels above $33,700.
However, looking at the trading volumes chart, the outlook doesn't seem optimistic for the world's most popular crypto to date.
Meanwhile, one of Wall Street's leading investors is bearish on Bitcoin. Jeffrey Gundlach, better known as the Bond King, predicts that the number one cryptocurrency is going to fall even further in the short term. Furthermore, the Wall Street veteran is even more bearish on the U.S dollar, as he considers one of the largest fiat currencies as doomed.
According to the investment expert, Bitcoin's relationship with institutional investors is volatile. When Bitcoin's price increases, investors join the crypto bandwagon - from JPMorgan making ambitious price targets to giants like U.K.-based Ruffer Investments sucking up tens of millions worth of Bitcoin. However, when Bitcoin falls into a spiral, Ruffer, for example, sold its stash (making $1.1 billion in the process), while JPMorgan changed its optimistic stance, predicting a further price slide.
"I think it's only a trading vehicle. I've never been long bitcoin personally. I've never been short Bitcoin. It's just not for me. I don't have that kind of risk tolerance in my DNA where I have to get worried to pull up the quote every day to see if it's down 20%.," Jeffrey Gundlach noted.
Gundlach, a 61-year-old investor along with his company, Doubline Capital, currently manage over $135 billion in assets, focusing on mutual funds, private funds, active ETFs, and more.
However, despite managing such a vast amount of investment products, Gundlach has never been into the crypto scene. He believes now isn't the right time to buy Bitcoin for investments, as its price is still too high.
"The chart on bitcoin looks pretty scary….I have a feeling you're going to be able to buy it below 23,000 again. Bitcoin has really lost its steam.," Gundlach explained.
Meanwhile, the rest of the crypto sector followed Bitcoin's trend. Ethereum is now firmly below $2,000, losing another 5% on the day and 11% weekly. Currently, the altcoin leader trades at around $1,868.46.
Among the biggest losers, yet again, are the DeFi governance tokens, as both Polkadot's DOT token and Uniswap's UNI token recorded 20%+ weekly price drops. Elon Musk's favorite Dogecoin (DOGE) also tumbled down 17% to trade at $0.1768 as of press time. The meme coins seem to have entered a solid downwards trend over the past three months, dropping from a high of $0.7376 per DOGE to current levels, which is a 76.03% price wipe.
Bitcoin
Cryptocurrency
Crypto Market
crypto market monitoring
cryptocurrencies
price
bitcoin news
cryptocurrency news
bitcoin news today
JPMorgan
Prices