13 Sep 2019 Pavel Petrov
Blockchain Devices To Reach $1.285 Billion In Market Valuation By 2024
The Compound Annual Growth Rate (CAGR) During The 2019-2024 Period Is Expected To Record A 42-Percent Increase, According To MarketsAndMarkets (MAM) Research
---
Intelligence and market analysis company MarketsAndMarkets published a report on 12th September, stating that the global blockchain devices market will be estimated at around $1,285 billion by 2024. The list of blockchain devices includes crypto wallets, blockchain-based smartphones, POS and ATM devices, operating with both cryptocurrencies and fiat. A key opportunity for the market is the projected increase in cryptocurrency acceptance across different industries and regions.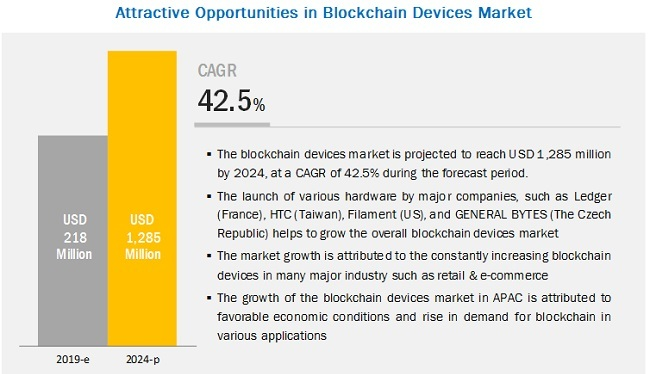 Source: MarketAndMarkets (2019)
The compound annual growth rate (CAGR) is expected to rise by 42,5% on an annual basis. The current state of the blockchain device market is evaluated at $128 million as of press time.
The MAM report is somehow structured around the launch of new blockchain hardware from Ledger, Filament, and GENERAL BYTES, which could boost the blockchain device adoption. The report also indicates the active role of retail and e-commerce clients and the high demand of blockchain hardware from individual and corporate customers. Regulatory clarification absence, however, can cease or delay the expansion of the blockchain device market.
The introduction of wireless connectivity for blockchain devices will rise at an even higher CAGR, according to MarketsAndMarkets. Blockchain will be primarily used for digital identity confirmation, as well as a gateway for institutional services. The highest CAGR will be in the crypto POS sector, followed by pre-configured devices for use in banks, governmental structures, and telecommunication.
Region-wise, the United States is expected to be the largest market, as Americans are among the earliest adopters of blockchain. Europeans would be second in terms of market share expansion, followed closely by the Asia Pacific.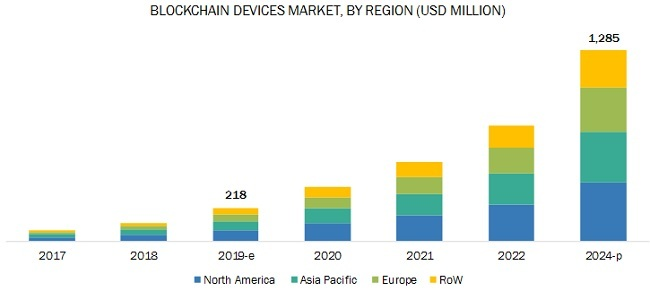 Source: MarketAndMarkets (2019)
The research conducted by MarketsAndMarkets is a mix of primary and secondary research. The primary research was inclusive of interviews with large-scale companies, questionnaires, and emails. The secondary research included in-depth analysis of annual reports and financial statements released by companies, as well as white papers, corporate databases and a vast amount of credible publications.
Blockchain
Blockchain Development
market
Research
Blockchain News
Market Capitalization
Blockchain technology