25 Aug 2018 Simon Briggs
Bloomberg: Tether No Longer Able to Pump the $209 billion Crypto Market
Despite the $500 million of Tether issued in August only, one of the market's most stable and traded coins hasn't managed to manipulate the market performance and Bitcoin's price, like it did in 2017
---
Referring to the research paper issued last year by a University of Texas professor, Bloomberg reminds that Tether is believed to be a tool for stabilizing or pumping up Bitcoin's price.
The analysis of the 87 examples of the most significant Tether purchases with BTC between March 2017 and March 2018, show that even though the purchases accounted for less than 1% of that time period, they contributed to nearly 50% of Bitcoin's aggregated return in the period.
Tether alongside with Bitfinex, the sixth-largest cryptocurrency exchange, is believed to have manipulated Bitcoin's price and help it hit the record of $20,000.
Speculations were fueled by the fact that Tether and Bitfinex share the same management team, as well as Bitfinex's operations following its lost banking relationships. This led to the subpoenas for both companies by the US Commodity Futures Trading Commission, which was seeking proof of Tether's reserve was in reality back-up with US Dollars.
Tether's allegations for price manipulation started because of the coin's pitch as a stable alternative to the volatile Bitcoin. Furthermore, the coin trades around the $1 mark, as $1 of fiat money backs each token.
Another research paper, issued by Chainalysis, claimed that Tether impacted the price moves of smaller altcoins, like NEO and EOS, as seen in the graph below.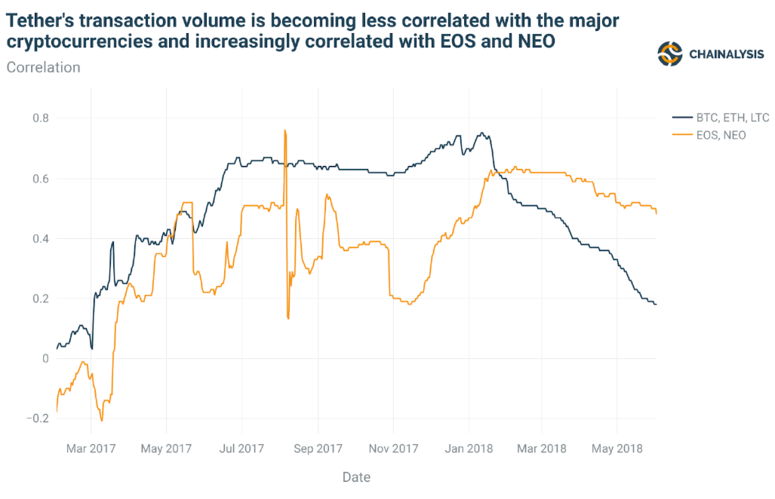 Source: Chainalysis
The paper state that while the major cryptocurrencies on-chain transactions were declining, investors and traders turned their attention to smaller and newer cryptocurrencies. The paper suggested a pump and dump activity, because of the sudden spike in the low-volume Tether trading pairs and unexpected decline.
Until now, Tether announced that a total of $2.8 billion tokens had been issued. Looking at August only, $515 million of new tokens were created this month, seeing all new Tethers sent to Bitfinex – Tether's only direct client.
Once they appear on Bitfinex, nearly 80% of the tokens are distributed to six exchange platforms: Huobi, Bittrex, OKEx, Polonies, Kraken and Binance.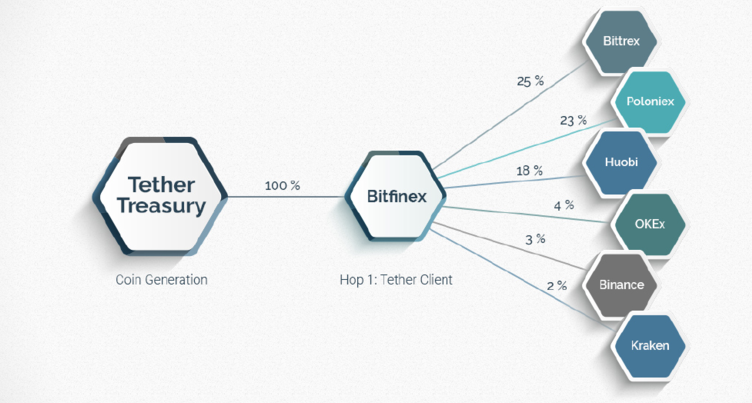 Source: Chainalysis
Despite the impressive figures, even such a significant token amount managed to affect the EOS and NEO performances, which have marked a 37% and 44% decline respectively.
Crypto Market
Tether
Bloomberg
cryptocurrency news
crypto news