23 Aug 2021 Jane Whitmoore
Cardano Hits All-Time High After A 32% Weekly Gain
The Third-Largest Crypto Reached $2.87 ATH, The Upward Trend Seems To Continue
---
Cardano (ADA) is on a seemingly outrageous bullish run, outpacing crypto leaders like Tether (USDT) in terms of market capitalization. On August 13, Cardano managed to climb to the third spot in the market cap rankings, with a market cap of $82 billion, and an ATH price record of $2.87 USD.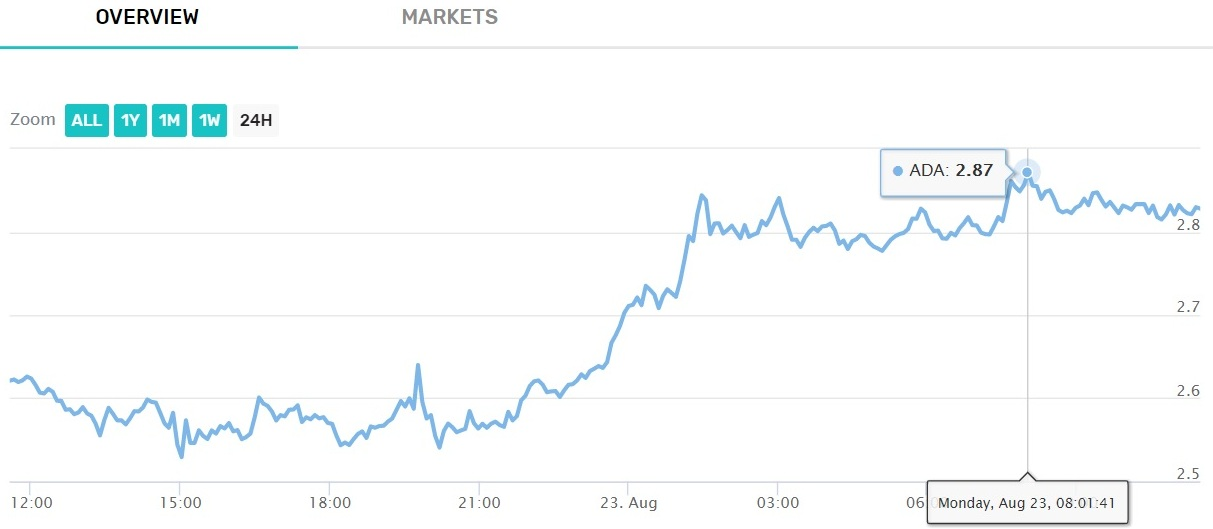 Source: Crypto Browser
The market cap increase is primarily due to its radical spike in price. The current third-largest crypto experienced а 37% rise in the past seven days, while its monthly gains reached 131,5%, with no signs of slowing down, as trading volumes are also skyrocketing, reaching $8,2 billion in the past 24 hours.
The primary reason behind Cardano's massive price surge is its creator and Ethereum co-founder Charles Hoskinson teased the arrival date for smart contracts, part of the much-anticipated Alonzo network update. Hoskinson made a live stream, where he noted that the hard fork would occur before the Cardano Summit, currently scheduled for September 12.
Alonzo is one of Cardano's most important updates, as the proof-of-stake will facilitate the introduction of decentralized finance (DeFi)—protocols that allow people to lend, borrow, and trade without any intermediaries via the use of smart contracts.
Meanwhile, Cardano's price enthusiasm and recently reached all-time high seem to be on par with the bullish sentiment across the entire crypto sector. Bitcoin, for example, managed to jump over $50,000 and reach a three-month high of $50,419.36. Тhe 2-3% daily gains correlate to a monthly increase in Bitcoin's price of almost 47%.
However, Bitcoin is still trying to overcome the $1 trillion market cap barrier, even at this price point, as its dominance has fallen to 43.8%, while Ethereum secured 18.1% of the total crypto market capitalization, as of press time.
Speaking of Ethereum, the world's second-largest crypto to date managed to secure the $3,300 price levels, and it is currently trading at $3,325.28 per ETH, after hitting a three-month high at $3,362.83.
The biggest daily gainers among the top 50 cryptos include Binance Coin (BNB) with also 10 percent daily gains, trading at $498.18 per BNB. Looking at the monthly charts, BNB spiked 65%, and it is now targeting the $500 levels, which would put BNB on the hunt for a new 90-day high.
Overall, after a short set of fluctuations last week, the cryptocurrency market has made a strong recovery from the market crashes in May. The total market cap of cryptocurrencies once again passed $2 trillion on Friday, which resonated in the trading volumes going up.
Cryptocurrency
Crypto Market
crypto market monitoring
Cardano
ADA coin
Cardano Price
cryptocurrencies
cryptocurrency news
cryptocurrency market