23 Oct 2023 Josphat Kariuki
Chainlink (LINK) On A Price Rollercoaster, Would The Market Momentum Continue?
It Turns Out That LINK Made Quite A Jump, Almost Reaching $11, Before Settling To A Current Price Point Of $10.03 Per Token
---
Following what appeared to be a week in which Bitcoin ruled the crypto market with major areas of strength for the world's largest crypto to date, this end of the week's top gainers in the digital cash market is Chainlink (LINK). This follows a drawn-out time of rather calm exchanging and sideways price action in the price of top crypto assets. Although many investors were taken aback by the sudden and large increase in Chainlink's price, this just serves to emphasize how unstable the cryptocurrency market is.
Chainlink's price skyrocketed over 22% during the 24 hours, according to CoinGecko data. With LINK's price surging by double digits over the last day, the altcoin has surpassed $9 and reached a multi-month high. With a roughly 30% gain, LINK's performance seems even more noteworthy on the weekly chart.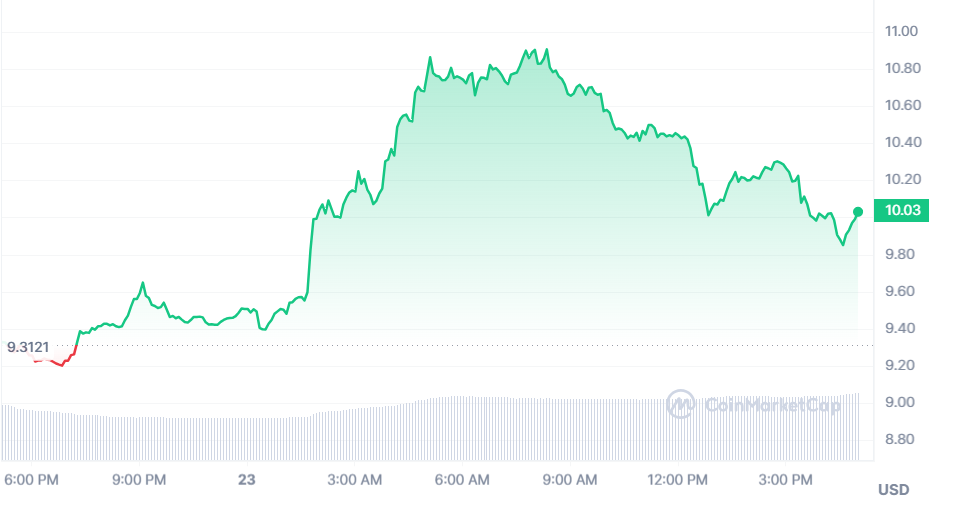 Source: CoinMarketCap
The price of Chainlink seems to be facing strong resistance around the $10 region, despite the fact that it still stays afloat of the resistance with a sizable portion of its price gain. This illustrates the apprehensive attitude of investors who don't seem to know if the present advance is a coincidence or a sign of impending bullishness. Still, a cryptocurrency analyst anticipates that LINK will continue to gain traction.
Crypto trader and analyst Mags noted that the price action for Chainlink recently broke out of a consolidation wedge that has been pushing LINK into a sideways price action with little to no perspective of an upwards push. The analyst predicts that the price of LINK will increase to $12.54 upon a close over $8.2 on the weekly period.
The current value of the Chainlink coin is $10.03. Based on statistics from CoinGecko, LINK's trading volume has increased by nearly 500% in the last day.
Understanding the factors influencing the most recent upswing in the price of LINK can be achieved by delving into the Chainlink network activities. Remarkably, a recent report from the on-chain analytics platform Santiment provides information about the network's activity levels.
It turns out that Chainlink has seen a dramatic rise in activity in recent days with this weekend being a scene for increases in the network's whale transactions, active addresses, and trading volume. All of the on-chain metrics also hit three-month highs, which may support the words of Mags.
On Saturday, October 22, LINK witnessed over 220 whale transactions exceeding $100,000, with about 5,000 unique addresses interacting with the altcoin on that day. In addition, Chainlink reported LINK trading volume of over 800 million on Saturday.
The subsequent LINK price surge raises the possibility of an accumulation tendency, even though these data points aren't quite clear about whether buying transactions are the most common activity on Chainlink.
cryptocurrency news
crypto news
Crypto Price
Chainlink
LINK