25 Jun 2020 Anthony Lehrman
Chainlink Skyrockets 33% In Two Weeks Amid Stable Crypto Market
Despite The Recent Crypto Market Price Corrections, Chainlink's Bullish Momentum Continues To Be Near Its All-Time High
---
The last 14 days indicate that the crypto market may have entered a consolidation period, with corrections and price gains in the approximate range of around 2-3% per day. However, Chainlink (LINK) managed to increase its price by 33% over the course of the last two weeks, reaching just below its all-time high of $4.95, which took place in March 2020.
The past two weeks were profitable for Chainlink investors, as the currency started its upward movement from $3.69 on June 15, reaching $4.93 on June 24. After nearly surpassing its all-time high value, Chainlink retracted to as low as $4.56, but the bullish momentum managed to recover part of the losses. As of press time, the altcoin is trading at $4.68.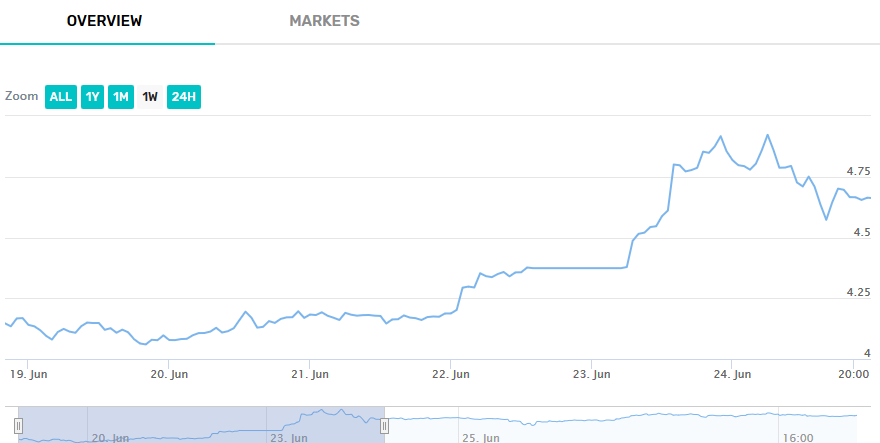 Source: Cryptobrowser.io
Looking at the stats for the last three-months, the LINK's upwards momentum appears to be even greater. The cryptocurrency managed to get on its feet after the Black Thursday crypto market wipeout, where LINK recorded a low of $1.35. Basically, LINK managed to get a full price recovery from the COVID-19 inflicted financial turmoil.
Another major benefit of LINK is the absence of any sudden price slumps, making it among the best performing and most profitable cryptocurrencies in 2020.
However, the bullish momentum on LINK maybe because of the recent upwards price movement of the leader in altcoins – Ethereum (ETH). The price rally that Ethereum has been doing over the past couple days resulted in an eight-percent price increase – from $227 to $244, but was corrected 2% shortly after.
Furthermore, Chainlink's development team works around-the-clock to provide better technical terms, which, in turn, lead to more partnerships. The last partnership LINK managed to secure is with the Klaytn ecosystem. The new partnership allows Klaytn smart contracts to be executed outside the ecosystem's blockchain, which means developers can now develop apps, connected to real-world data.
Chainlink can and is expected to provide the Klaytn ecosystem with an oracle framework, enabling apps to communicate and integrate into traditional infrastructure. Google, Oracle, and Swift are also among Chainlink's partnership list.
In the meantime, Bitcoin bulls and bears seem to have equally affected the market, causing price swings in the $9,200 - $9,500 region. The latest price drop, however, tested Bitcoin's $9,100 support zone, but with no success, as the price quickly rebounded to $9,218.32 as of press time.
Bitcoin
Ethereum
Blockchain
Altcoin News
Cryptocurrency
Crypto Market
Blockchain Development
crypto
crypto market monitoring
trading
altcoins
altcoin
Tradings
Partnership
Defi
Coronavirus
Chainlink