13 Jul 2020 Simon Briggs
Chainlink Up 339% YTD, Making It The Tenth-Largest Cryptocurrency
Chainlink's 95% Weekly Price Surge May Indicate The Start Of An Altcoin Season
---
Despite that Bitcoin marks one of its longest non-volatile periods, Chainlink (LINK) makes another move into the green, with a 26% price increase in the past 24 hours. Chainlink also recorded a new all-time high of $8.40, before correcting to $7.85, as of press time. Тhe most recent price increase managed to boost LINK's position in CoinMarketCap's market capitalization chart to reach 10th place, surpassing projects like EOS, Tezos (XTZ), and Stellar (XLM).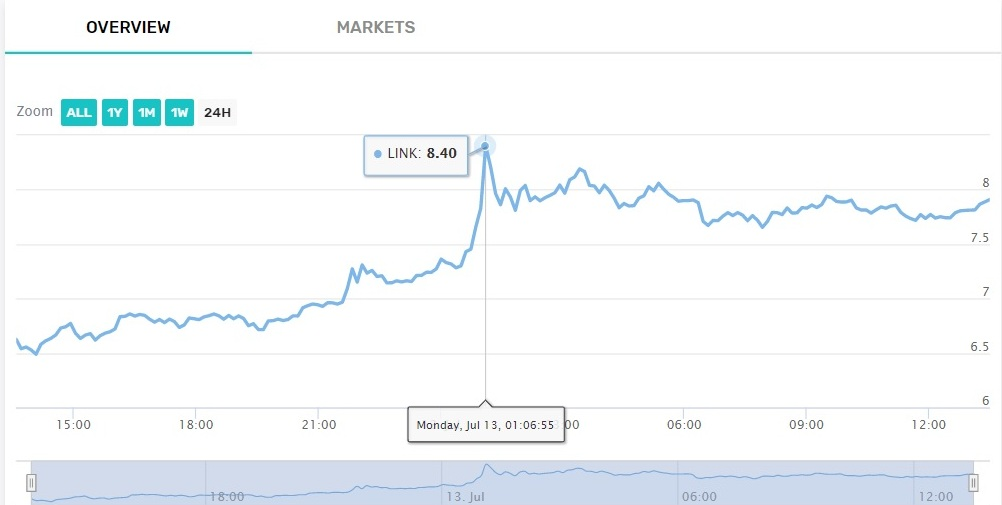 Source: CryptoBrowser.io
Looking three months back, Chainlink's price increased with 128%, with an almost tri-fold price boost since the March 12 "Black Thursday" global market wipeout. Since the start of 2020, Link's price is up with 339%, making it one of the best-performing cryptocurrencies in 2020.
The reason behind Chainlink's massive price boost is the series of partnerships LINK sеcured with DeFi projects. Many of the DeFi projects need some kind of real-time price quotations, and Chainlink offers to them decentralized oracle network services. In just a week, Chainlink announced a series of key partnerships with companies like Kyber Network, Nexo Finance, REN protocol, Conflux Network and Bancor.
The list of partnerships, combined with the bullish market stance on DeFi projects, may push LINK's price above the $10 mark. But in order for LINK's price to spike above 10$, Chainlink has to continue the successful partnership streak.
Crypto experts like Josh Rager commented on the recent market situation, showing support for Chainlink in a Bitcoin-dominated crypto sector. Rager, who is co-founder of crypto learning platform Blockroots, and an official advisor to few blockchain startups, stated that Bitcoin maximalists should consider focusing their sight towards altcoins, because Bitcoin shows little to no movement.
"Bitcoin is moving in a $1000 range, while Chainlink exploded from $3.65 to $8.50+", Rager tweeted.
Another crypto expert, Cole Garner, joined Josh Rager's opinion, highlighting LINK had its first candle closed above the trendline, which may be the start for a parabolic movement. Crypto trader Scott Melker, known as "The Wolf of All Streets", posted a graph on Twitter, showing exponential growth for LINK since its inception to present day. "The most-bullish crypto-asset I have seen in a long time," Melker noted.
However, Santiment – a crypto-focused behavior analytics company, stated that after such massive price gains, a "-9% retracement is commonly evident in the 12 days after being #1 on our Emerging Trends list."
Meanwhile, Bitcoin's dominance retracted slightly, which further fueled the altcoin bulls, resulting in larger trading volumes for some of the projects.
Bitcoin
cryptocurrency trading
Cryptocurrency
Crypto Market
EOS
Stellar
btc
crypto market monitoring
cryptocurrencies
cryptocurrency news
market
Market Capitalization
Defi
Chainlink
Tezos