27 Jan 2019 Anthony Lehrman
Chinese Government Revealed its First 2019 Crypto Ranking
China's government Center for Information and Industry Development (CCID) published its nine crypto ranking.
---
China's government Center for Information and Industry Development (CCID) published its first crypto ranking for 2019.
Bitcoin has gained in popularity, migrating from 18th to 15th place, while EOS and Ethereum keep their top positions.
The CCID, which falls under China's Ministry of Industry and Information Technology, ranks tokens and coins under various criteria, such as basic technology, applicability, and creativity. The Chinese government evaluated a total of 34 cryptocurrencies.
According to the report from the CCID, Ethereum and EOS are still the most preferred cryptocurrencies by Chinese clients and enterprises. The report also states that the top-2 might change due to the forthcoming Constantinople hard fork, which was further delayed recently. Data from the hard fork will be included in the next evaluation cycle.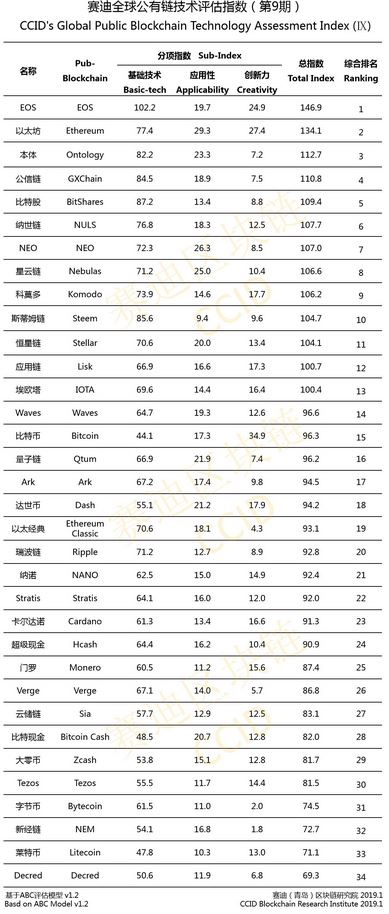 Source: Center for Information and Industry Development (CCID)
In the chart data, Ethereum fell four positions down, now sitting at #19. The CCID explains the fall with the recent 51% attack that happened on Ethereum Classic's blockchain. The hack attack caused concern among ETC's owners.
In the CCID report, data shows that the value of necessary technology updates and creativity fell drastically from the previous report. The reason for this is mostly due to the holidays and the fact that the developers were not working on improvements in the last month. Applicability, however, remains almost at its previous level, pointing towards a continuing trend for crypto adoption.
Chinese's legislative attempts to rank cryptocurrencies resulted in the creation of the CCID, dubbed as a "scientific helping hand in the world of cryptocurrencies, powered by the Ministry of Industry and IT".
The CCID rank is a way to better understand and apply appropriate regulations to cryptocurrencies. In May previous year, during the government-organized public blockchain symposium, the Chinese government revealed the inner workings of the CCID research institute. The institute is created in association with the China Software Evaluation Center. Its goal is to provide clear and understandable consulting for government partners, startups, institutes, and third parties.
The January 2019 report is the ninth for now. The CCID started publishing their crypto rankings on May 17th, 2018 and quickly became the first governmental institution to provide such service for other parties worldwide.
Bitcoin
EOS
Ethereum news
china
CCID