12 Aug 2020 Samantha McLauren
CME Bitcoin Futures Open Interest Reached An All-Time High Of $841 Million
The All-Time High Comes Just A Week And A Half After Reaching The Previous Record Of $830 Million
---
Institutional investors' bullish stance in the crypto sector seems to grow rapidly, as the Chicago Mercantile Exchange (CME) Bitcoin futures reached a new all-time high record of $841 million in open interest.
A contributing part to the new record, which is driven by the rise of large-scale investors` interest in Bitcoin, is the recent purchase of 21,000 Bitcoin by a $1,2 billion worth NASDAQ- listed company.
Data provided by the research and analytics company Skew shows that the total open interest rate and volumes of BTC futures experienced a significant growth in late July, as well as in August. However, open interest cannot provide enough data to prove the bullish sentiment on its own. Normally, the standard approach in measuring investors` perception on futures contracts is by comparing premium against Bitcoin market price. This happens only on spot exchanges. The indicator is expected to display a 0.5% to 1% premium for a one-month contracts in CME futures.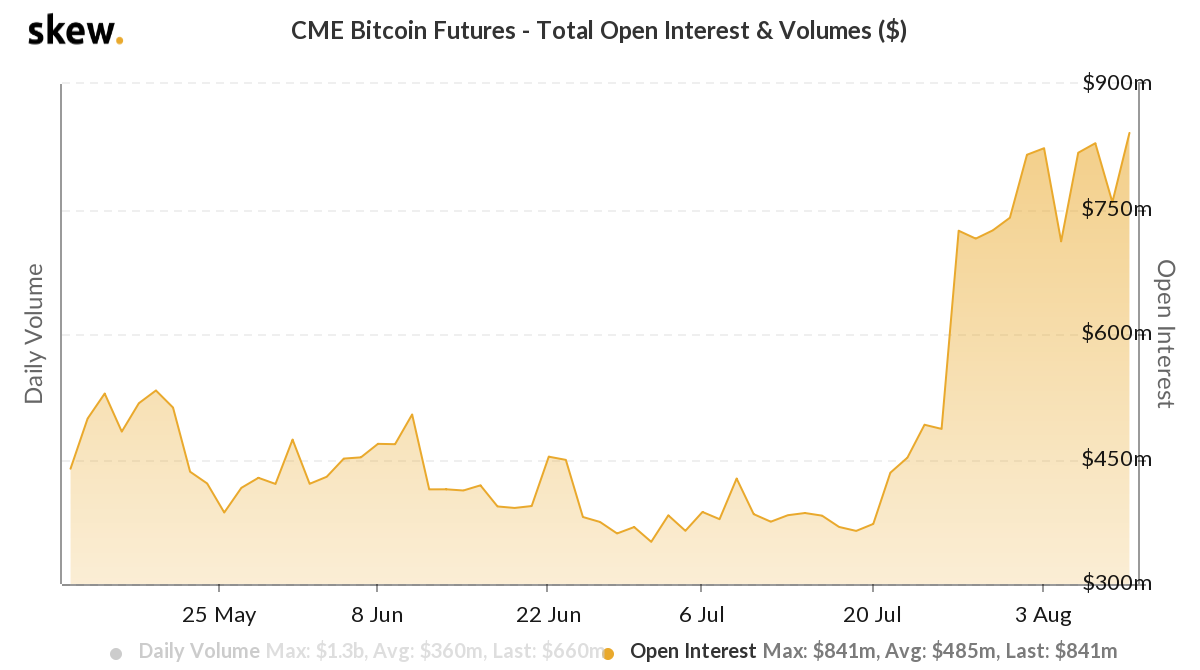 Source: Skew
CME Bitcoin options were launched in January 2020, and since then, the CME has been establishing itself as a preferred provider for placing futures contracts. Regardless of the statistics, the Deribit exchange is dominating, as it reached $440 million open interest in late June.

In addition, the CME options market is heavily concentrated on call options. Call options allow purchasing Bitcoin at a fixed price. CME options contract expiration takes place on the last Friday of each month, which causes sharp declines in the open interest rate.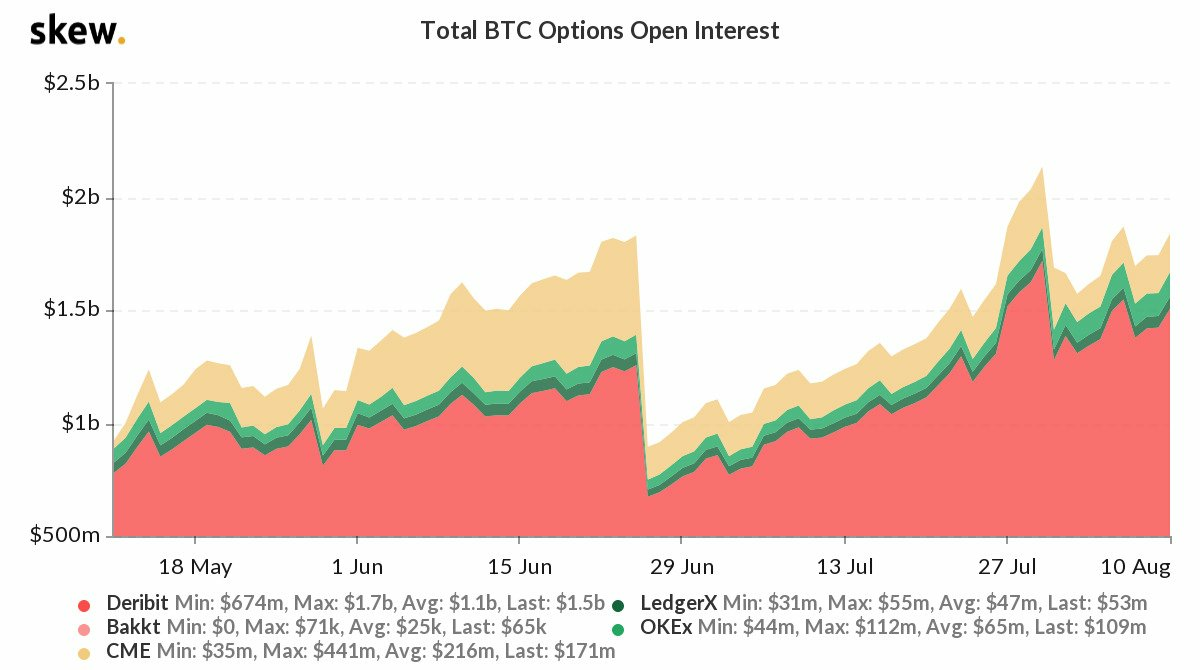 Source: Skew
Call options are traditionally related to bullish strategies, but can be used for the so called "covered calls", which ensure generation of a fixed income. Тhe fixed income can be obtained as long as price levels of the digital asset remain above a certain level.
In contrast to spot markets, monitoring of derivative markets can explain current`s BTC failure of breaking $12,000 resistance and retesting the $11,150 support zone. The bullish sentiment may lead to a repetition of the August 2019 scenario, when Bitcoin tried to break above $12,000 for an entire week. This resulted in a 20% drop, which was observed over the following several days.
Bitcoin
Cryptocurrency
Crypto Market
Nasdaq
crypto market monitoring
exchange
bitcoin news
digital asset
bitcoin news today
analysis
Exchanges
Bitcoin Futures