03 Nov 2021 Anthony Lehrman
CME Group Pushes Out Micro ETH Futures Amid Ethereum New All-Time High
The Micro Ether Futures Is Scheduled For Launch In Early December, But It Is Still Pending Regulatory Approval
---
The crypto sector received its latest wave of institutional adoption as the Chicago Mercantile Exchange (CME) is moving to provide an easier, cost-effective way to gain exposure to one of the largest cryptocurrencies to date, Ethereum, via its Micro Ether futures (MET).
This is CME's second large micro futures interaction, after launching Micro Bitcoin futures in May and offering a variety of crypto derivative products, including 20 Micro products. The Micro Bitcoin futures managed to hit a big success, after recording 100,000 Micro BTC futures traded during the first six days after launch.
Furthermore, CME's Micro Bitcoin futures reached the 1 million contracts swapped milestone by the end of June 2021. As of press time, over 2.7 million contracts have been traded under the Micro Bitcoin futures.
The new futures product would be sized at one-tenth of one Ethereum, enabling investors to purchase contracts as small as 1/500 the size of the larger Ether futures, which launched in February 2021.
The futures structure would rely on monthly contracts listed for 6 consecutive months and 2 additional December contract months. The settlement would be in cash, based on the CME CF Ether-Dollar Reference Rate.
"If the six consecutive months includes December, we would list only 1 additional December contract month.", CME added.
CME's global head of equity index and alternative investment products Tim McCourt emphasized that such a micro-sized contract "could make the market even more accessible for a broader range of participants."
Ethereum's price quickly exploded after the news that, if approved by regulators, CME's Micro Ethereum futures would be available on December 6.
The second-largest crypto to date managed to ride on the bull train and record yet another all-time high, with a price pinnacle of $4,641. However, Ethereum's price quickly corrected and fell to a current price point of $4,519.81 per ETH.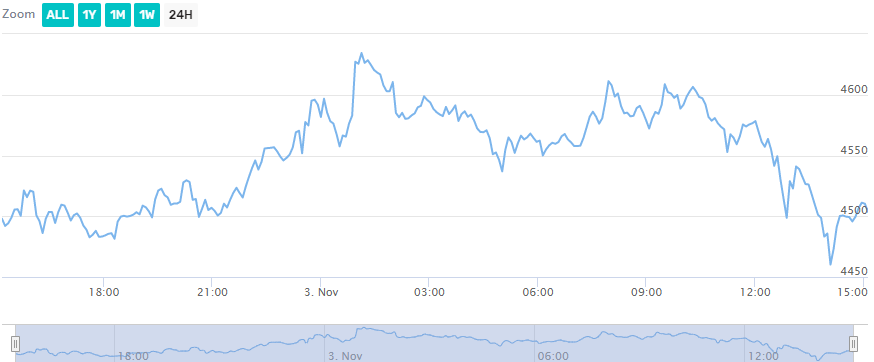 Source: CryptoBrowser
Meanwhile, ETH reached the topside trend line of the ascending parallel channel pattern on the 4-hour chart, which could result in a 16% climb. If Ethereum holds above the 16% topside trend line, it could be set to reach as much as $5,368.
Bitcoin
Ethereum
eth
Ethereum news
cryptocurrency news
crypto news
Crypto Price
Ethereum Price